The Brewery Trip -- Michigan, US, Summer 2021
After a few months in Cincy, we decided to take a quick three-week trip to Michigan, and visit some breweries, particularly Founders, Bell's, and New Holland. We would also like to try breweries we are unfamiliar with.
We planned to visit two cities: Kalamazoo and Grand Rapids. Our friend Jason joined us in Grand Rapids and helped us discover, we think, the best brewery as well as the best coffee shop, bakery, and grocery store (Brewery Vivant, Lyon Street Cafe, Nantucket Baking Company, and Martha's Vinyard, respectively).
This trip turned out to be a creative sprint for us, training our brains to deal with new situations, to change our habits, and to enjoy shared experiences.
We learned more about beers, breweries, and brewing styles. We especially liked Saison beers. Now we have opinions on beers we are drinking, and we are ever more curious about the unknown.
At the end of the trip we have:
a new song: "Saison Croissant",
a drawing: "picnic scene",
a journal: this one,
and some inspiring memories.
🔗Kalamazoo, MI
Kalamazoo is an interesting city, and a little bit strange. Downtown is nicely maintained and seems to have a lot of interesting attractions, such as a chocolate art store, a bunch of museums, and a large amount of well-rated restaurants, coffee shops, and taprooms. We were excited when we just arrived on Sunday and thought we won't have enough time to try all of them.
But it is wierd because everything seems to be closed on Monday, and Tuesday, and Wednesday. It turns out all the beautiful and good-rated stores are sitting there closed while we have been walking by every day. Don't they care about their business?
Parks seem to be dominated by homeless people such that we even choose not to cross through them on our walks.
It is a bit of a ghost town. An effect of the pandemic?
There are many churches gathered in just about one block!
The weather is humid during our whole week's stay. It rains half of the week. Other half time is too hot to do picnics or any other outdoor hang. We are in desperate need of bug spray.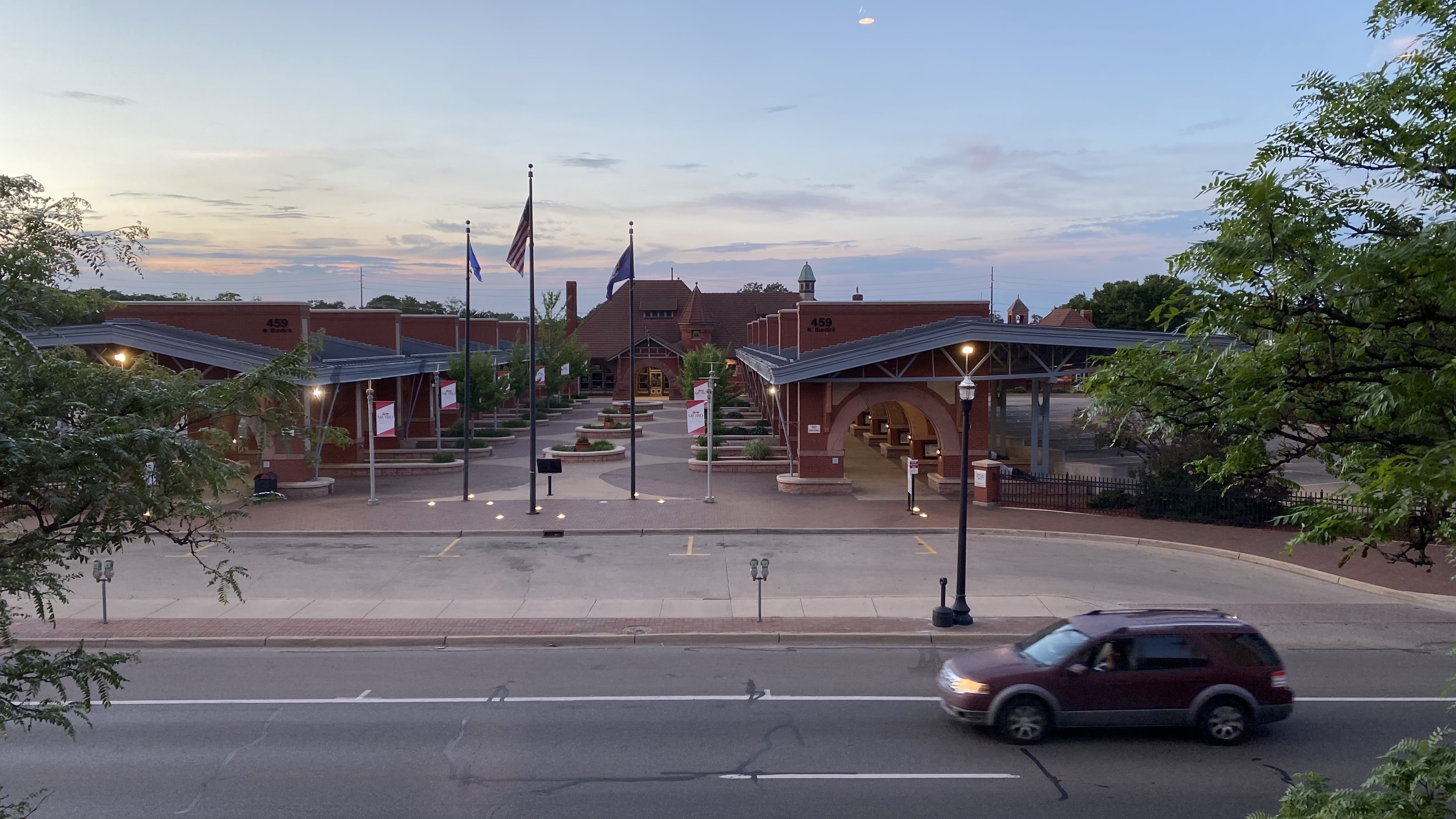 Bus station.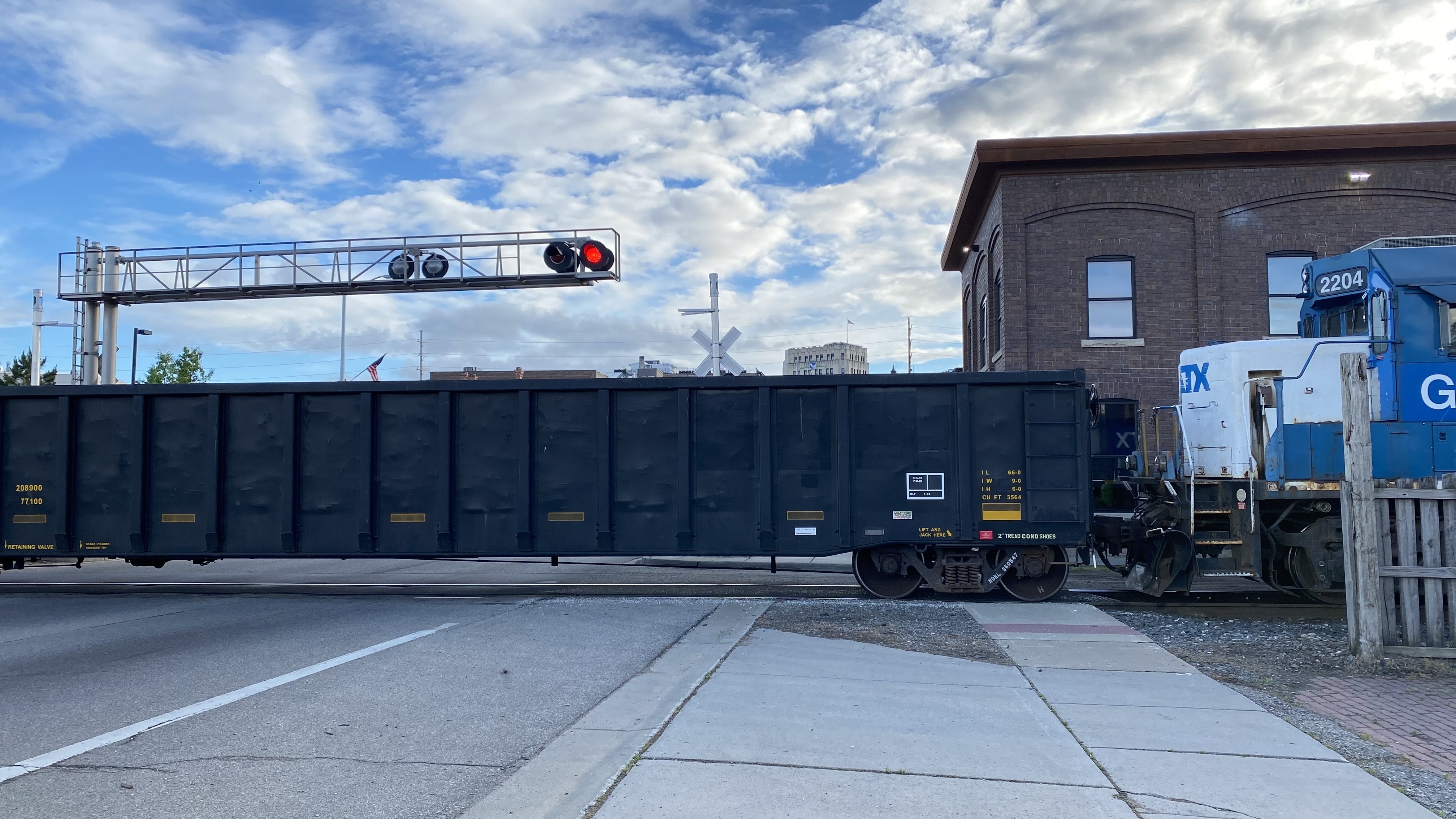 Trains pass by often.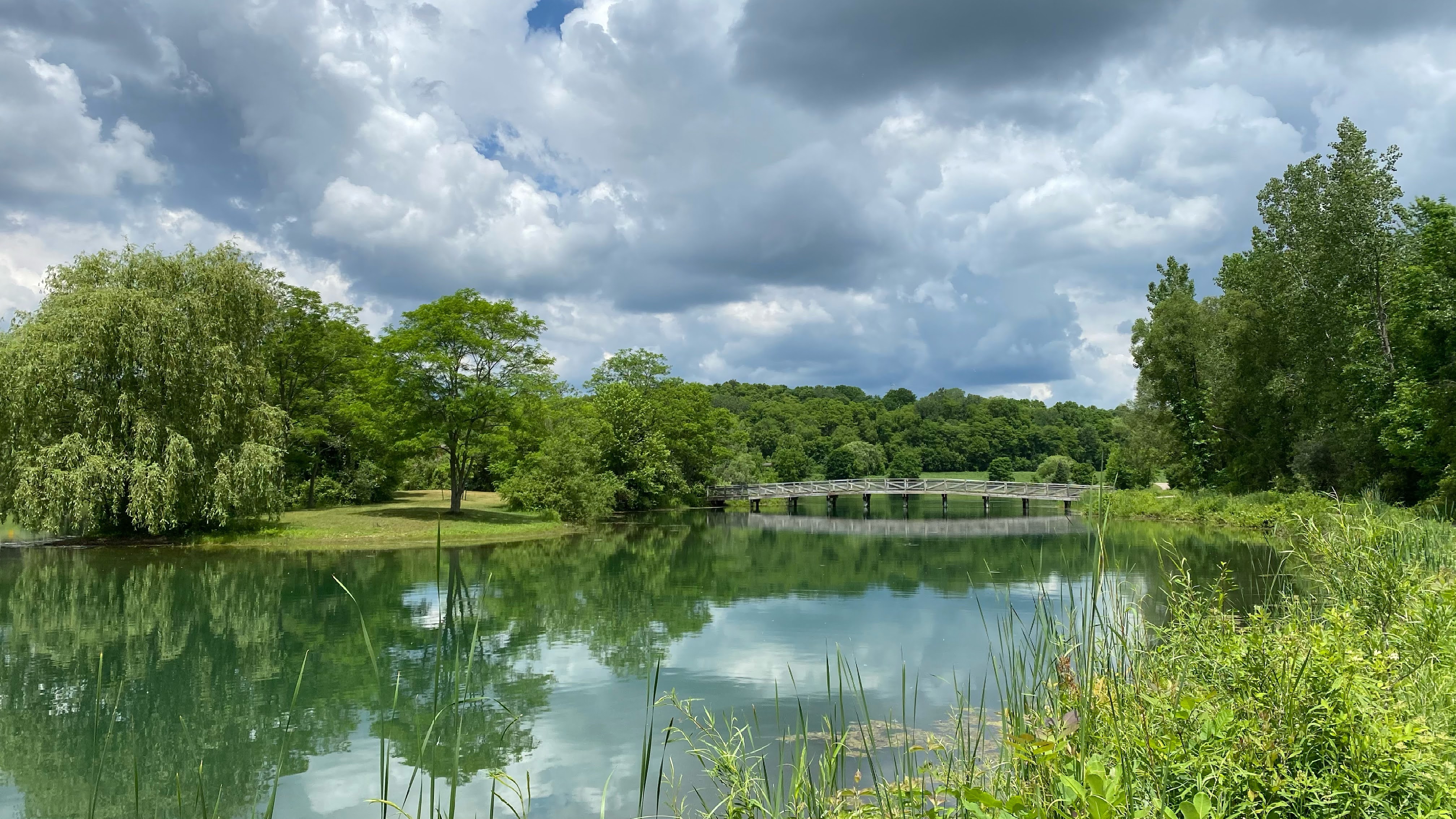 A park.
🔗2021-06-06 Picnic in Portage Creek Bicentennial Park
On the way into town we have time to kill before our Airbnb check-in, so we picnic in a park in Portage, just south of Kalamazoo.
It is a lovely park and gets us excited about Kalamazoo.
We love our blanket!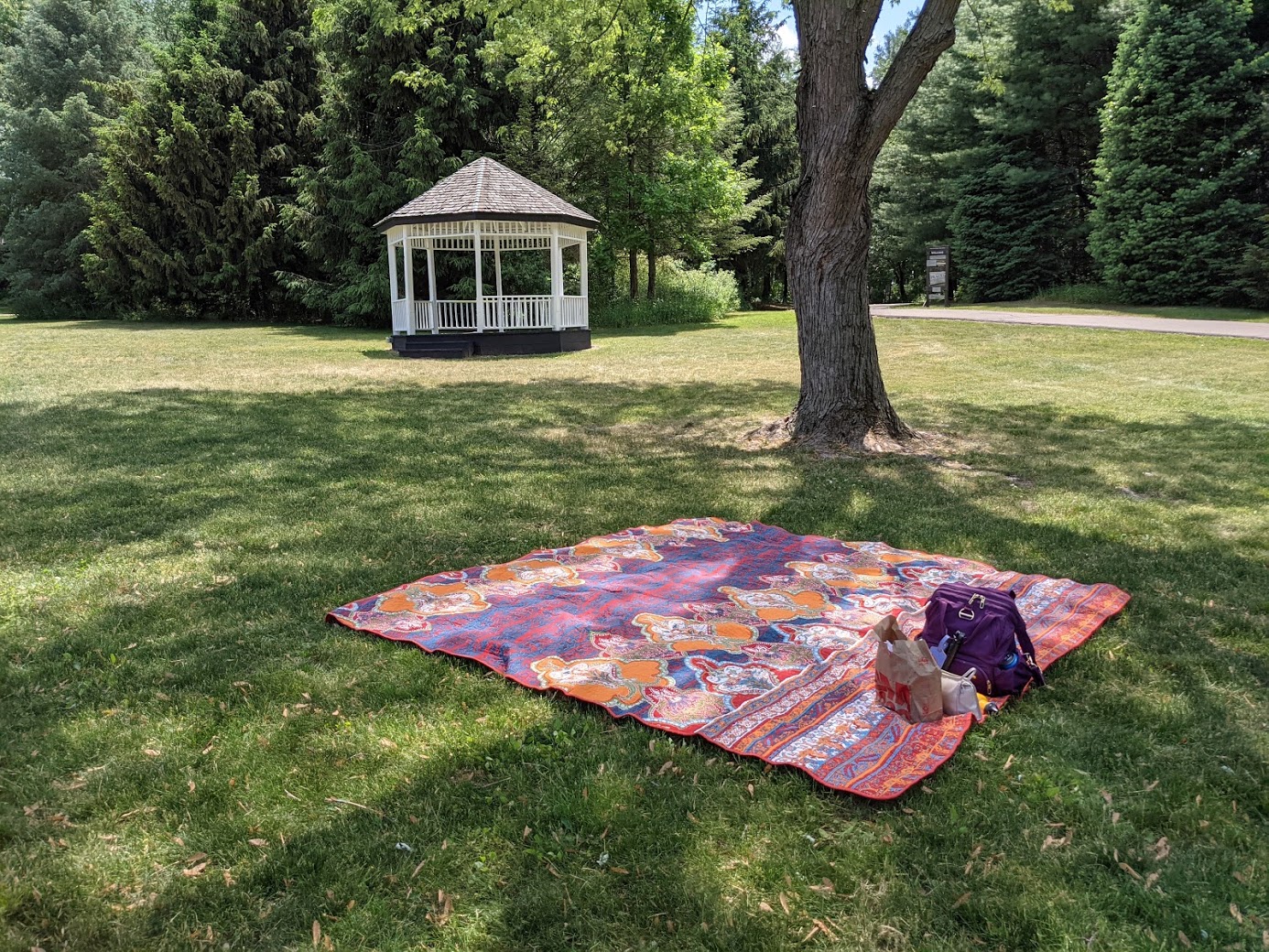 🔗2021-06-06 HopCat taproom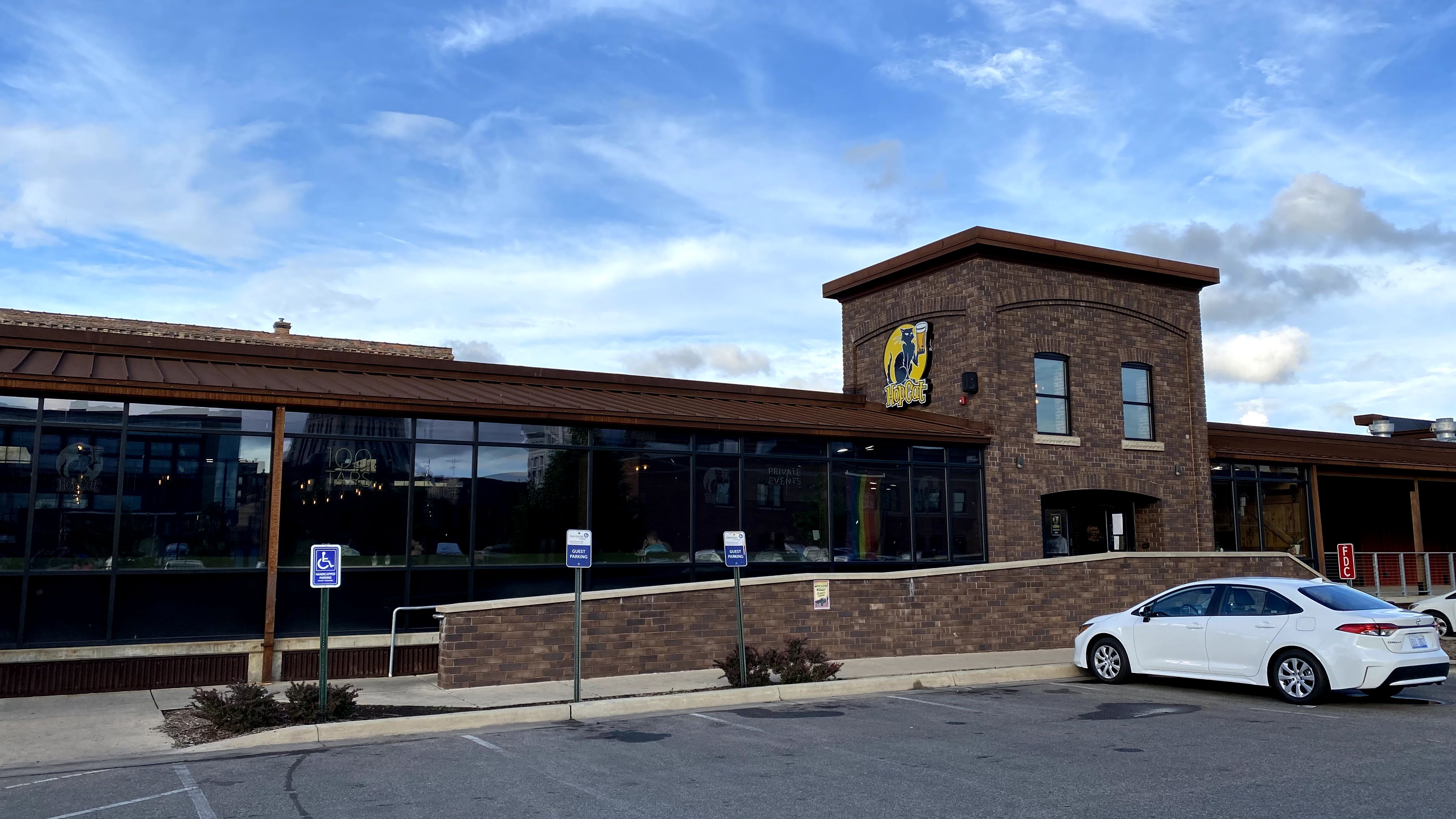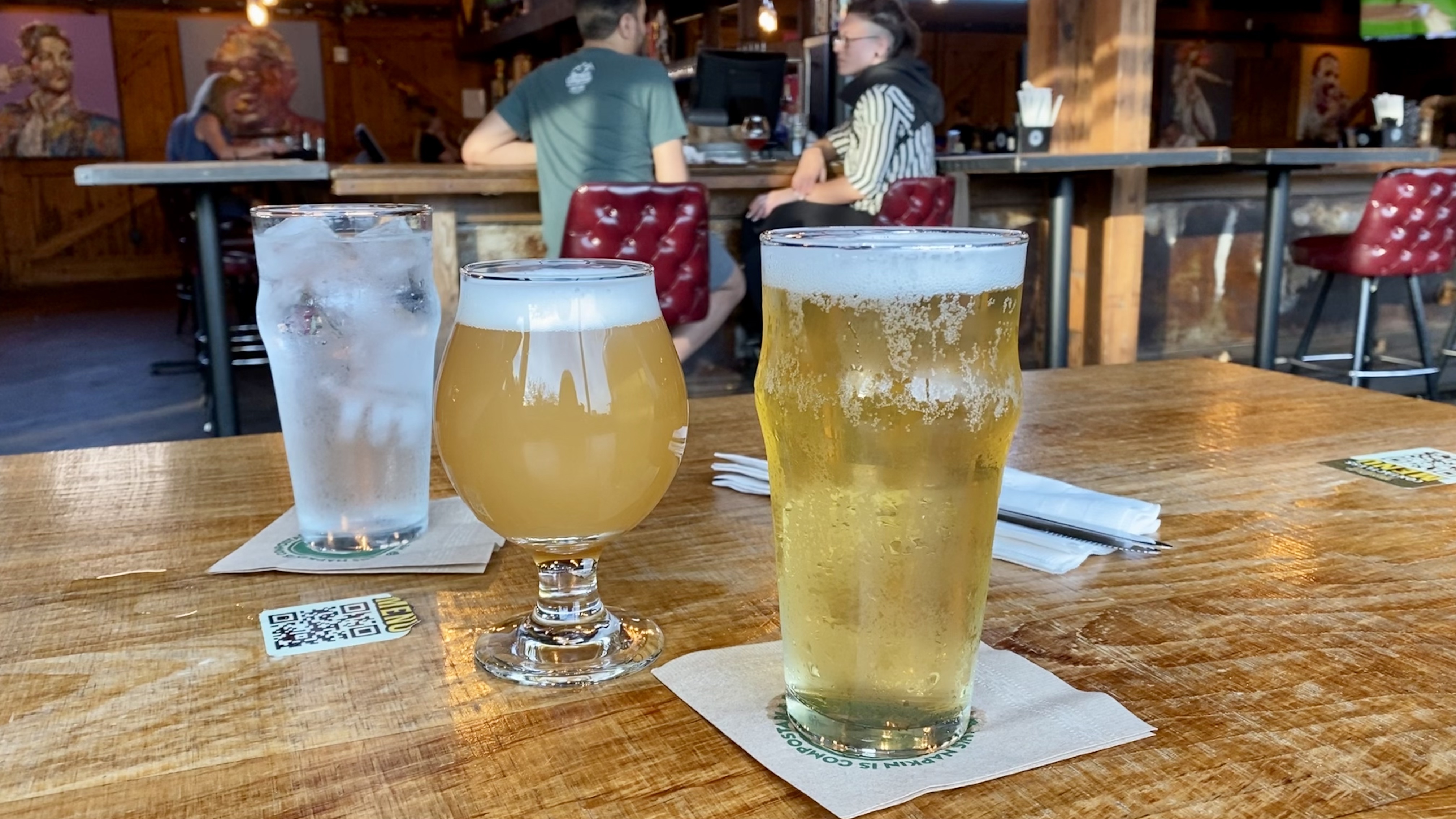 Three beers we ordered. All of them are good:
Blackrocks Brewery's "Grand Rabbits" Dry Hopped Cream Ale: we're looking out for cream ales recently.
Transient's "Something Strange" Rye IPA: We both agreed it was not strange, but instead was awesome. Brian wants more rye beers.
We forgot the last one.
We had a burger and an energy bowl. They are good. Brian says this is the type of taproom he would like to hang every day: it's not the best, so not the most popular, but it's got good beer, and passable bar food.
🔗2021-06-07 600 Kitchen and Bar
With most restaurants in Kalamazoo curiously closed on Monday, we really wanted sushi tonight, but Maru was reservation only, so we walked over to this place.
The food we both agreed was kinda pretentious, everything a twist on some dish that failed to really capture our imagination.
We did though experience a revelatory beer.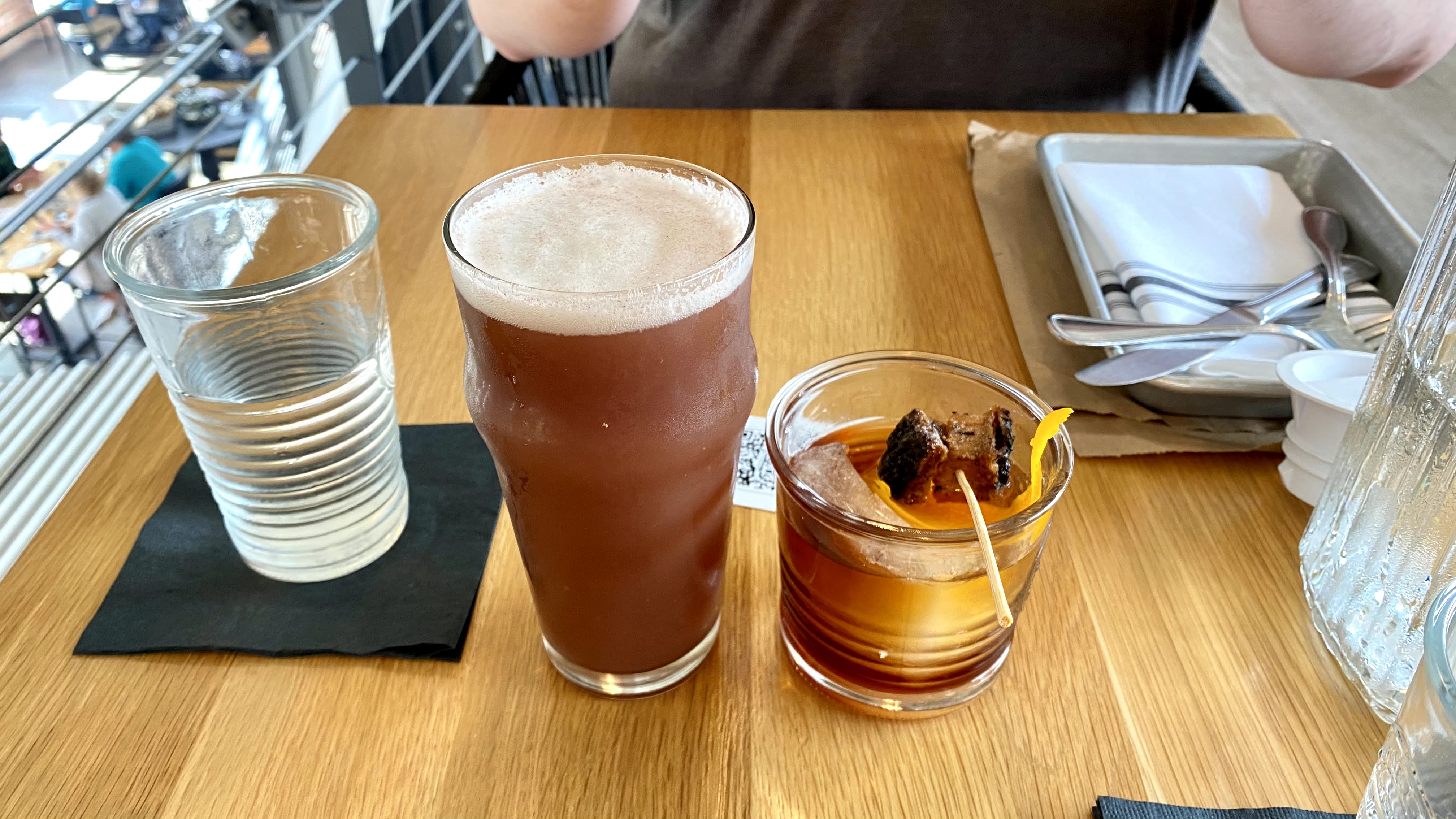 That's it in the photo. Unfortunately Brian missed what it was called, besides that it was described as a cream ale. It did not though taste like other cream ales we've had. It has a fantasticly weird cloudy brown appearance, almost like chocolate milk, and the taste was smooth and mild and not like beer.
We want more, but will we ever know what this mystery beer was?
By the time we left this space, it was strangely filled with smoke from the kitchen. Gross.
🔗2021-06-08 Water Street Coffee Joint
This is a lovely coffee shop which is located at a noisy intersection. It is a small house that looks sad from the back but very well maintained from the front, with two tiny and cute patios on the sides.
We ordered typical coffee: Americano and coffee latte with soy milk, and two pastries: lemon bar and carrot cake. They roast their own coffee beans, and we bought two whole beans: Guatemala and breakfast blend.
Our fresh made coffees taste fine. We neither love nor hate them. Aimee's americano is plain and light, tastes like coffee-flavored hot water. Brian's coffee latte lakes of simple syrup which is additionally ordered. Pastries are great, we both love the lemon bar and Brian especially loves his carrot cake.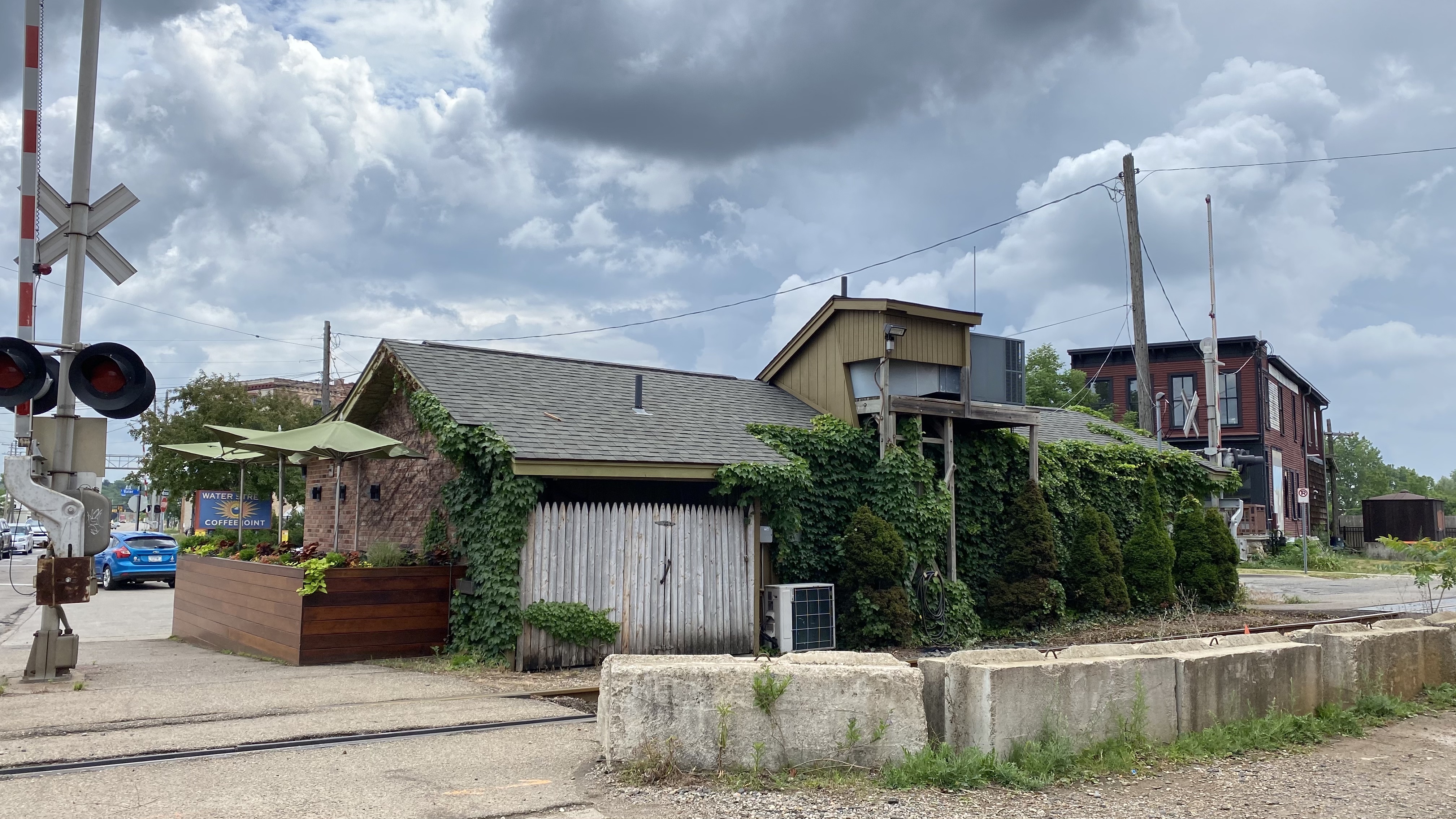 The back.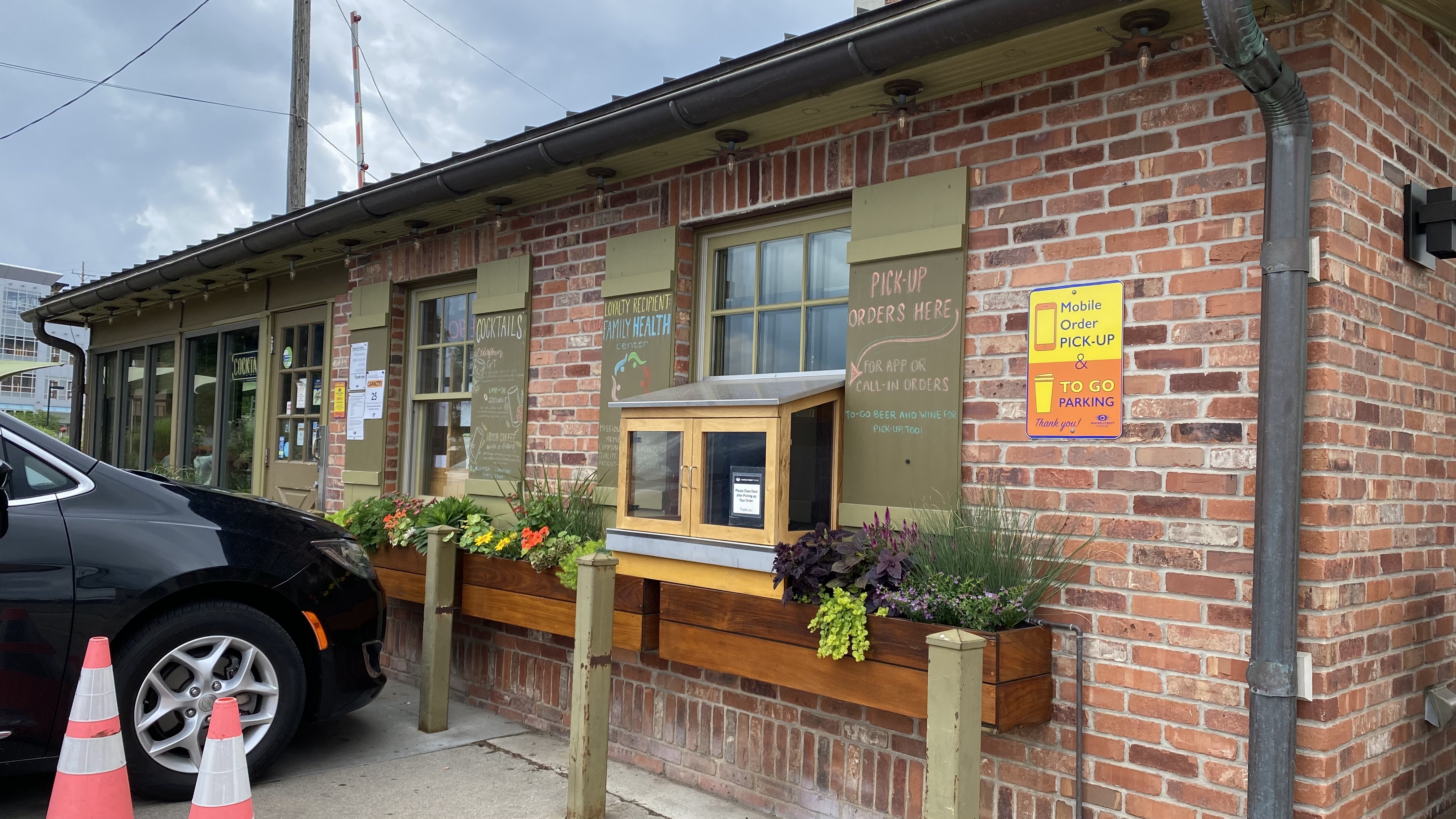 The front.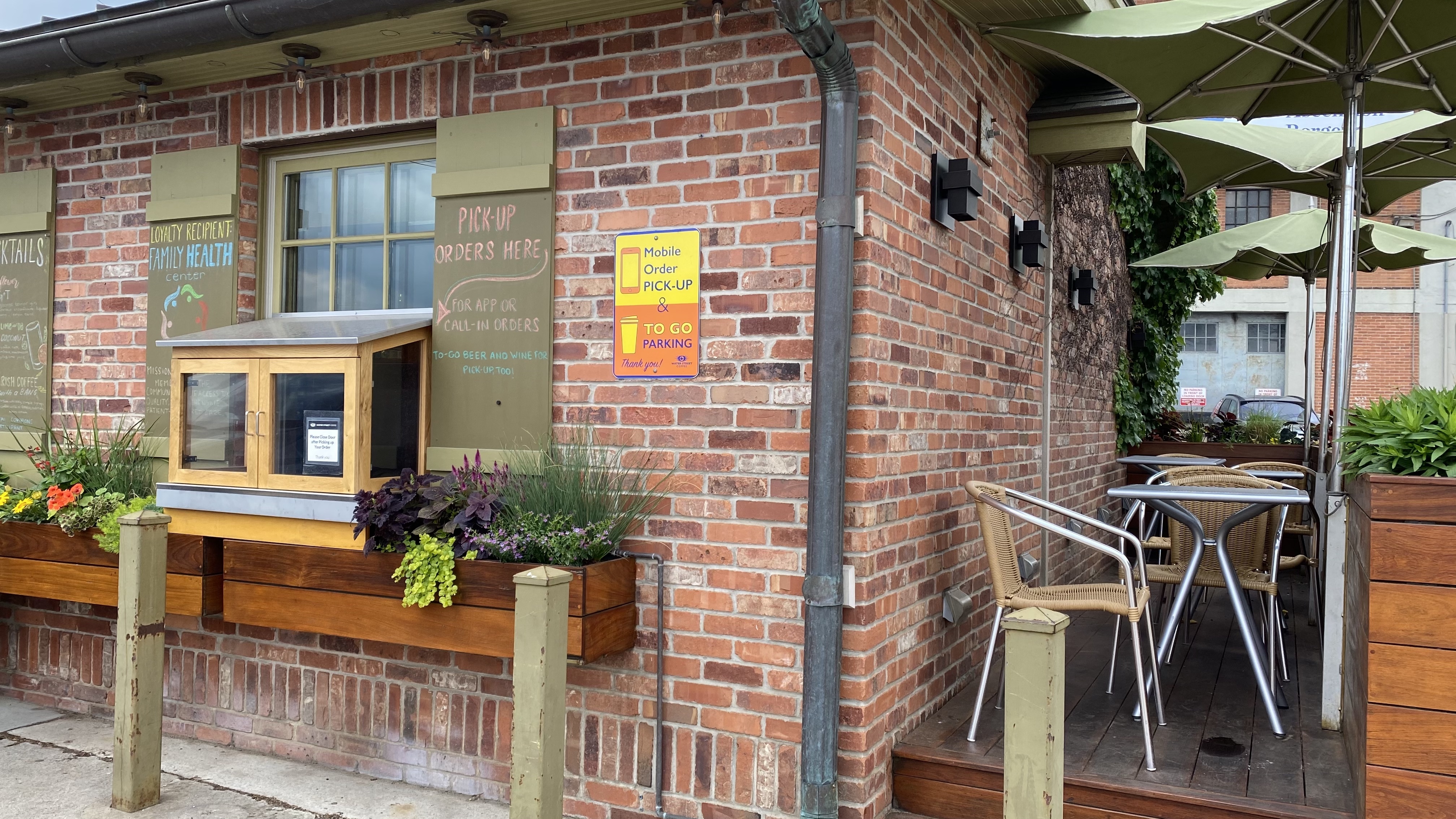 A patio.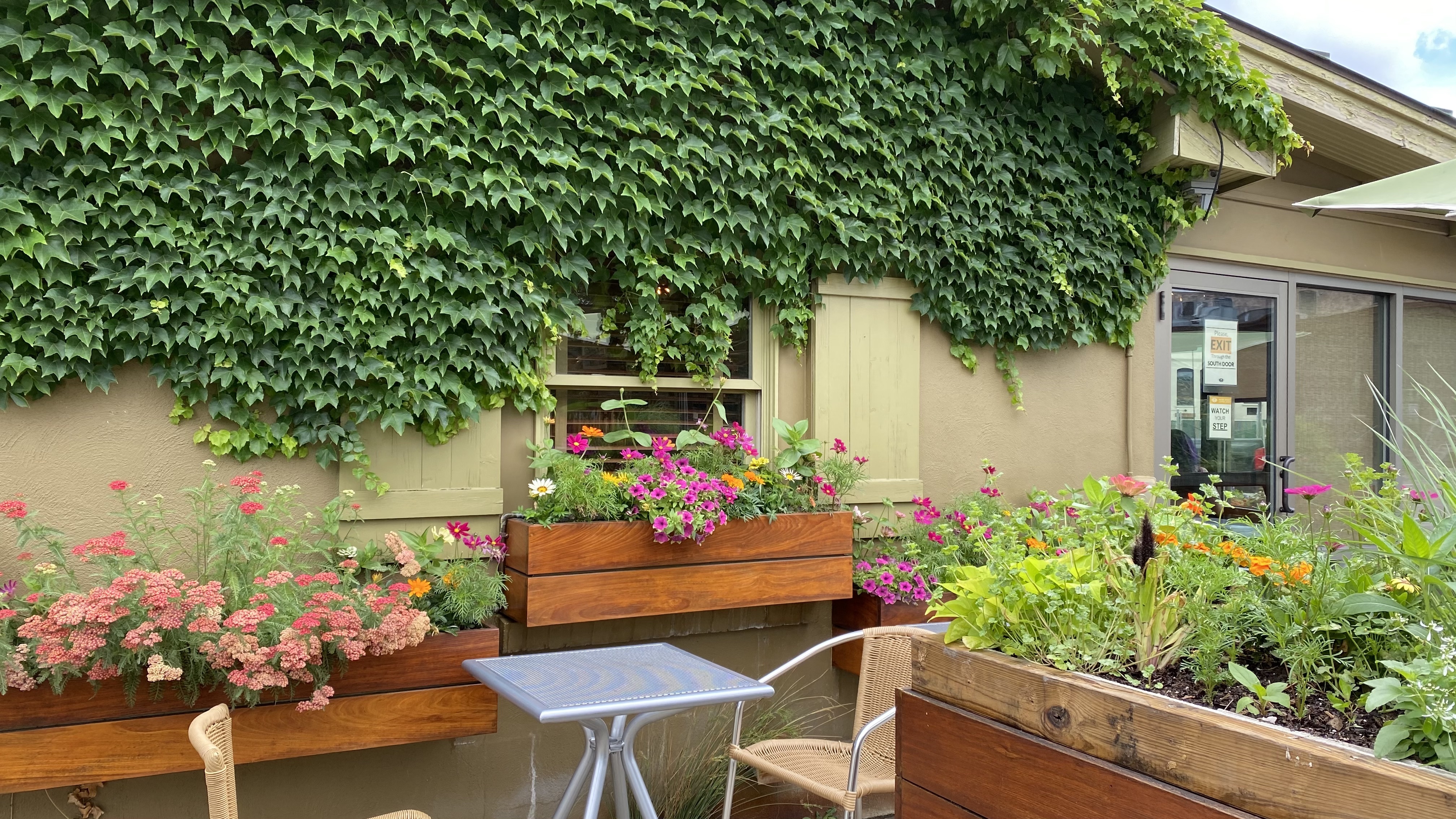 Another patio.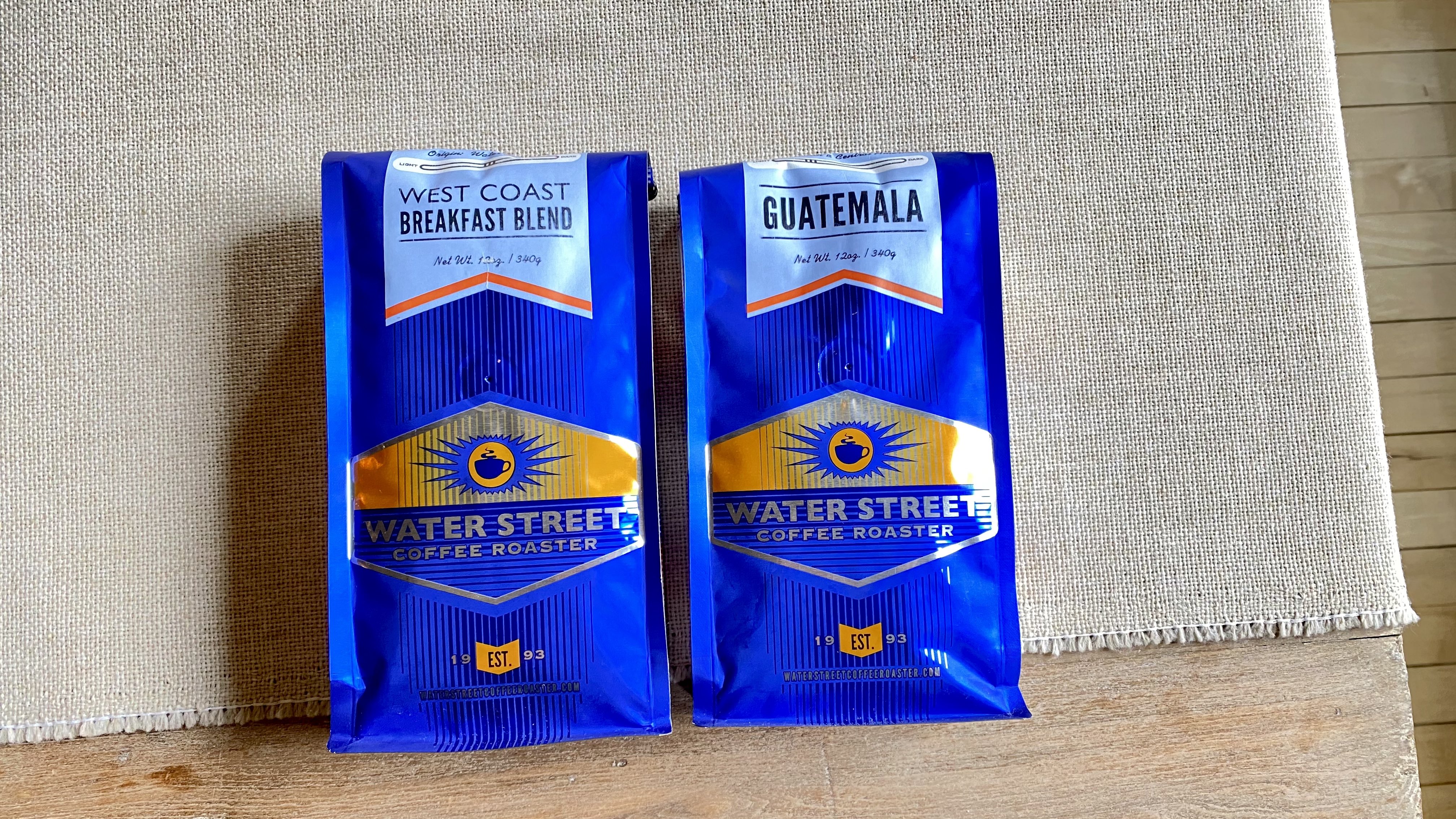 They roast coffee beans. (We use these coffee beans with both our Moka pot and filter in the following days, and they are tasty.)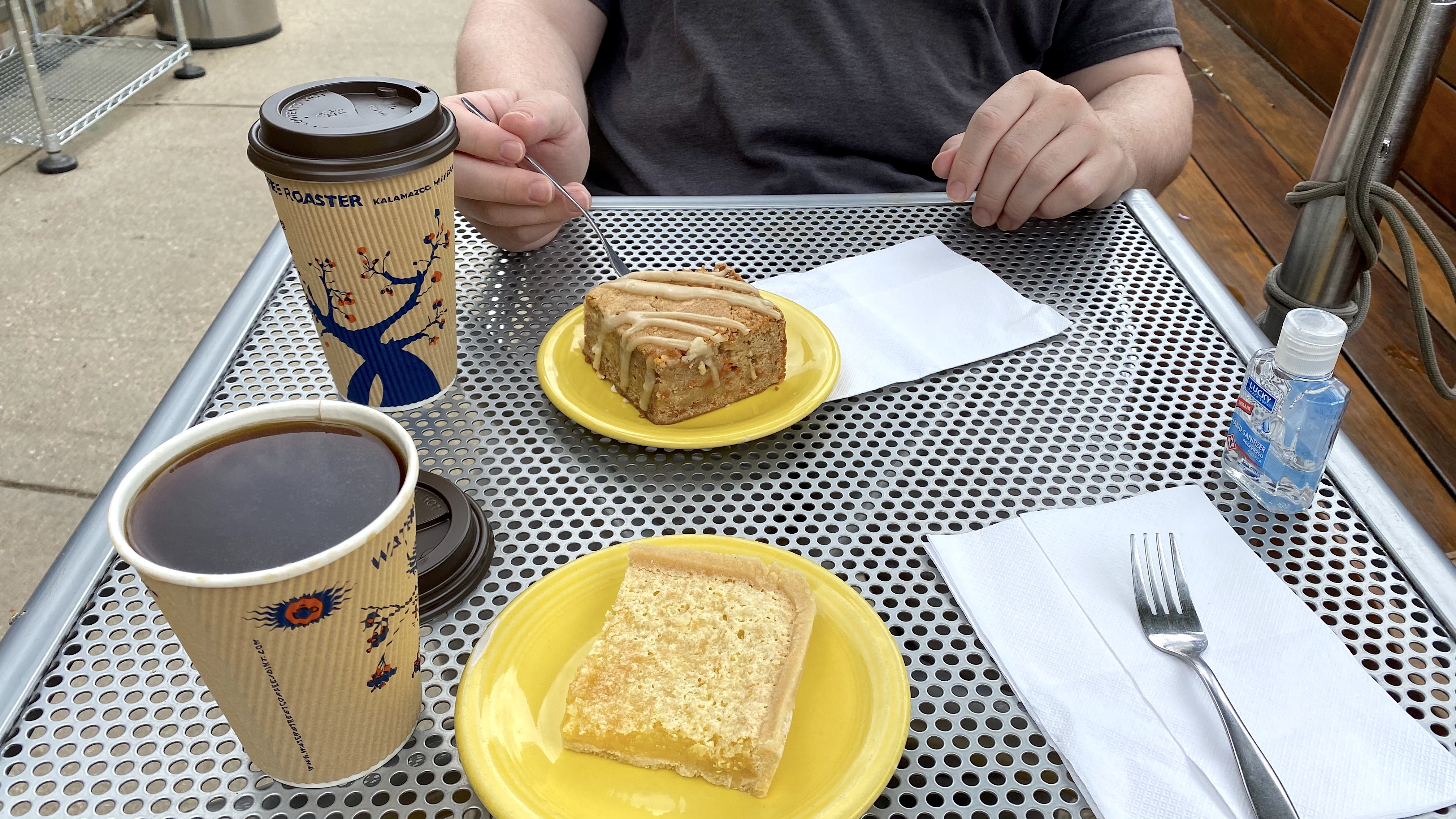 We only sit on the patio for about 15 minutes, then it started to rain, heavily. We had no choice but rushed inside. It's still cool inside, we just do not feel comfortable staying inside for too long in considering the COVID circumstance.
We ran in the rain adventure!
🔗2021-06-09 Bell's
We finally got into Bell's! We are so excited about achieving this ultimate goal, visiting Bell's.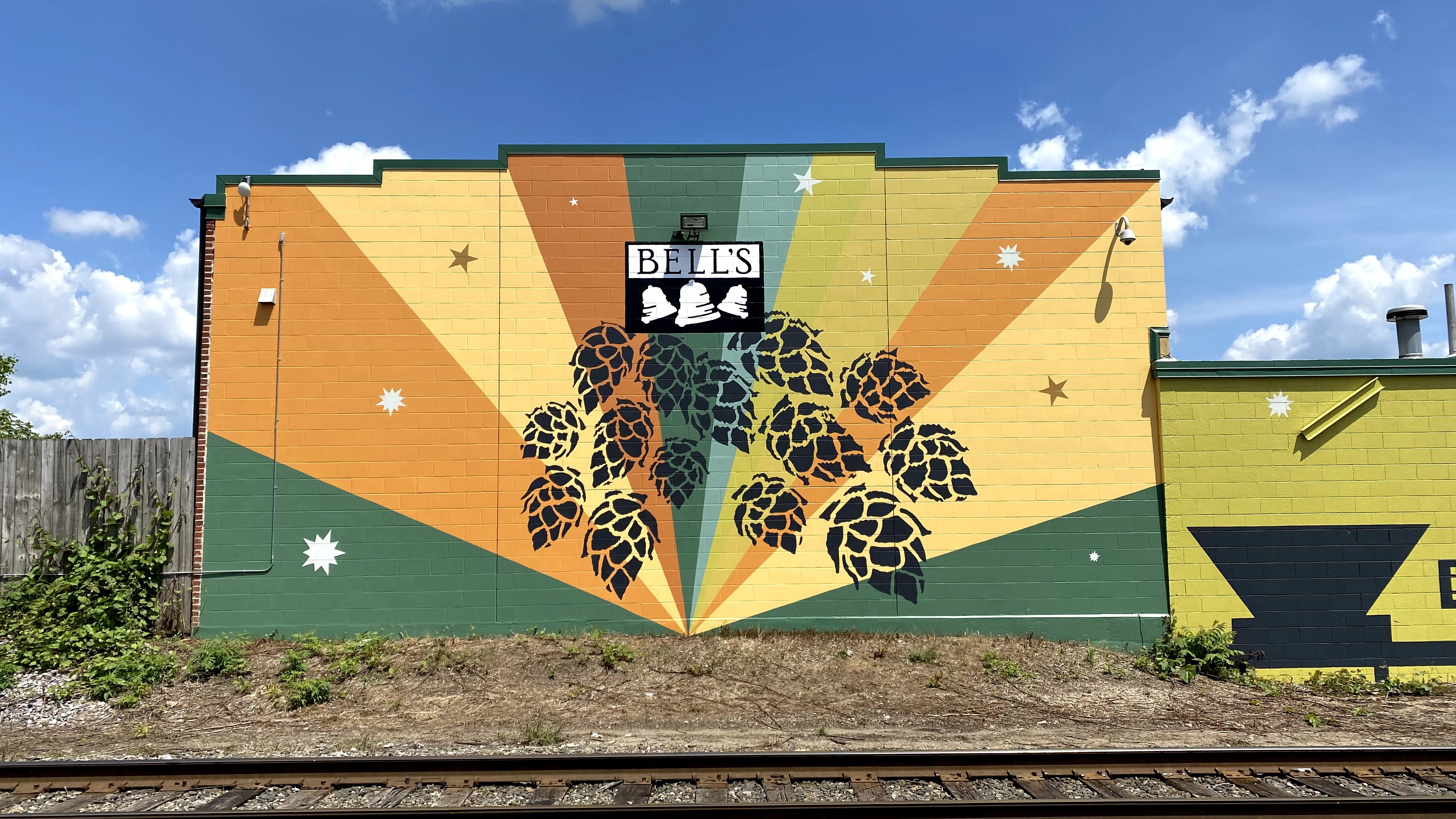 The back.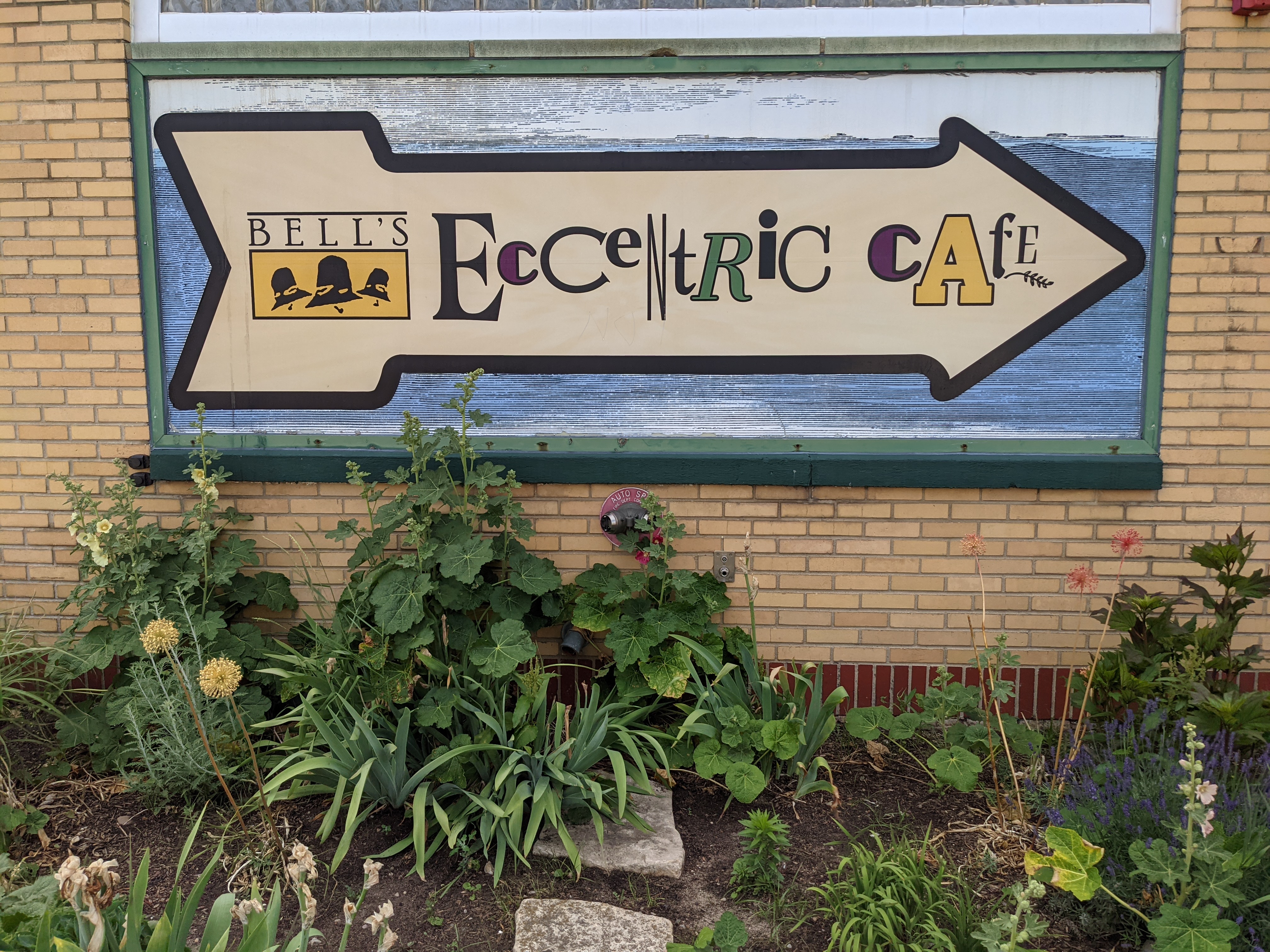 We changed our minds about sitting outdoors when we saw how pleasant the indoor space is.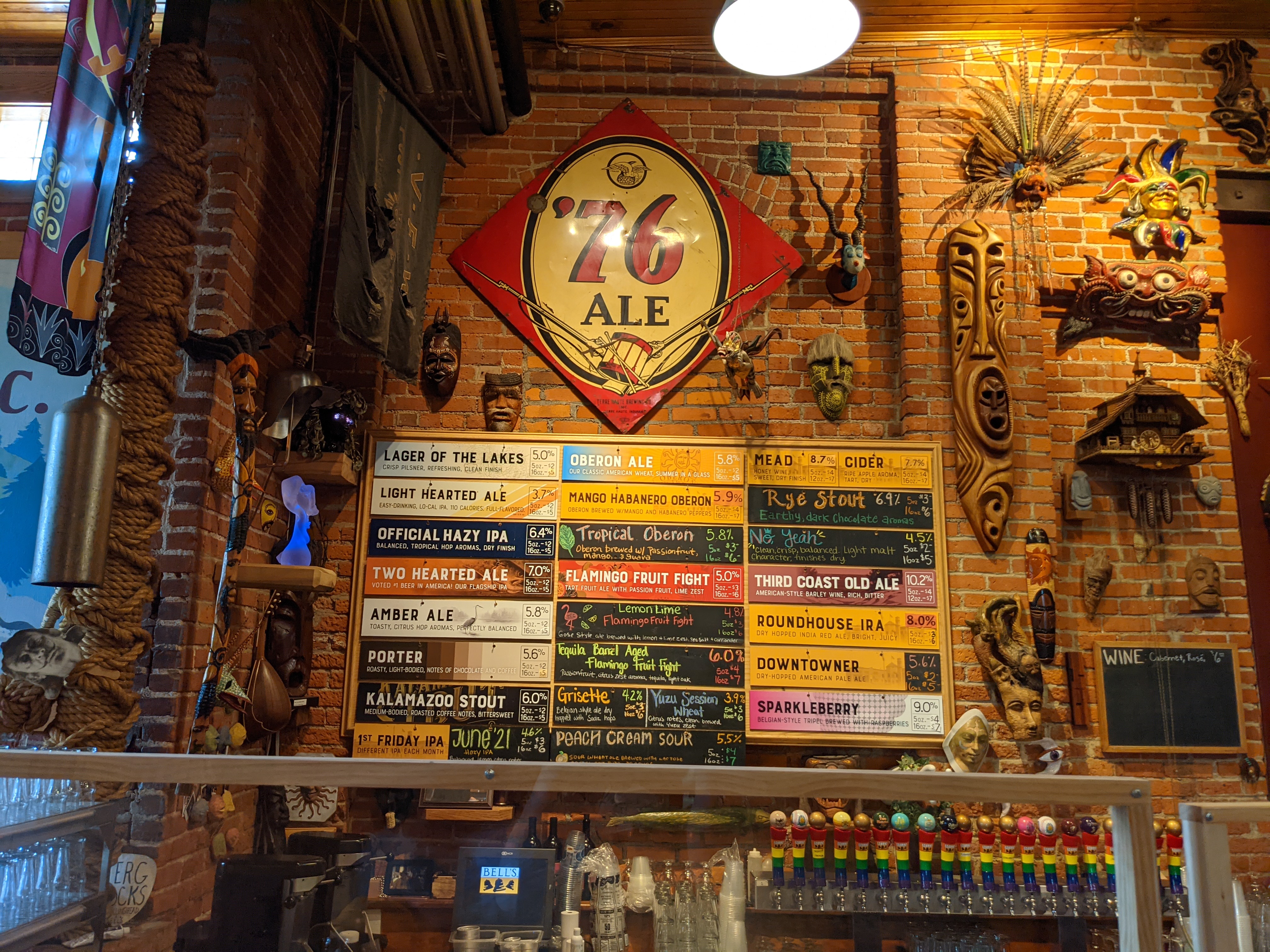 First of all, it is big and relatively empty. Secondly, the bar looks handsome. However, we can't sit at the bar during COVID, which is a pity: we hope to talk to knowledgeable bartenders rather than waiters. Third, it's an old building with an old wooden interior that has collected a lot of beer-related memorabilia.
More importantly, it looks clean and tidy. Including the bar (or cafe), the general store, brewing space, and their own parking lots, Bell's has the whole city block all to itself! We are impressed and we want to come back again soon.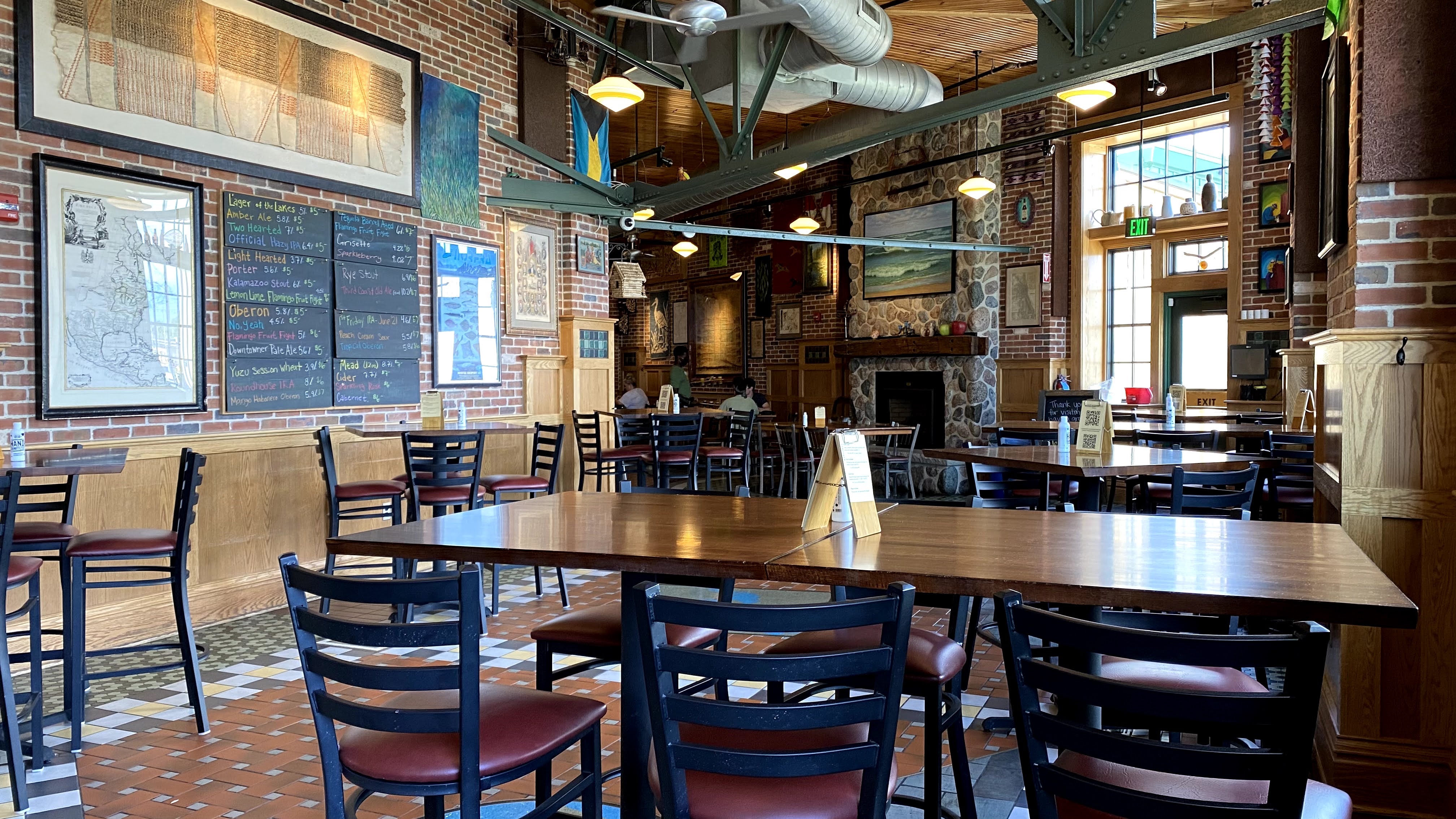 We plan to taste beers rather than straight drinking. So we decide to order beers one by one and sip on them.
We had a Youzi session wheat beer. It's light and drinkable, but neither Youzi or wheat comes through strikingly. It's not as special as we've expected.
We had a "grisette", which we have never heard of. It has an unfamiliar banana and cloves flavor: brian says "bananas" over and over while reviewing it.
Another is the "First Friday IPA" for June 2021, a monthly small-batch IPA. It wasn't good. We both detect banana, melon, and disagree about the citrus, but don't like it.
Brian says "maybe before we leave we should drink a Two Hearted".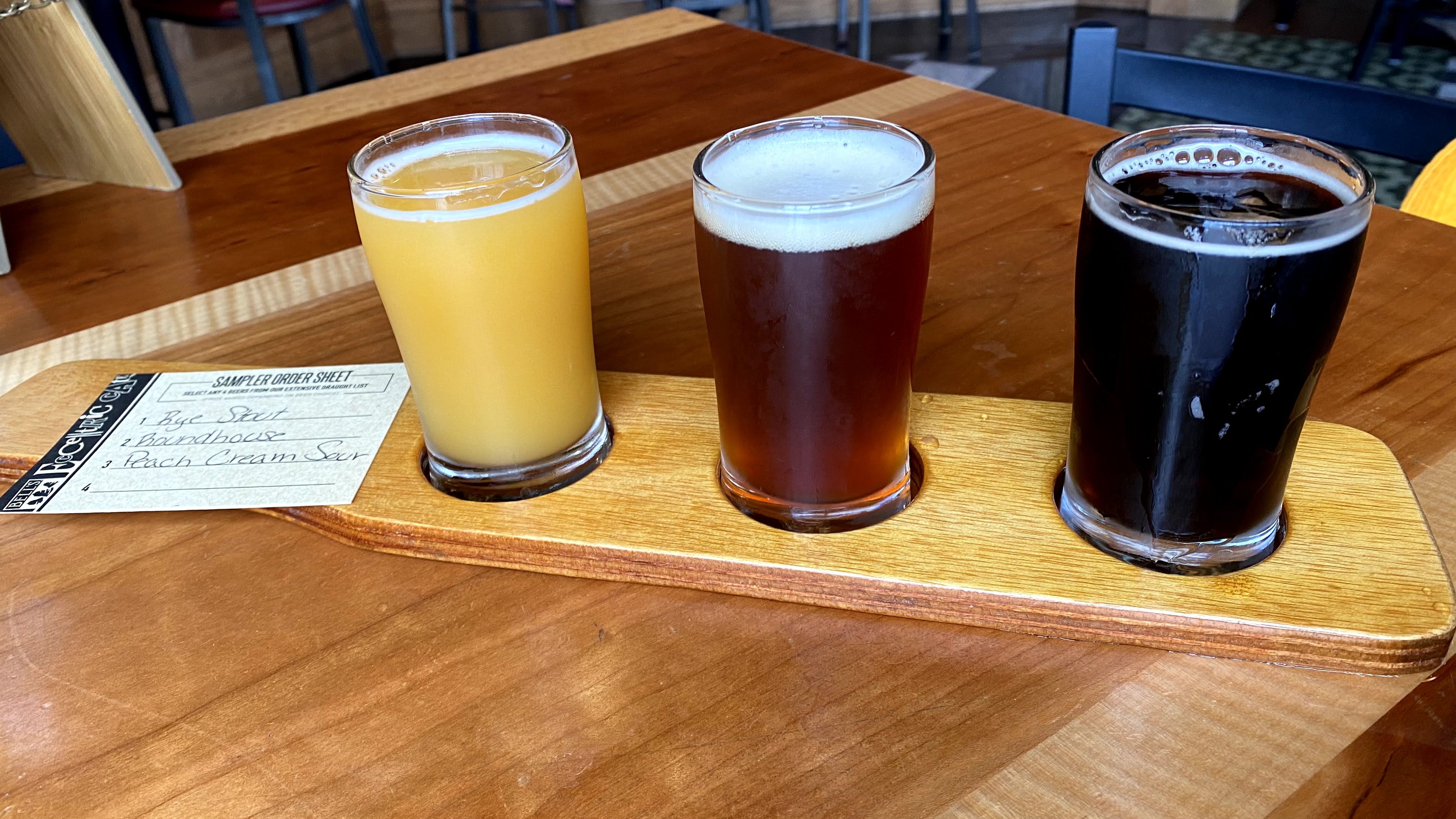 After three glasses of beer, we started with a flight of beers:
Peach Cream Sour. Looks like mango juice. Super sour, not much sweet. "Not that great".
Roundhouse Red Ale. It's in the vegetal zone, which Brian doesn't love, but Aimee is ok with — she loves vegetables.
Rye stout. Another rye beer! Malt and licorice. Aimee says "chocolate".
Our waitress doesn't seem to know much about their beers. For almost every question Brian asked, she has to check back with her colleagues then come back to us, which is disappointing.
Oh, chicken wings are good. Aimee loved the chicken wings.
All in all, we don't love the beers we had today, compared to beers we had at HopCat taproom. Maybe because we ordered only experimental beers.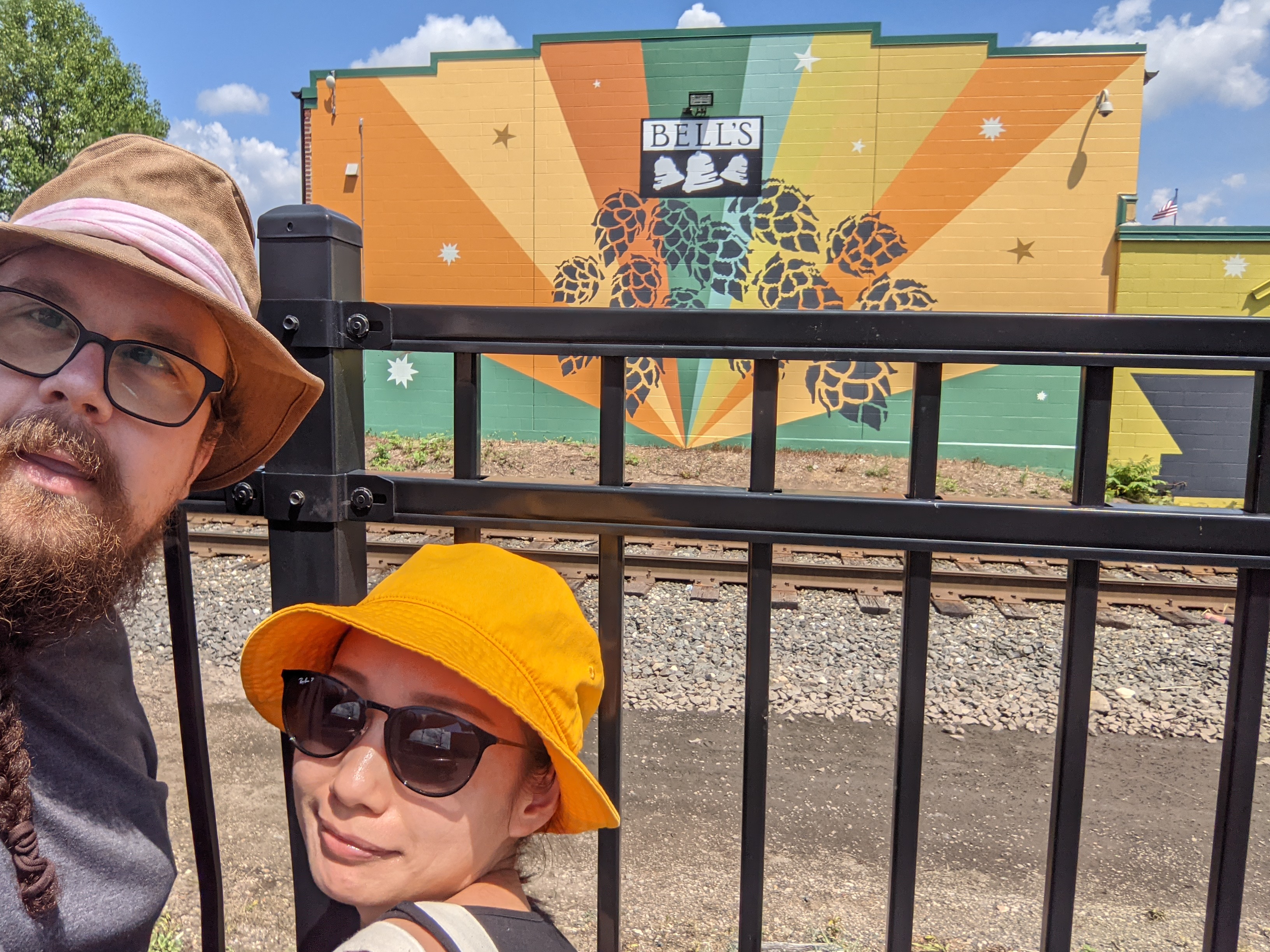 We still love Bell's Two Hearted Ale.
🔗2021-06-10 Rose Cold Coffee Company
We plan to hang in this coffee shop for a few hours like what we did in other coffee shops previously. However, the situation changes, again because of the COVID, that the dine-in only opens until July first. Now we can only order drinks and food from a small window and either take away or sit beside the busy road and under the sun. This isn't the experience we've expected, though.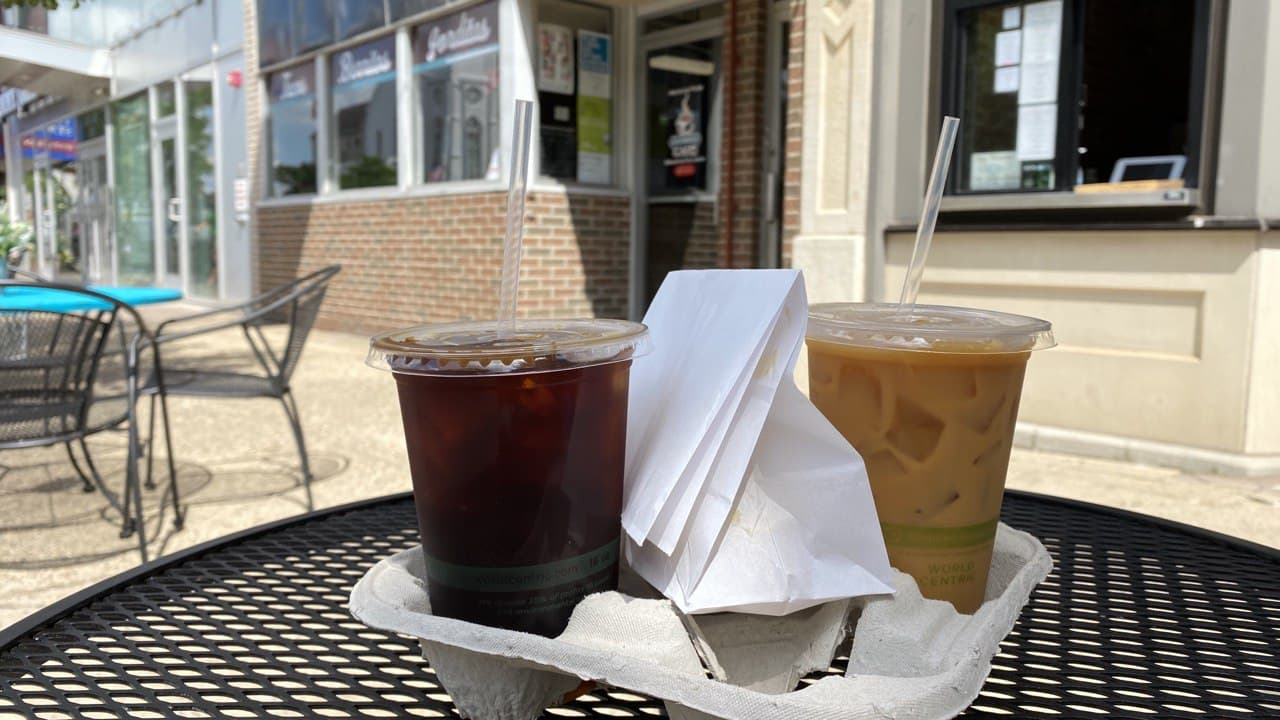 We ordered two cold brew coffee, and one with soy milk and syrup added in. Then we sit at the street table for a while, enough to finish our drinks and food. We both like our drinks, and Aimee thinks the cold brew is good because it has a much more rich flavor in it, compared with other coffee they had on average.
🔗2021-06-10 One Well Brewing
This brewery is close to our hotel. It has great options for tap beers, moreover, it has nachos!
This time, instead of ordering beers one by one, we order a tasting sheet with 5 different beers to start and hope to find interesting ones to tap on.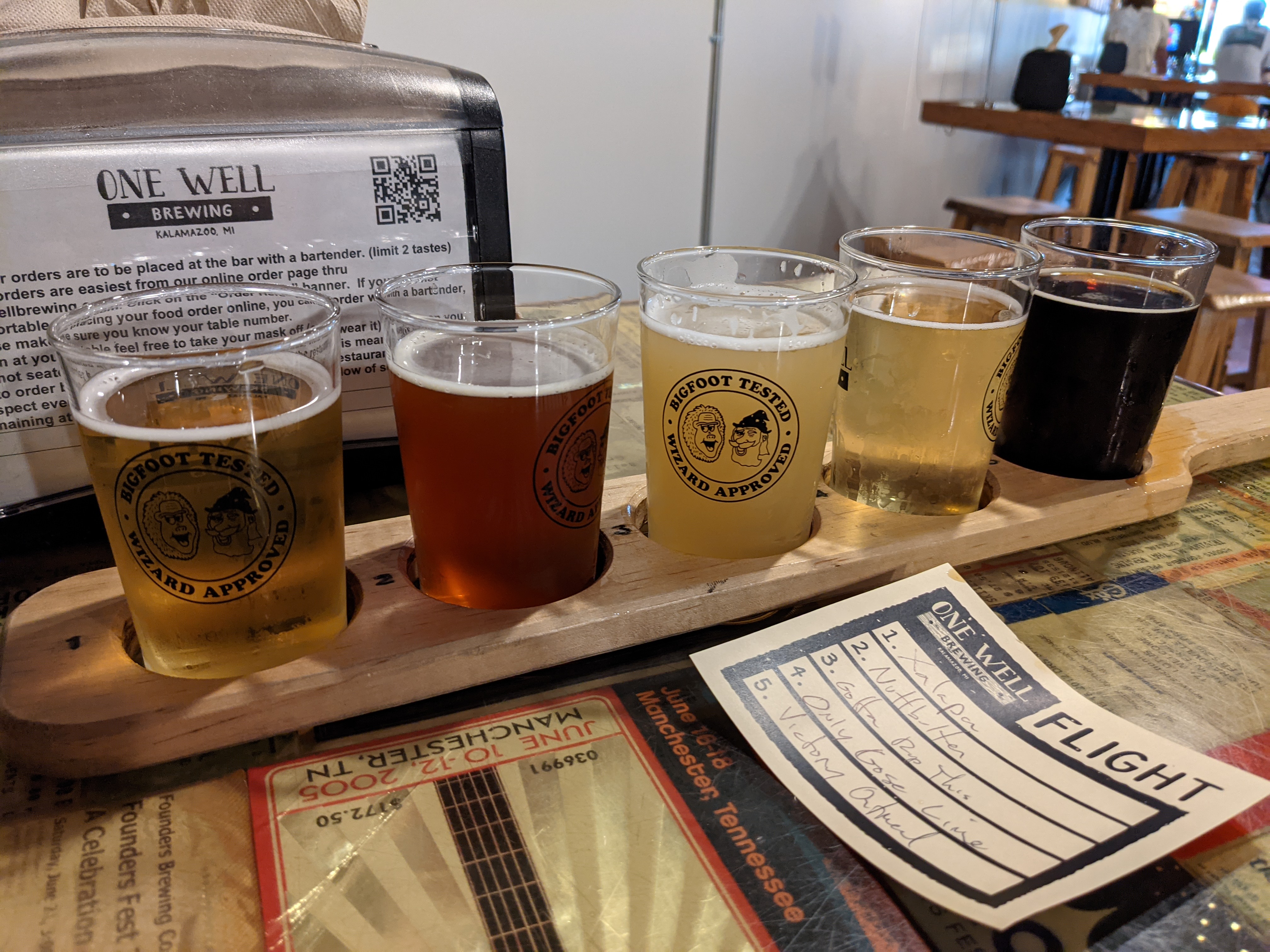 It is a popular place, not fancy, though. More people join in and the place becomes noisy. We didn't stay long and left right after finishing our flight.
🔗2021-06-11 Bell's, the second time
It's Friday afternoon, about 2:30pm, Bell's cafe is already crowded that people are waiting in front of the door. Some people are taking photos to include in the Bell's sign. Maybe because it's the weekend, people start to hang with groups of friends or families here.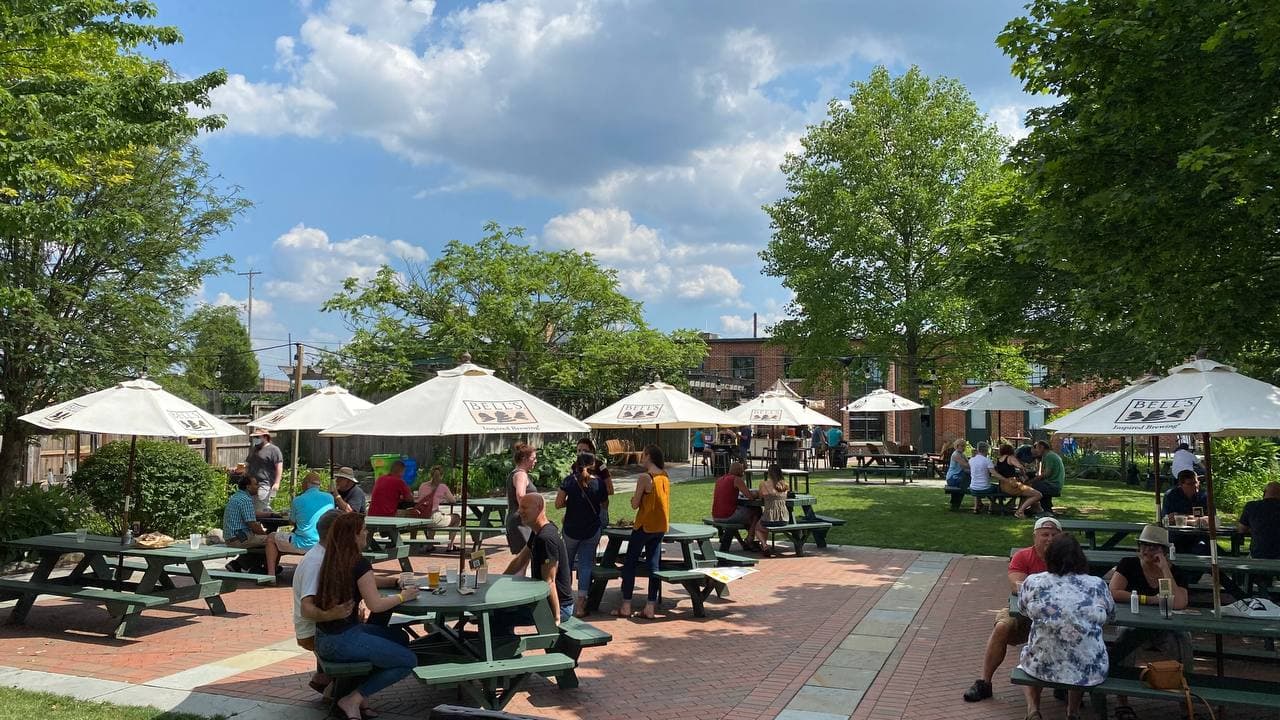 We sit outdoor this time, and it's hot. Bell's outdoor space is super cool. It's huge and very well managed. There are two "bars" for taking orders since there are too many people outdoor. But the kitchen is busy and one of us has to wait in line out of the kitchen to get out food. We had chicken wings again.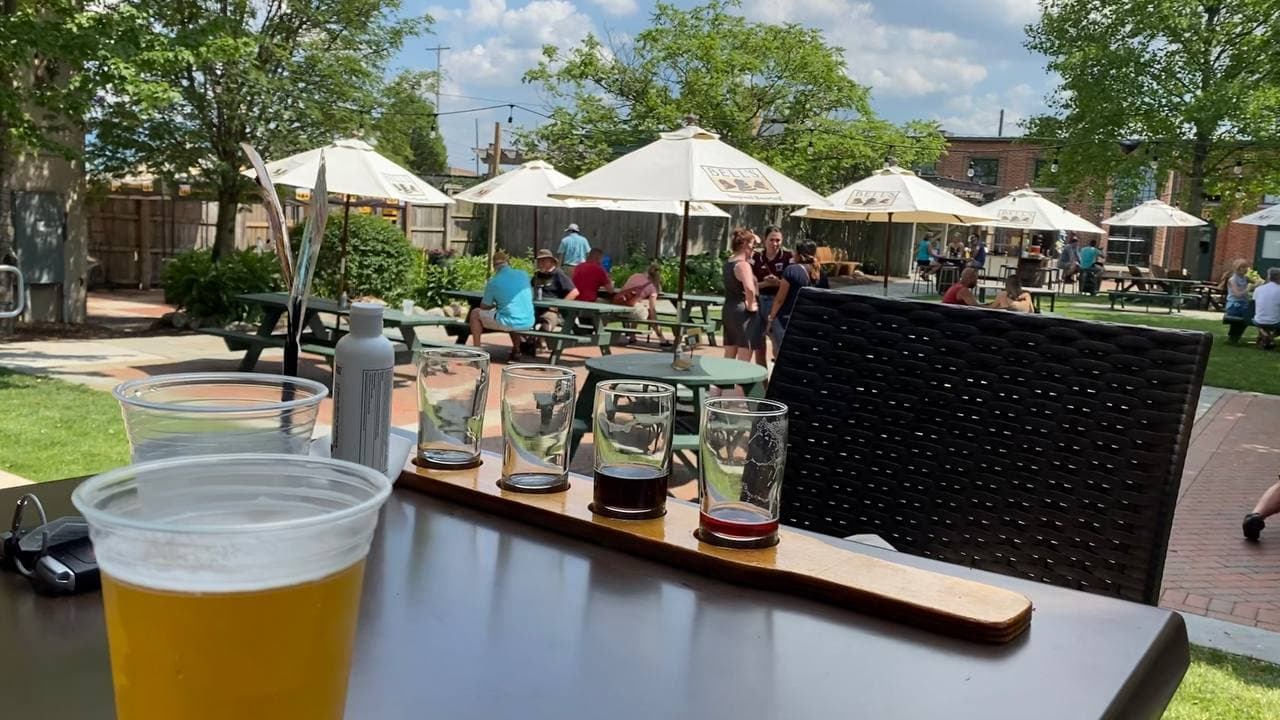 This time, we plan to be conservative to drinks. Instead of strange or new brews, we order some standard beers for tasting, a light IPA, a hazy IPA, a fruity ale, and a porter. We hope to at least find one drink we like.
Brian thinks every drink tastes fine but far away from good. The light IPA is a little bitter than a drinkable beer, the hazy IPA is flat in the body, the fruity ale is special but too strong sour that either of us can stand more than that small glass. The porter tastes just like how it smells, roasted grains. Even the pilsner we had at last, Lager of the Lakes, tastes no better than Wiedemann's.
We might put too high hopes in this brewery that there is a moment we both feel disappointed. It seems there is only the Two Hearted Ale we have been enjoying until now.
Overall, Bell's cafe is still very cool, compared to any taprooms we have been encountered. We like how cool and clean the space is, how big and beautiful the yard is. Even though there are too many people today, and in considering the COVID, everything seems to be in order.
On the other hand, we generally like to stay away from the crowd. We are glad that we came here on Wednesday previously, that there were fewer people here and we enjoyed our indoor space comfortably.
At last, we picked up some other new beers from Bell's general store right beside the cafe. We are looking forward to sharing them with our friend Jason soon.
🔗2021-06-11 600 Kitchen and Bar, the second time
Nobody expects we end up the day at a restaurant we disliked: 600 Kitchen and Bar. We had lunch there a few days ago and it was bad. They have a lot of things on the menu which look delicious. However, none of our dishes tasted that good.
The reason we came here is that we had an interesting beer last time, but we forgot what it was. It looks like chocolate milk and doesn't taste like beer at all. We couldn't find that beer on others' menu and even couldn't google it out. This time, we plan to sit at the bar and talk to bartenders to figure it out.
The only thing we can say is it's called creamy ale, and it looks like chocolate.
The bartender knows what Brian is talking about as soon as he says "cream ale".
He then pours us a golden-orange, lager-look beer. We think it is the wrong beer. Strangely, it tastes much like the beer last time — it doesn't taste like a beer! But, we are confused that the appearances of the two are totally different. Brian guesses that the last one we had might be the bottom of a keg, while this one isn't.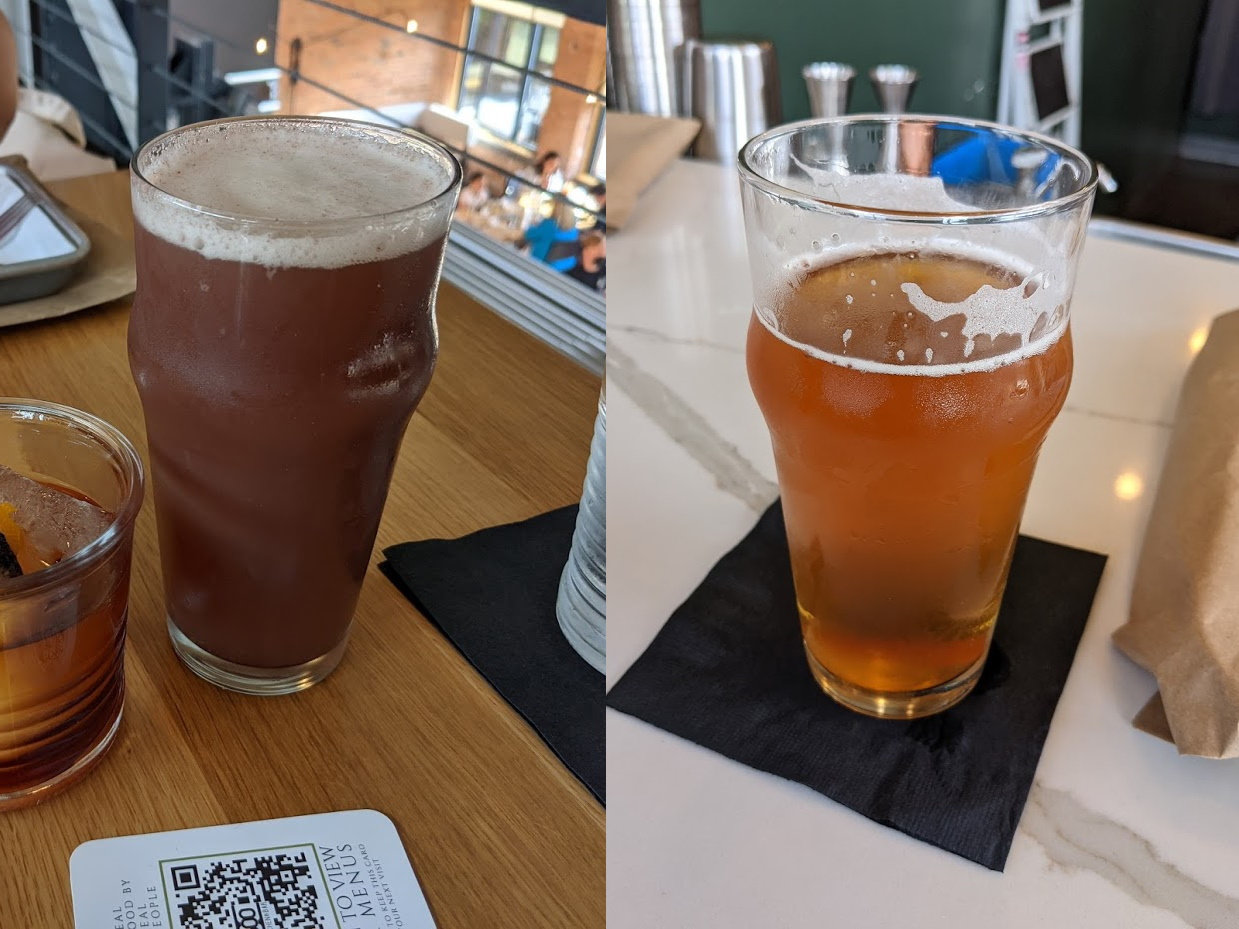 In the photo: these are the same beer, four days and two pours apart. The first one we were enamored with, the second was fine.
Anyway, the beer was a Ludington Bay S.S. Badger Blue, a "light-bodied blueberry cream ale".
Although we solved the mystery of the cloudy blueberry cream ale, we were kind of unsatisfied with the answer.
🔗Grand Rapids, MI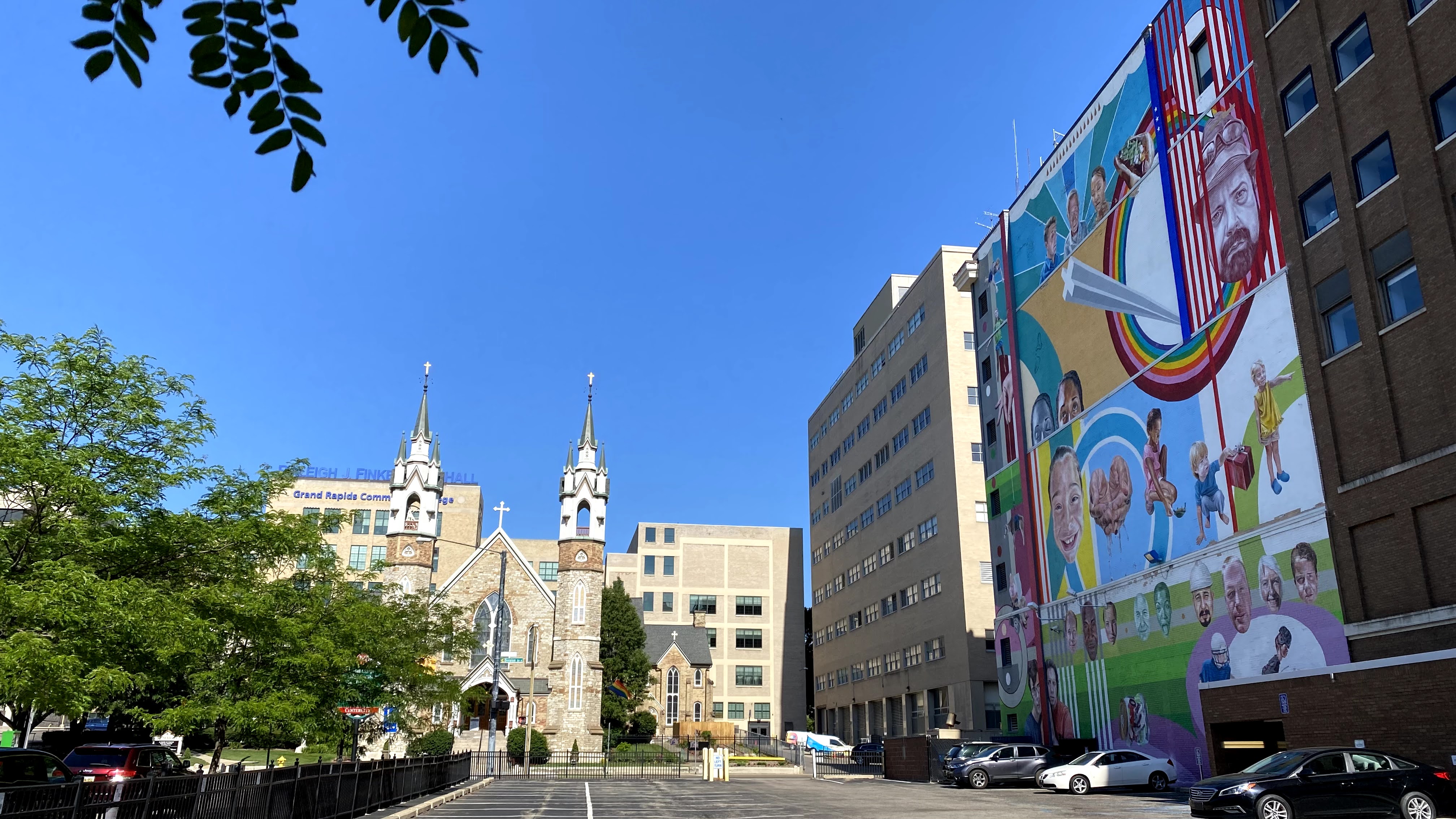 The traffic is good as a CITY that we didn't encounter any traffic jam on a Saturday afternoon.
We stay in an Airbnb apartment in the middletown area, and we love the location a lot. Everything is within walking distance. For visiting breweries, we can just drink as much as we want, and nobody needs to drive at all.
We walk to:
a coffee shop or a bakery for a sophisticated breakfast;
a never disappointed brewery for beer tasting;
a nice restaurant for lunch or dinner depends on when do we do brewery visiting;
a grocery store anytime when we want to cook.
There are many museums that we only visited one art museum. There are interesting stores, for instance, olive extract machines store. There are many outdoor hanging spaces with good quality food and drinks, that very much like you are on a European street, enjoying your lovely daily life with beautiful things around.
It's summer, but not super hot. The sunrise is 6:20 am and the sunset is 9:30 pm. We have a whole lot of time to spend on outdoor activities and get tan in the sun.
People are friendly.
Cars stop for every pedestrian everywhere. Pedestrians show thanks to cars often. When we walk, people wave greetings, say "hi" or "good day" to us.
We learned to thumb up to cars when we cross the road, say hi to our neighbors: those who are hanging on their patios as well as those who are working on their gardens.
One time, a guy is exercising and running passed by us, Brian says, "Man, that guy works so hard on his body, we should thumb him up!" Jason agreed and says these exercise activities are hard to keep and should be recognized. Aimee then learned to thumb up to everybody: everybody needs to be encouraged of whatever they are doing.
People are fun.
Almost every day, there is a person says, "I like your hat", to Brian; There was a guy who almost jumped out of his truck when he saw us across the street, shouted out at Brian: "Hey, man, I'm fucking love your beard!"
Grocery store cashiers would come out of the desk to help to carry our basket if it's too full.
A coffee shop client helped open the door when Aimee has full arms of coffee and pastries, smiled, "No charge!"
We think everything here is perfect for our lifestyles. But interestingly, we never heard anybody recommend or even talk about this city. Brian says: "there must be something dark about this city."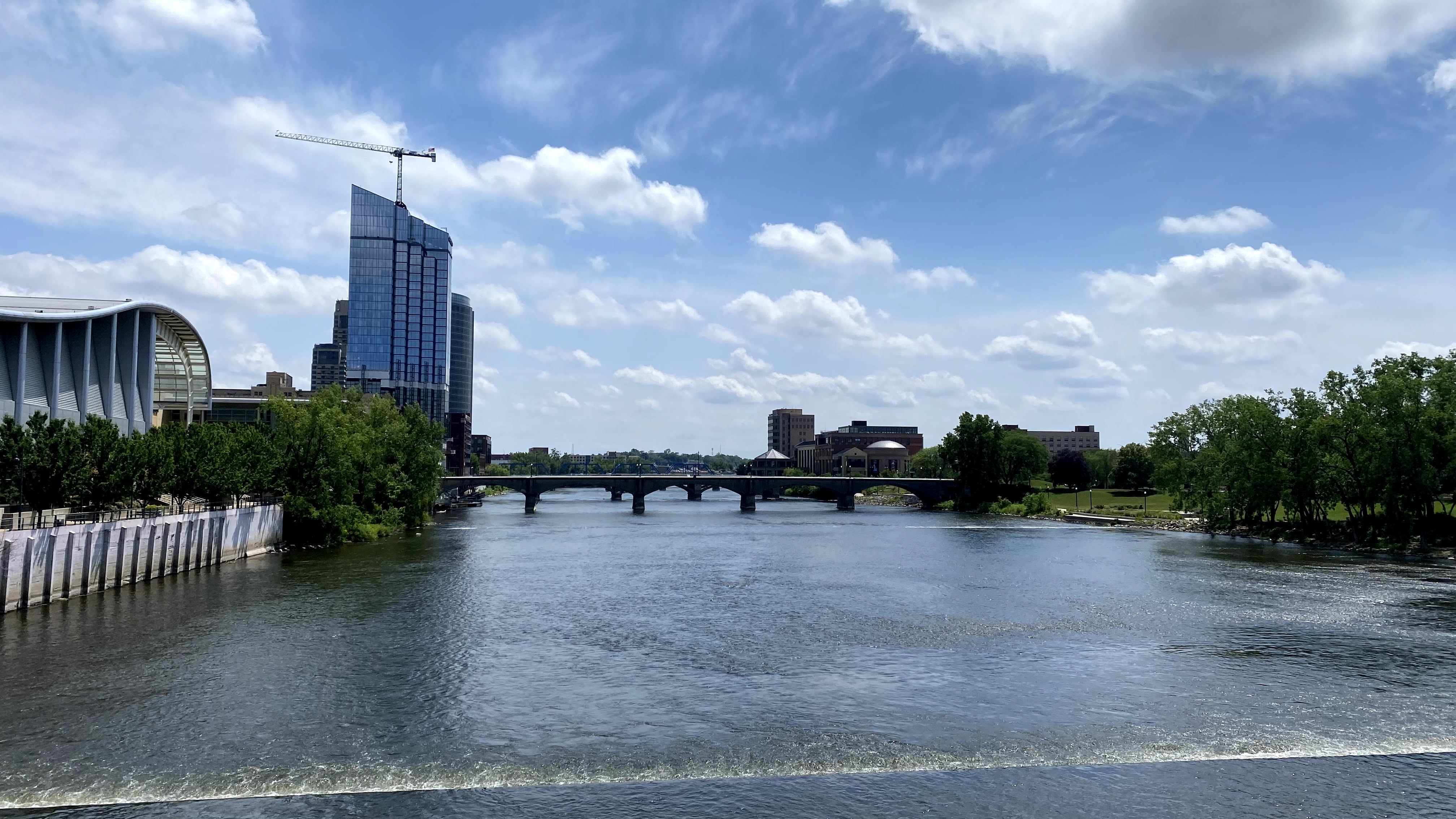 Grand river.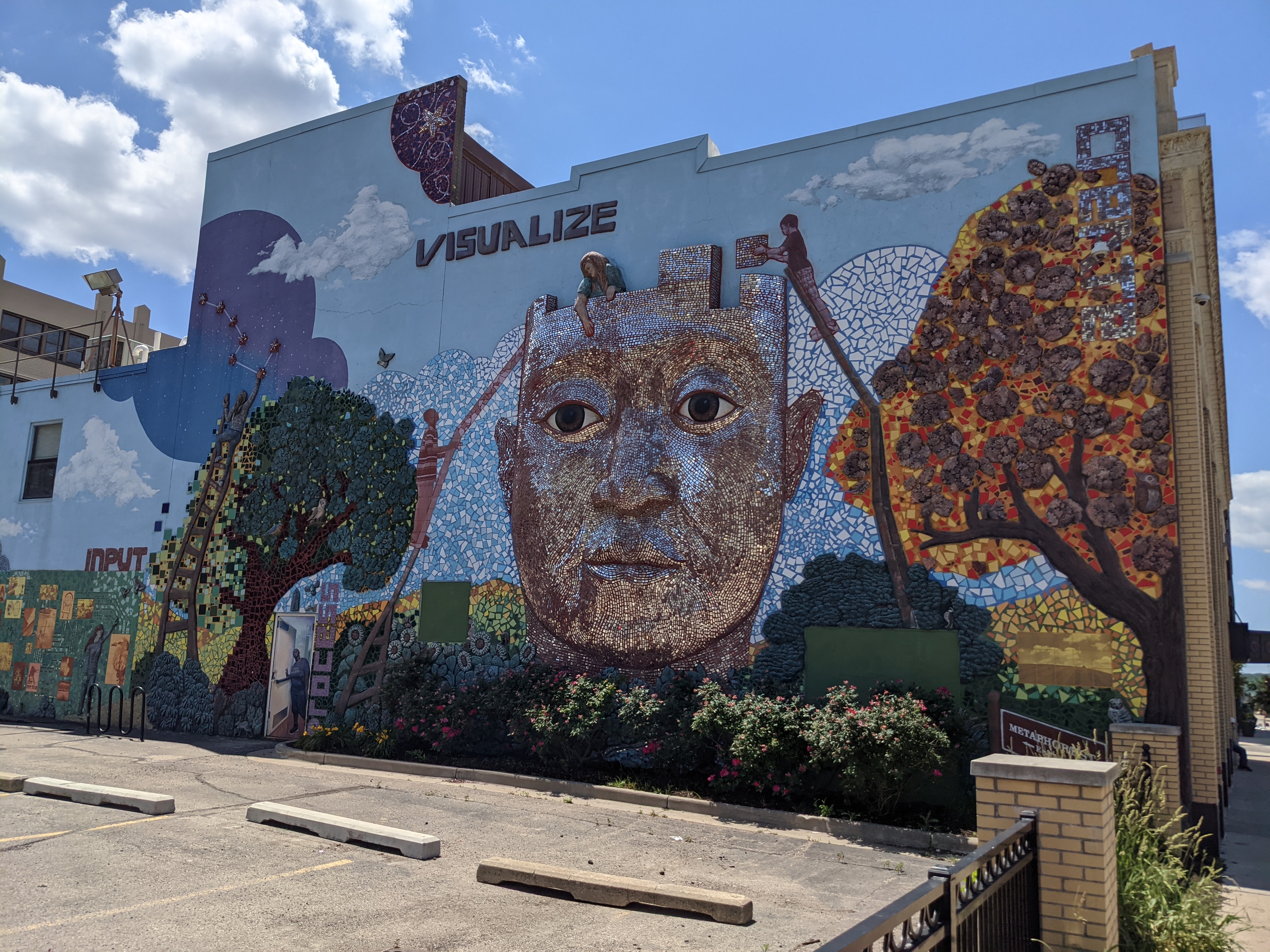 Street art.
🔗2021-06-12 Full Circle Coffee
South of Grand Rapids.
We left Kalamazoo this morning, heading to Grand Rapids. Again we have to kill some hours between check-out and check-in.
So we stopped in Full Circle Cofee, in a modest strip-mall ind a mobest suburb.
They served us the best coffee we've had in months, after we have found ourselves complaining about every coffee we've had everywhere on this trip.
The Water Street Coffee Joint in Kalamazoo was charming in its way, but the coffee was just average. The coffee here is stellar though. Aimee ordered her usual Americano, and it was perfectly balanced; not too much water, not too much acid, super drinkable. Brian ordered the special lavendar iced latte.
The ambiance is great here too: lots of space, not a lot of people, good variety of furniture to sit on and hack and sip.
Brian ordered another coffee latte later. He had too much caffeine already.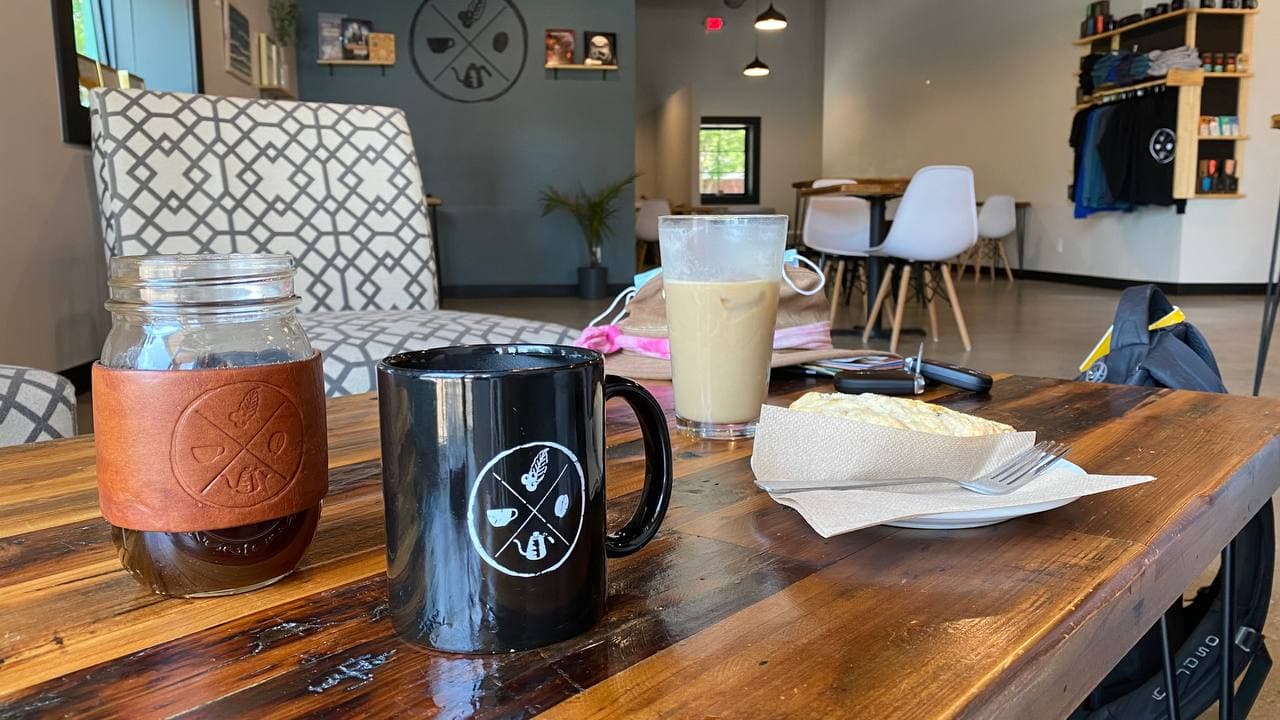 🔗2021-06-12 Aimee's magic bag
Jason joined us from now on!
When we walk together, Brian asks Aimee, do you have a lip balm? Aimee nodes and take a lip balm out from her canvas bag, which is a free gift from some store they purchased before.
A minute later, Brian asks, do you have a mask for me? Aimee puts her right hand into the bag on her left shoulder and brings out a mask.
Jason laughs: "do you know Hermione's magic bag, that she can get everything from her magic bag, a wand, a book, or anything?" Jason imitates Hermione's actions, putting his right hand to his left arm, and pretends to get out of a wand on his hand. "Aimee has a magic bag."
For the next few days, Brian puts almost everything in Aimee's magic bag, Sometimes, Jason puts his book in the bag too. During this trip, the bag is getting more magical.
But, it is just a normal canvas bag.
🔗2021-06-12 7 Monks taproom
We had our first round of beer in the afteroon at the Airbnb apartment. After a short rest, we walked to the 7 Monks taproom for dinner.
We are surprised that they have dozenes of taps! The space looks cool; not as cool as Bell's cafe, though. On the menu, there is some basic bar food. Jason had fish and chips, and he says it's good; Aimee had a salad with chicken, and Brian had a burger.
The niceest thing is, at least for us, it's even not crowded on a Saturday evening.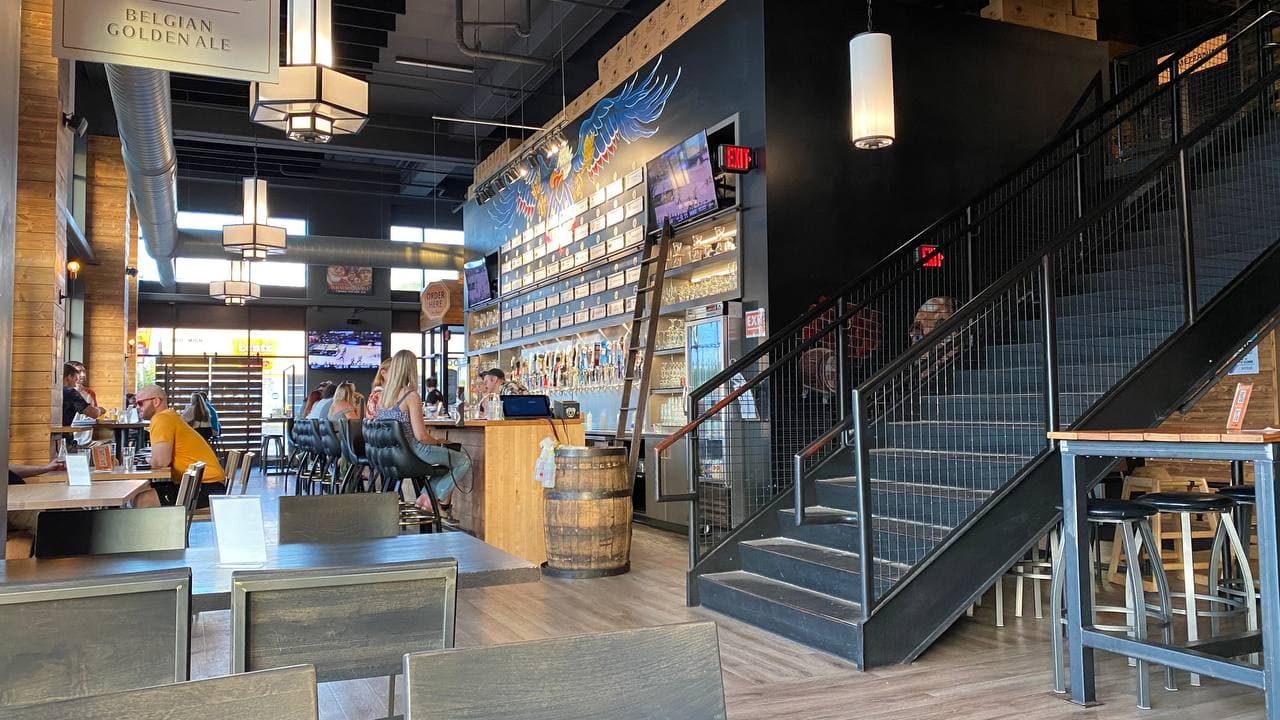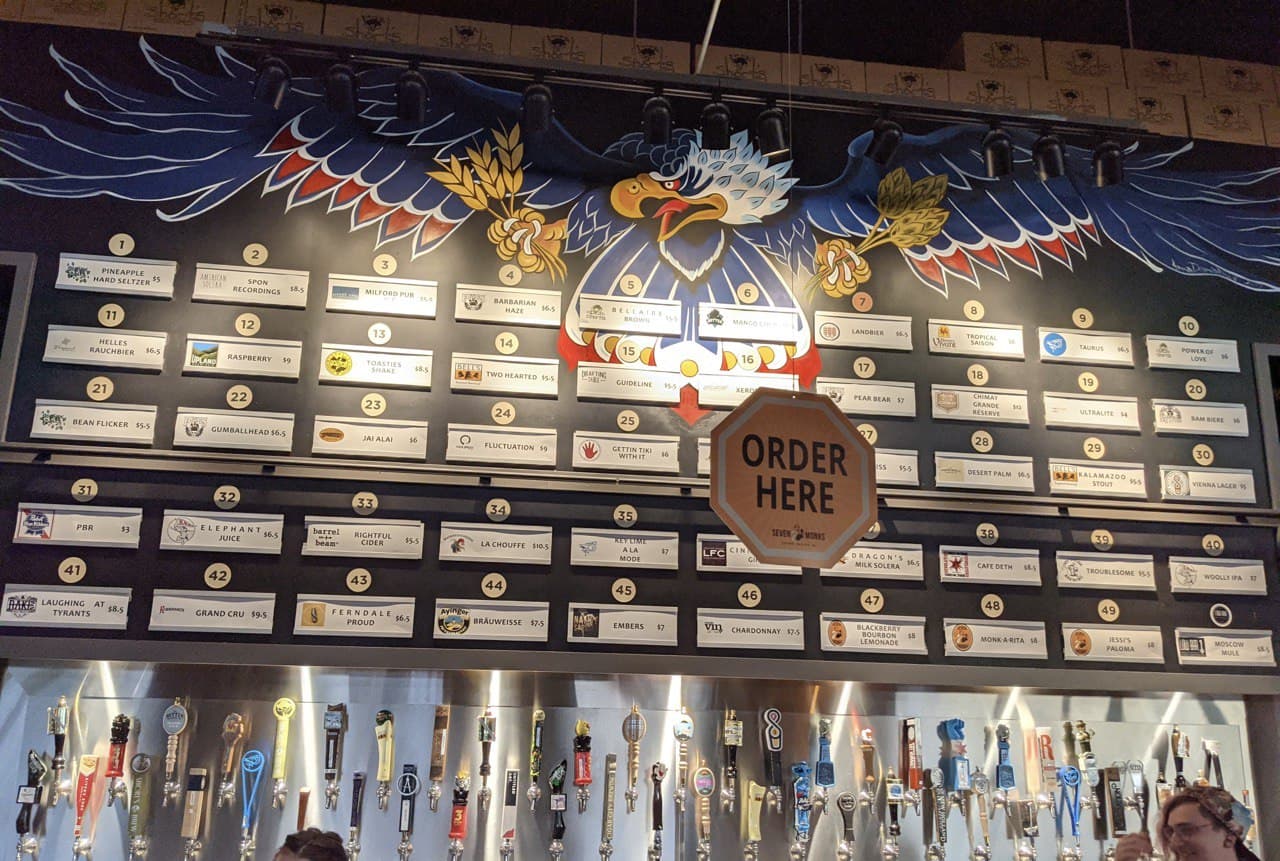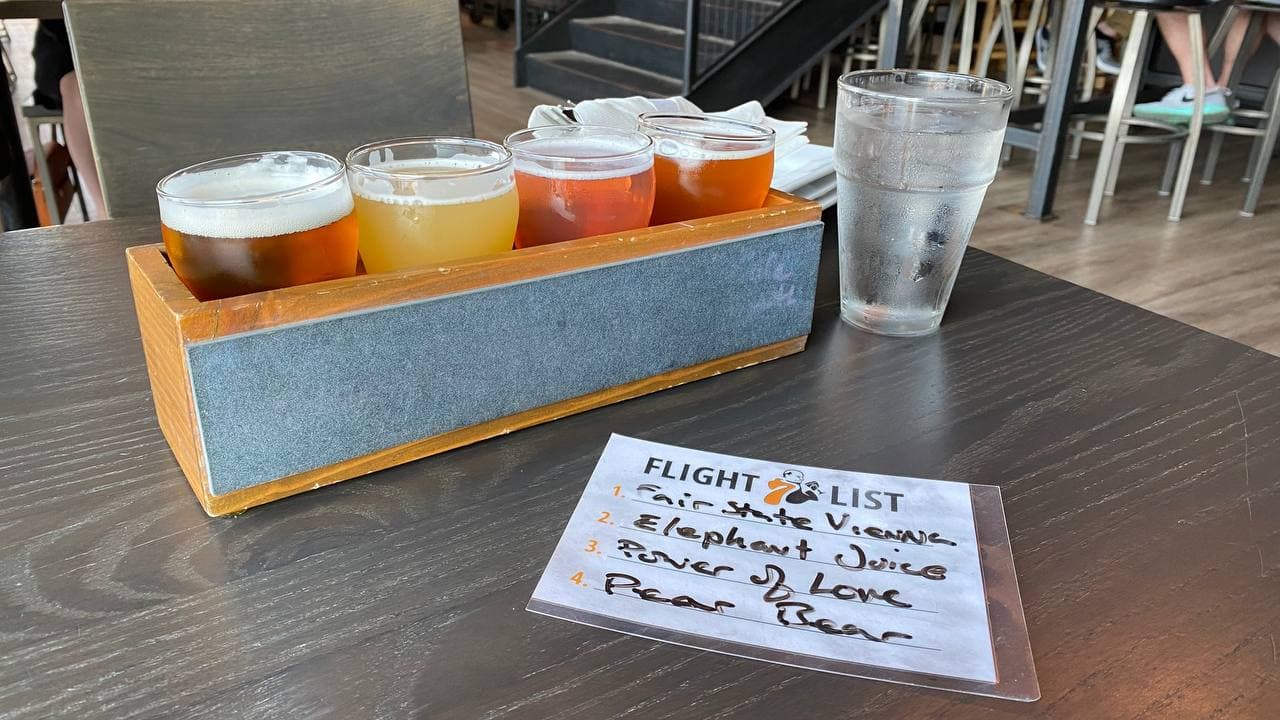 🔗2021-06-13 Kaffeine
This is the nearest coffee to our apartment. We three have to have breakfast here because there is no food at home except for beers. We probably should keep having oats and cereals on the road.
This is a very well-rated coffee shop, and their food looks appetizing too. We ordered a salad bowl, some food, and coffees.
This coffee shop didn't create strong impressions in our minds. We don't remember much about what we had and how they taste. Brian ordered a second latte to go when we left though, so it's must be good.
🔗2021-06-13 Martha's Vineyard Fine Wine & Gourmet Grocery
This grocery store is the exact type of neighborhood grocery store we love. It's only a few blocks away from our Airbnb, so we can easily come by without thinking too much, unlike driving to Jungle Jim's or Kroger in Cincy.
The grocery store is not as small as it looks from the door. It has a lot of options for everything we like: cheeses, hams, wines, beers, vegetables, and fruits. They also have gummy bears!
We pass by Martha's grocery almost every day for pastries and coffees for the next few days. We hope to have Martha's grocery around us anywhere we stay.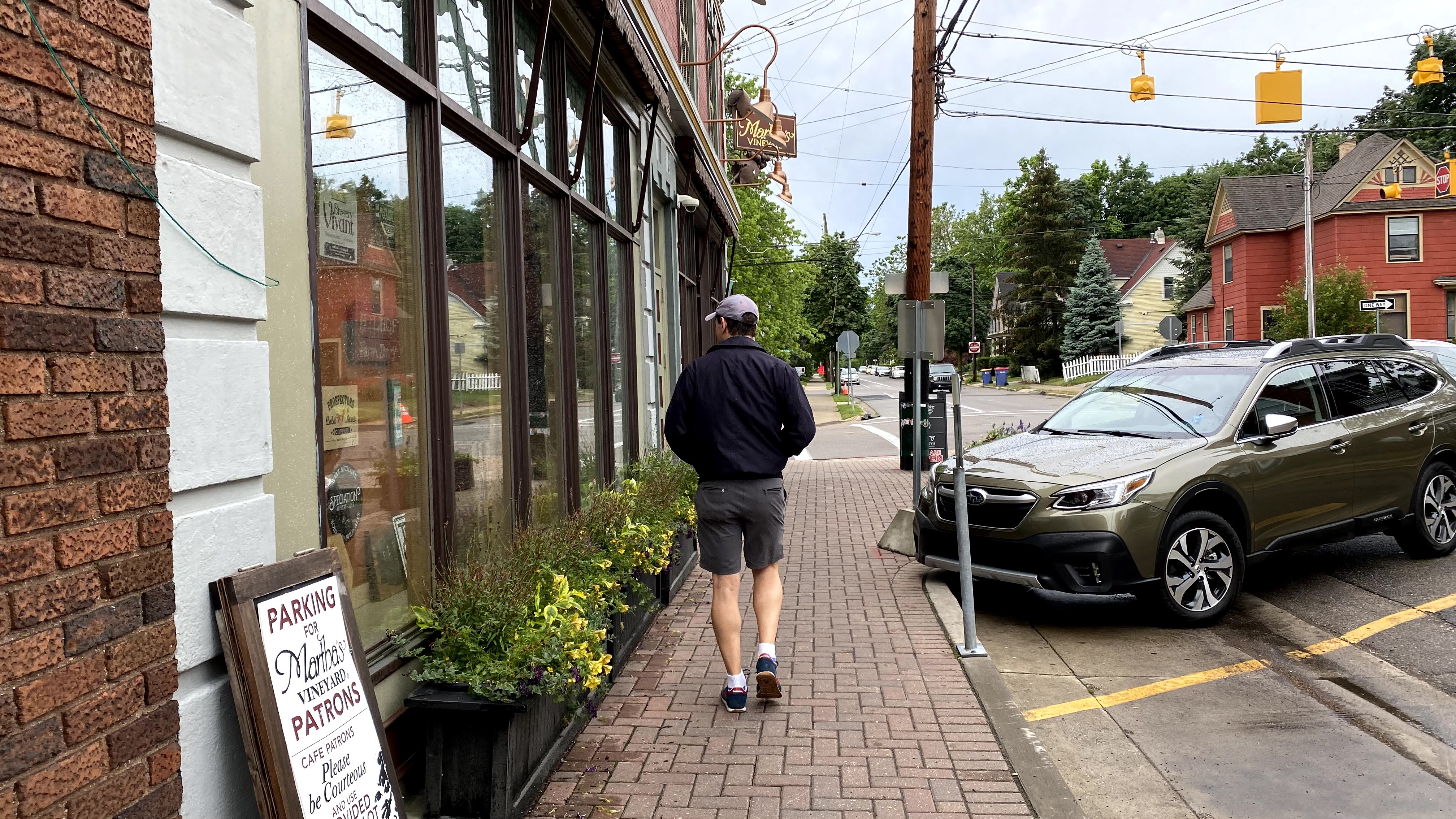 Jasonbro
Brianbro & Jasonbro, the other day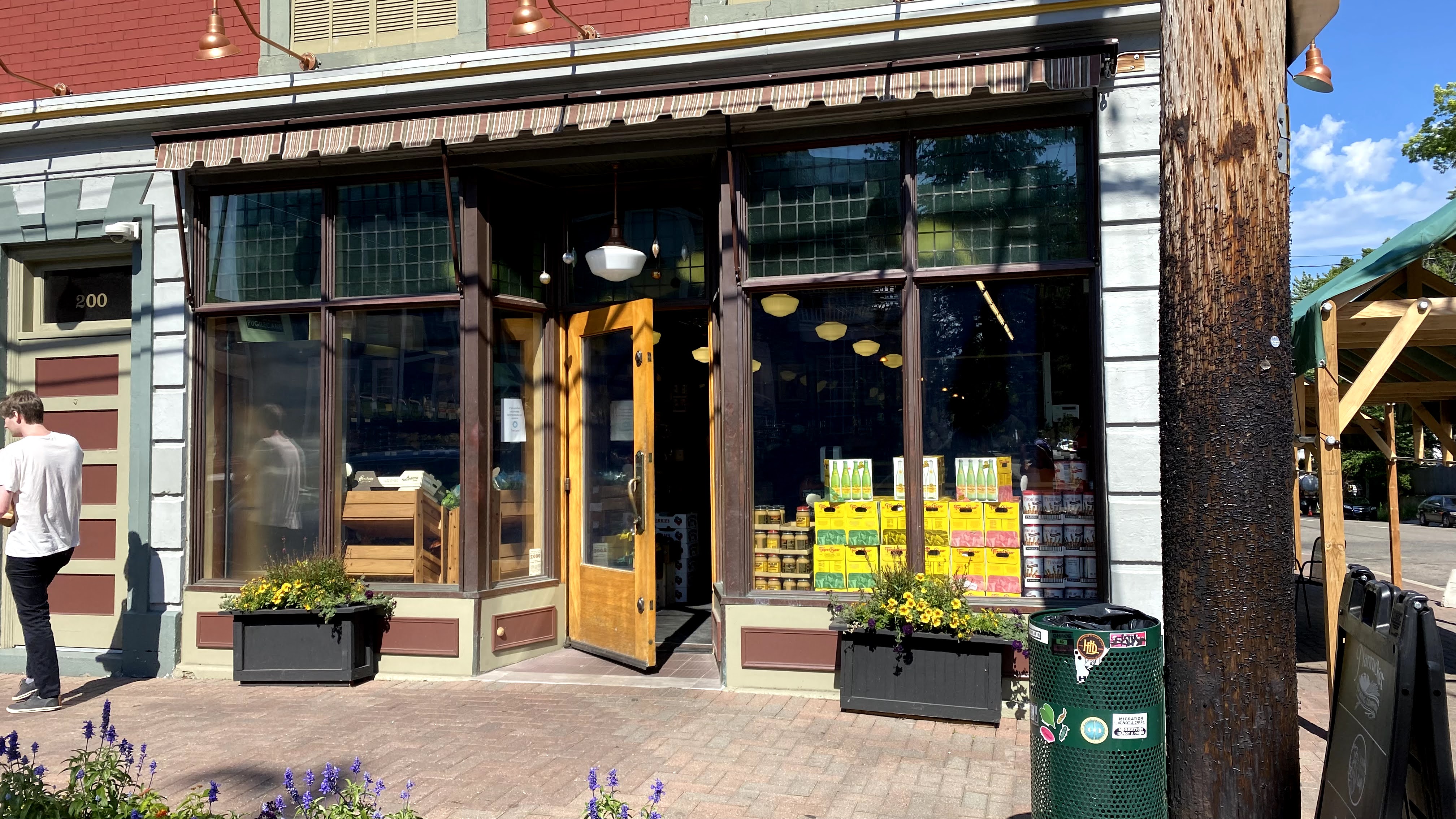 Some handsomebro
🔗2021-06-13 First cook with Jason: pasta and sausages
We usually fry sausages with a pan and with some vegetables aside. Sometimes Brian adds stout or whisky in them, bringing deeper a flavor.
This time, we learned a new way to cook sausages from Jason. He bought sausages from a butcher when we had a walk together yesterday. The sausages are much fresher than the frozen sausages from grocery stores.
Jason puts sausages in the boiling water and lets them swim for a while, maybe around 20 mins, then he moves them out and quickly grills them. Then it's done.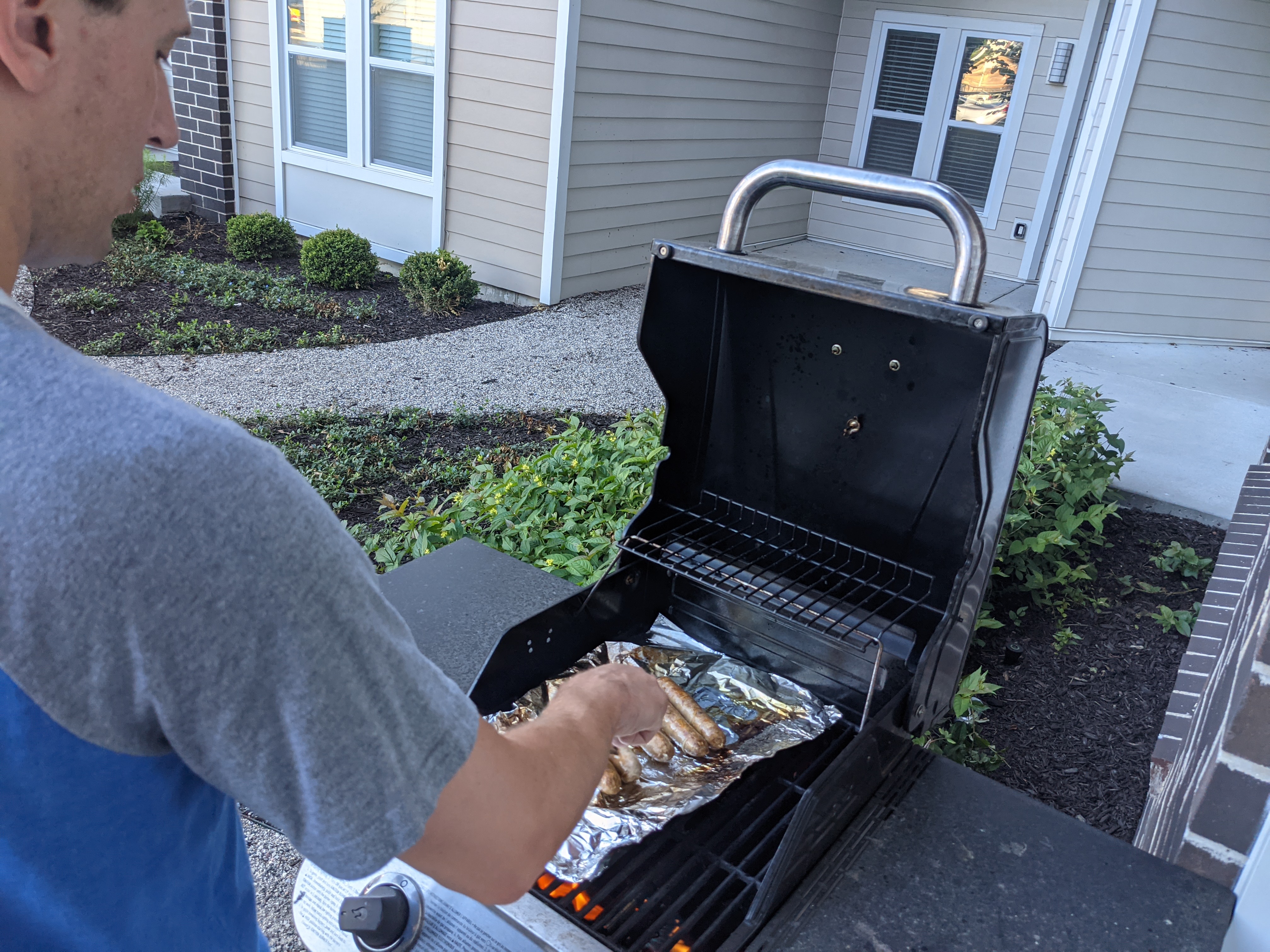 Meanwhile, Brian cooks his experienced mushroom tomato sauce for the pasta. Aimee helps with cutting ingredients.
As from the name, the sauce is made from mushrooms, tomatoes, and basic ingredients for almost every of our meal: garlic and onions. Cook them with olive oil.
It always takes a long time to cook sauce because we need to keep everything on low heat and let them simmer until it looks saucy. It should be good enough to blend them.
Jason suggests putting cut sausages into the mushroom tomato sauce, which is new to us. Why not? The sausages take the sauce to a deeper level. The sauce tastes richer.
While the boys are playing around with sausages and the sauce, Aimee starts cooking pasta. Cooking pasta is simple, always follow the instructions on its package. Generally speaking, pasta takes around 10 mins to cook.
Everybody is waiting and hungry.
But, be patient. after plating pasta and the mushroom + tomato + sausage sauce, we still need the last and most important step: fresh basil, Parmigiano cheese, and black pepper.
How can anybody not enjoy this meal?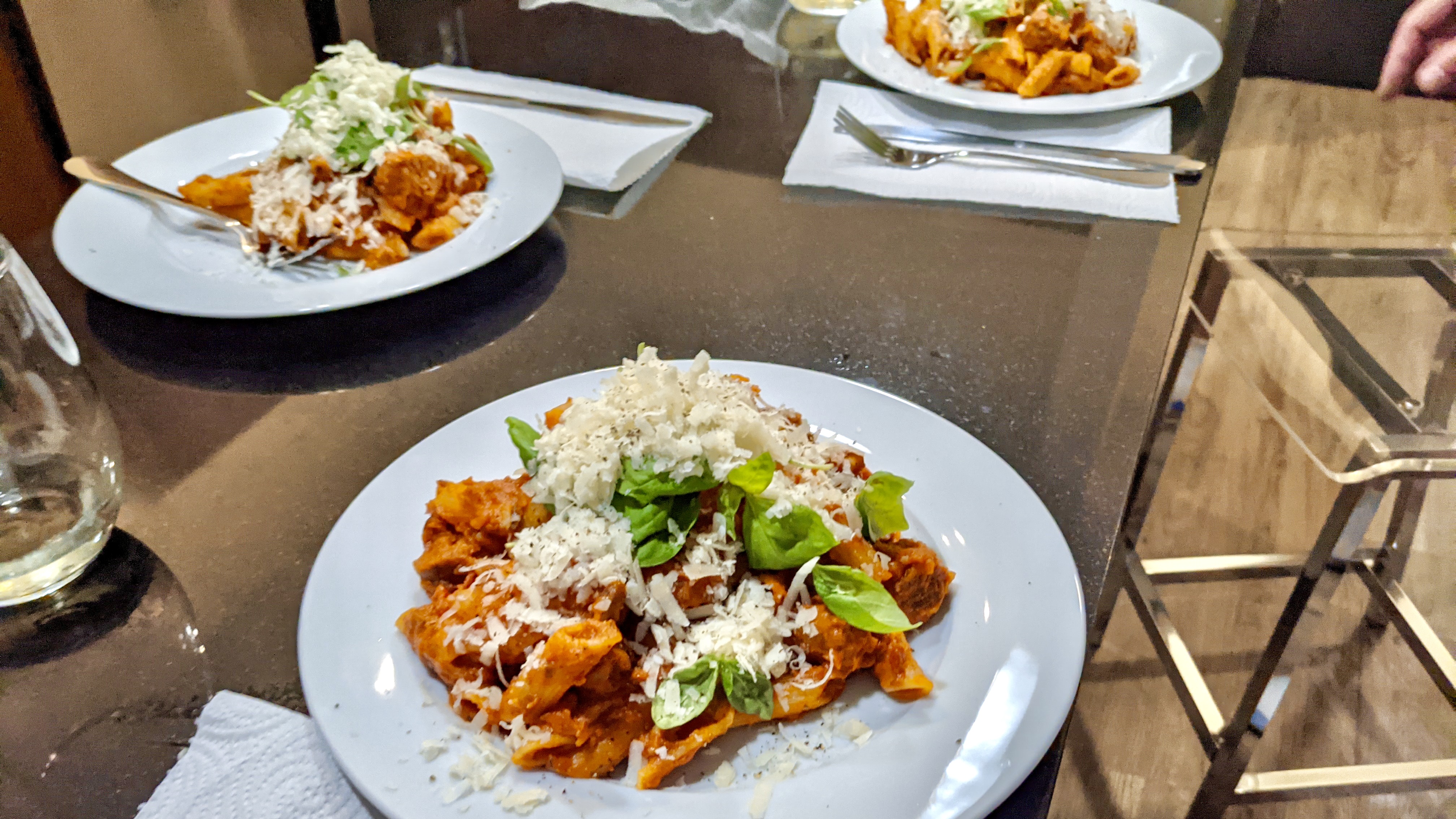 We were so hurried to move our forks that we compromised on this photo.
🔗2021-06-14 Brewery Vivant
Jason has a long list of what to do next. Our list only has Founders brewery. So we decided to be lazy not doing any research but follow Jason.
Jason says a brewery name that we have never heard of. There is no expectation out there after already having tried our favorite one, Bell's. It must be just another taproom, like 7 Monks.
Jason stops walking and checks his phone, saying it's here. We follow him across the street and then soon a brewery type building shows up. And it has beautiful drawings on it! This is the back wall of the brewery. Now, we are excited.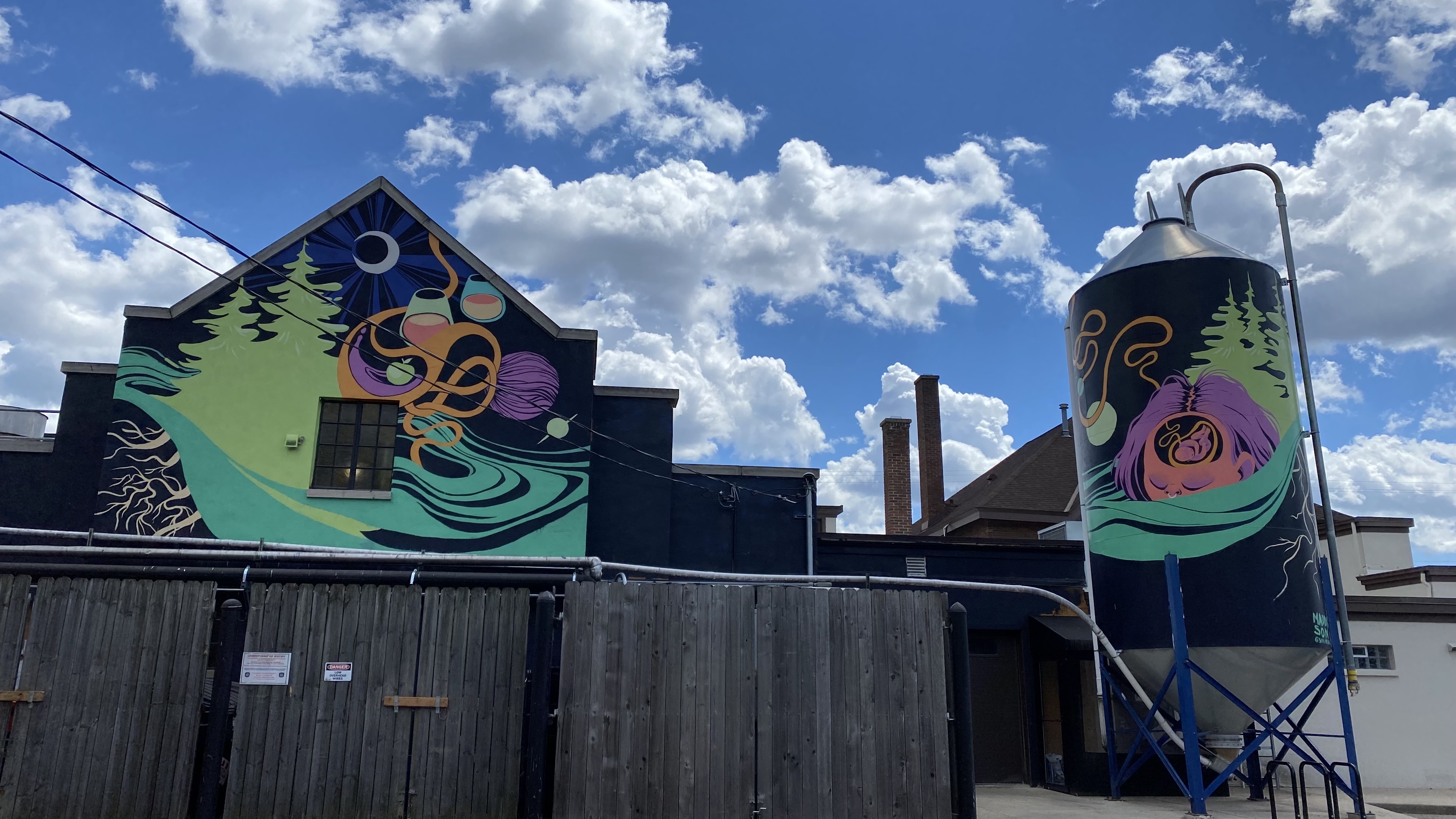 We pick up our pace and find the door, sit in, and soon made our beer order. We start to take photos...
This is a historical building, which was a church before. It still keeps the colorful stained window glass, and put their bar under the window, which makes the bar look mythical.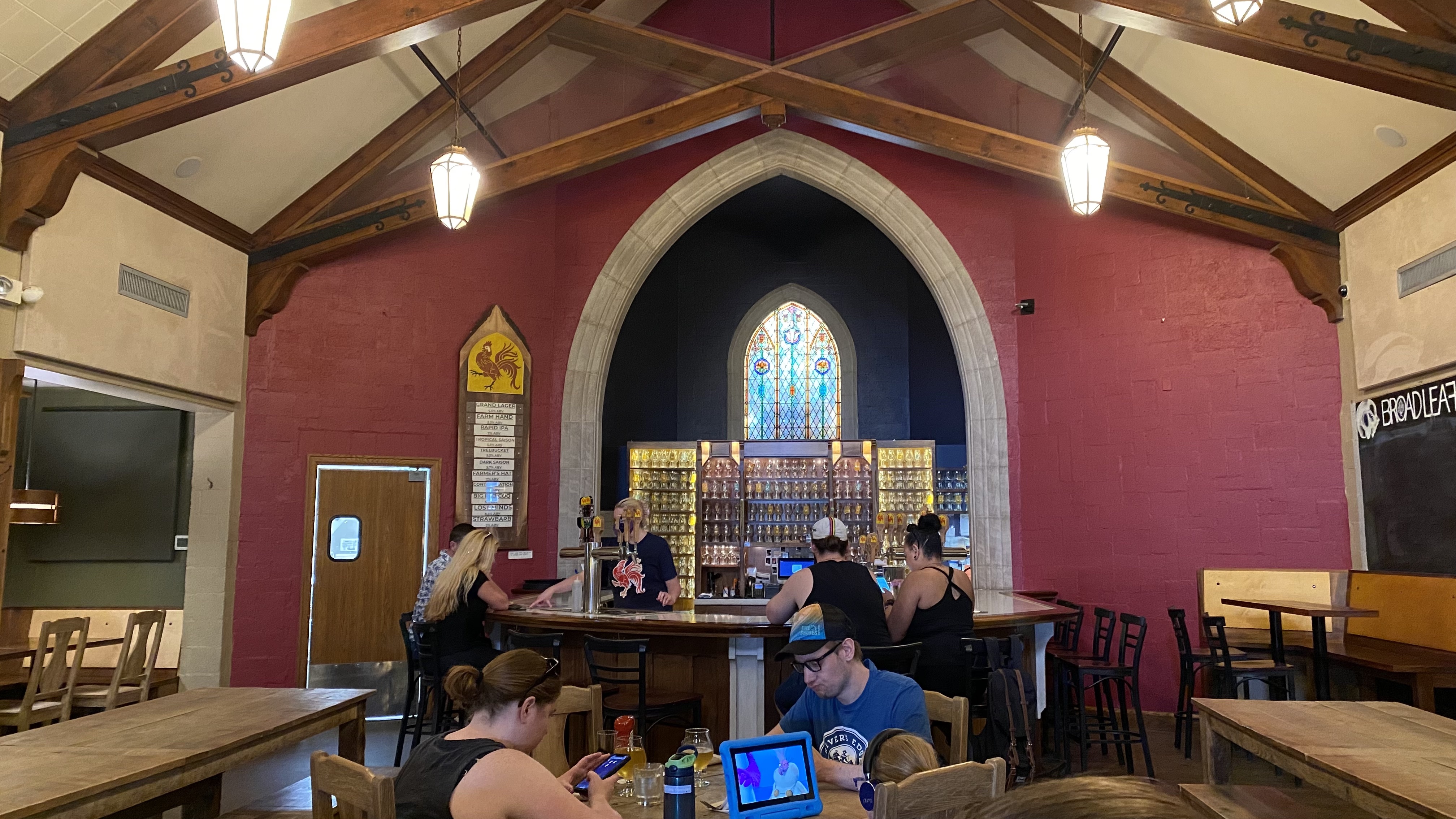 We had a lot of beers, but forgot to make notes on most of them.
Park Saison. Light yellow and translucent, Brian said it "smells like my armpits", but also thought it was the best saison he had ever had.
Barb the Destroyer. Jason: "like drinking a sour patch kid". Brian: "I am sure this is an accomplished beer but is is terrible". Jason (immitating Brian): "I give it a 5".
Big Red Coq. A red IPA, or a farmhouse ale? We were unclear about it, but Brian said "oh wow" a lot.
We forgot the rest, but they were all fun.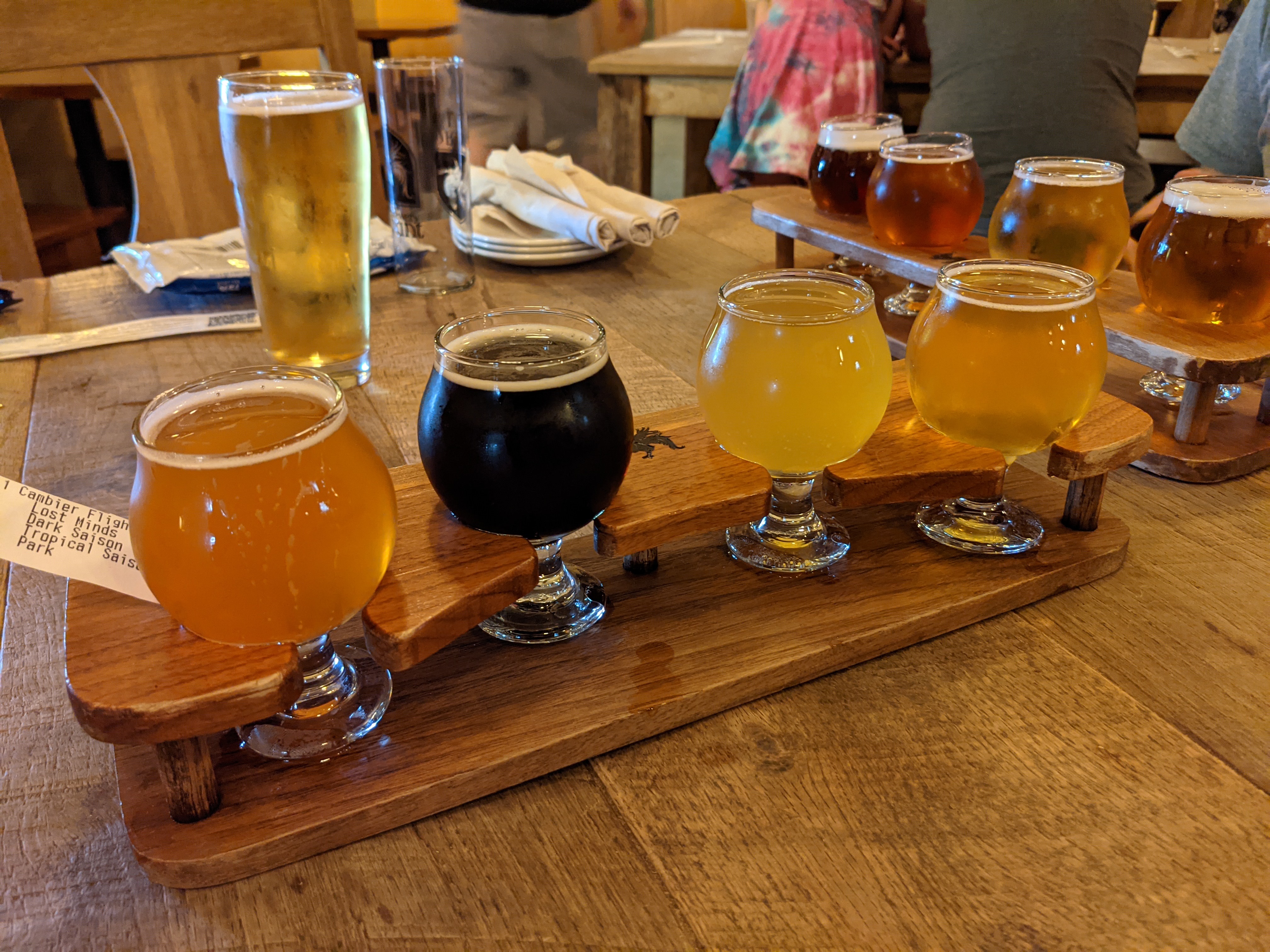 We will definitely come back again.
🔗2021-06-14 Nantucket Baking
This bakery is right behind the fine grocery store we liked. It seems to be a famous bakery that the Founders brewery even put its name on their menu, claiming good quality bread. Later we found more breweries put this bakery's name on their menus.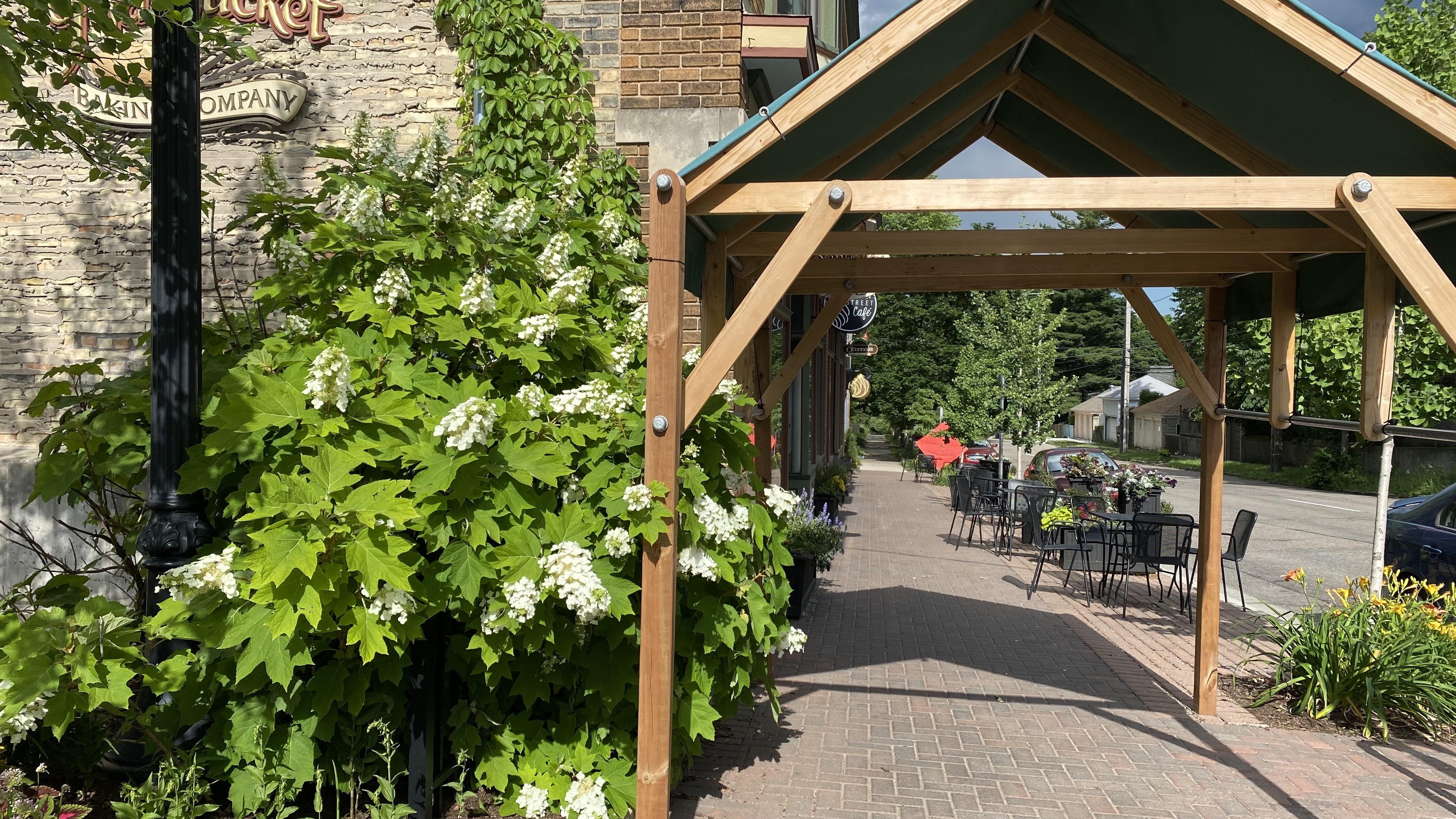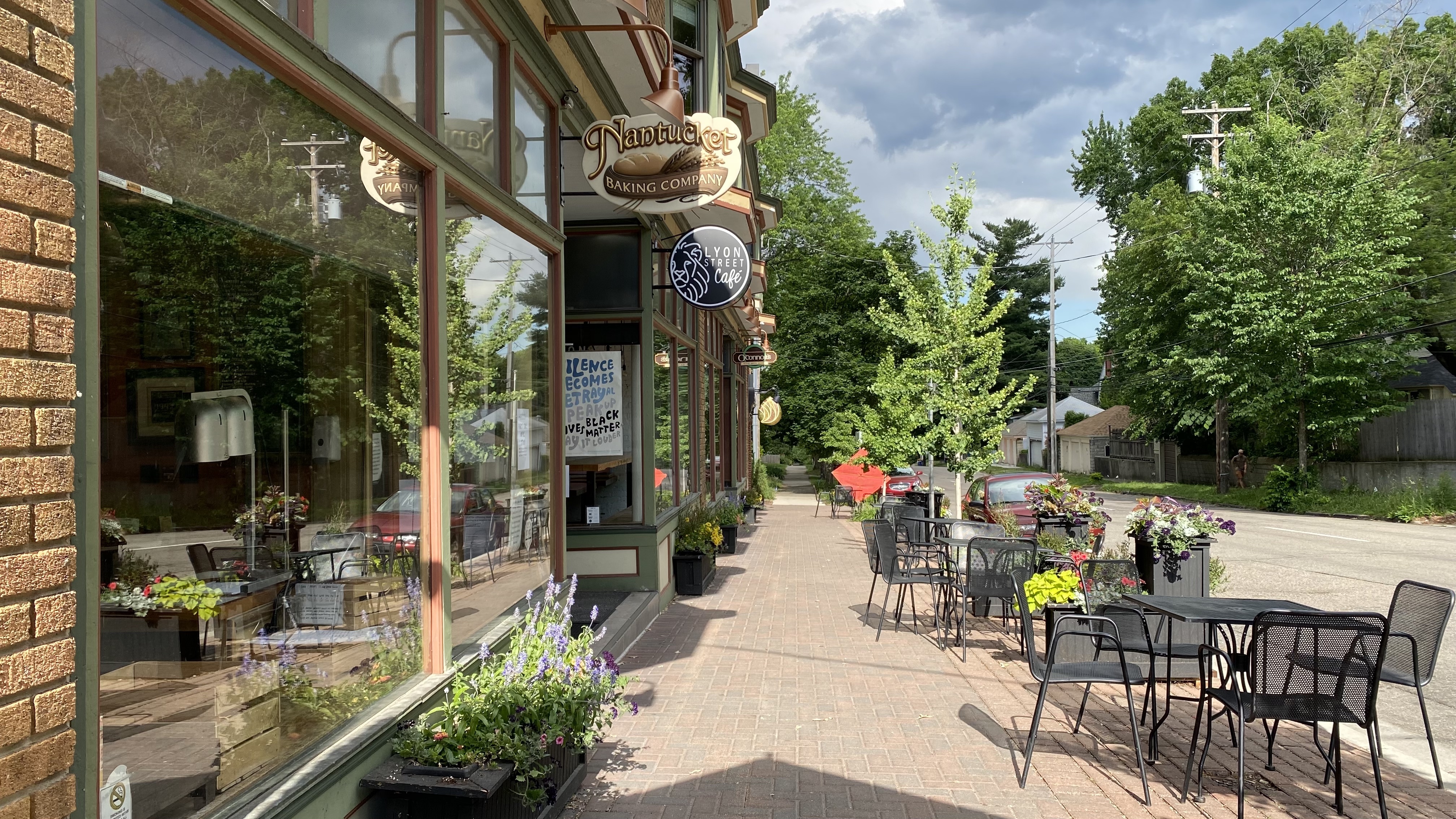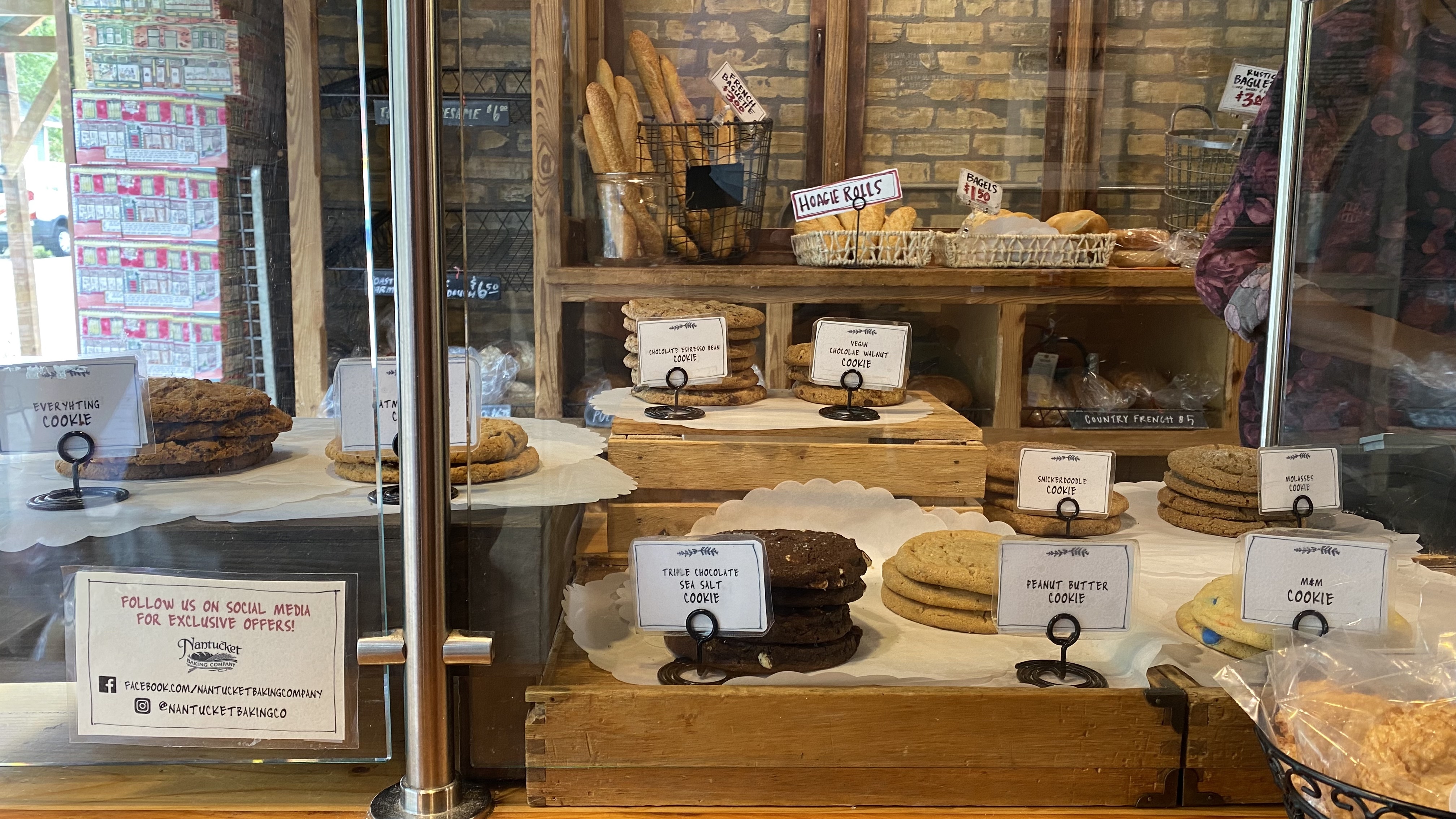 We usually get up late and it's difficult to have breakfast together. Jason visits the bakery almost every morning and brings us back pastries sometimes.
Everything that comes from this bakery is so delicious. We had croissants, almond croissants, chocolate cakes, chocolate bread, dessert bars, and more. We keep eating and signing simultaneously: so good, so good.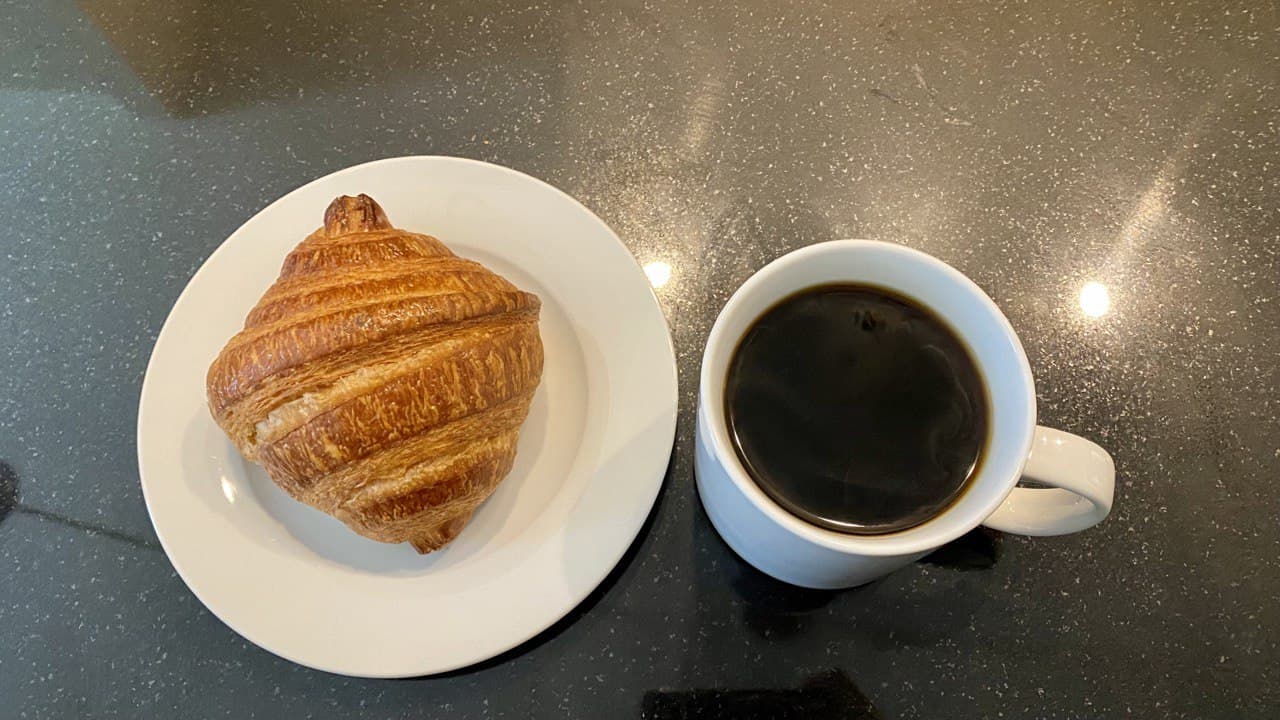 Aimee's breakfast: hand drip coffee and Nantucket's croissant.
🔗2021-06-15 Picnic in Millennium Park
Today is a good day for picnics. With our loose plan and processes, we prepared Brian's classic brie sandwiches and some snacks that Jason bought from the bakery yesterday. We bring a few beers, considering drinking them if we stay there long enough to let the alcohol cycle out of our bodies.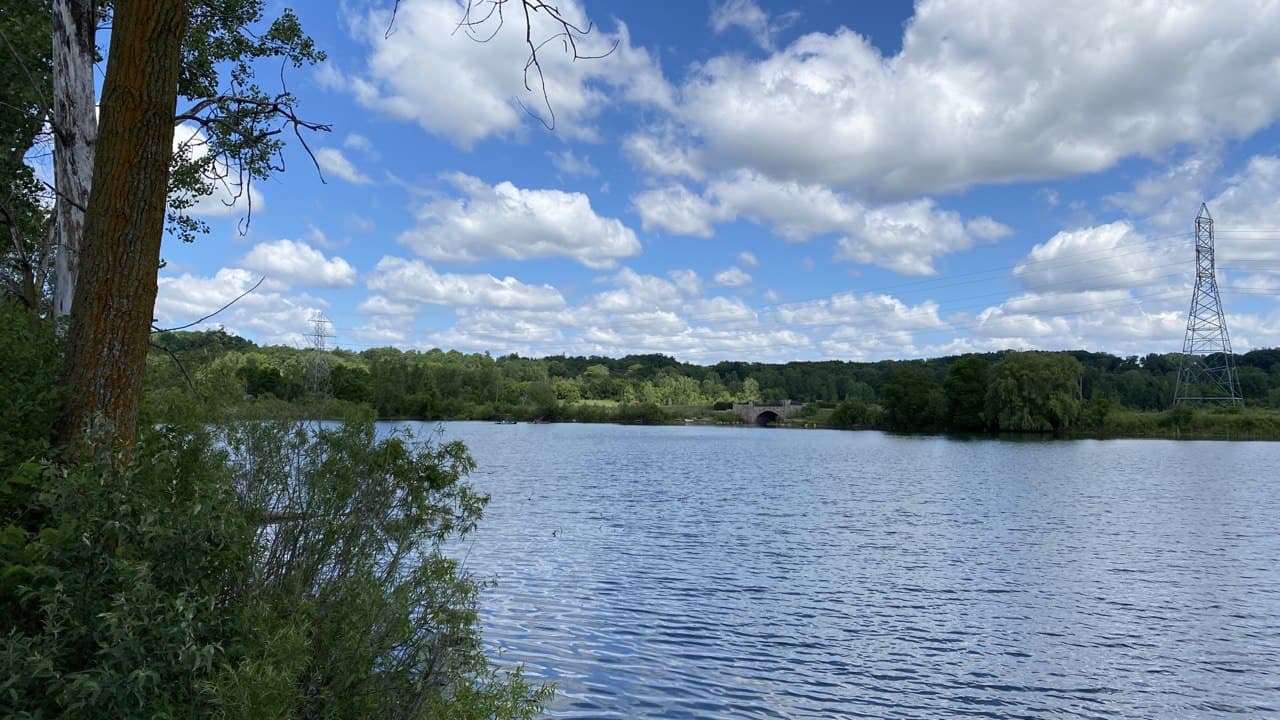 We are looking for the perfect picnic spot.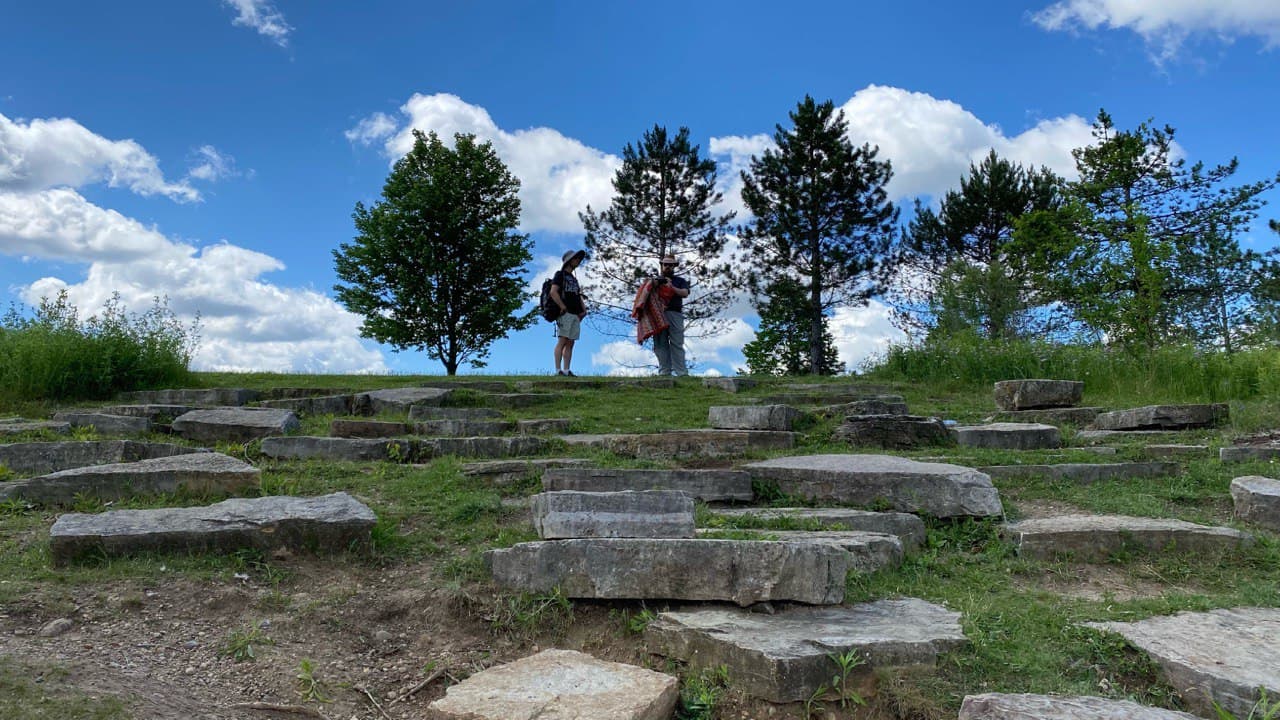 Jason carries the food bag and Brian is holding our picnic blanket.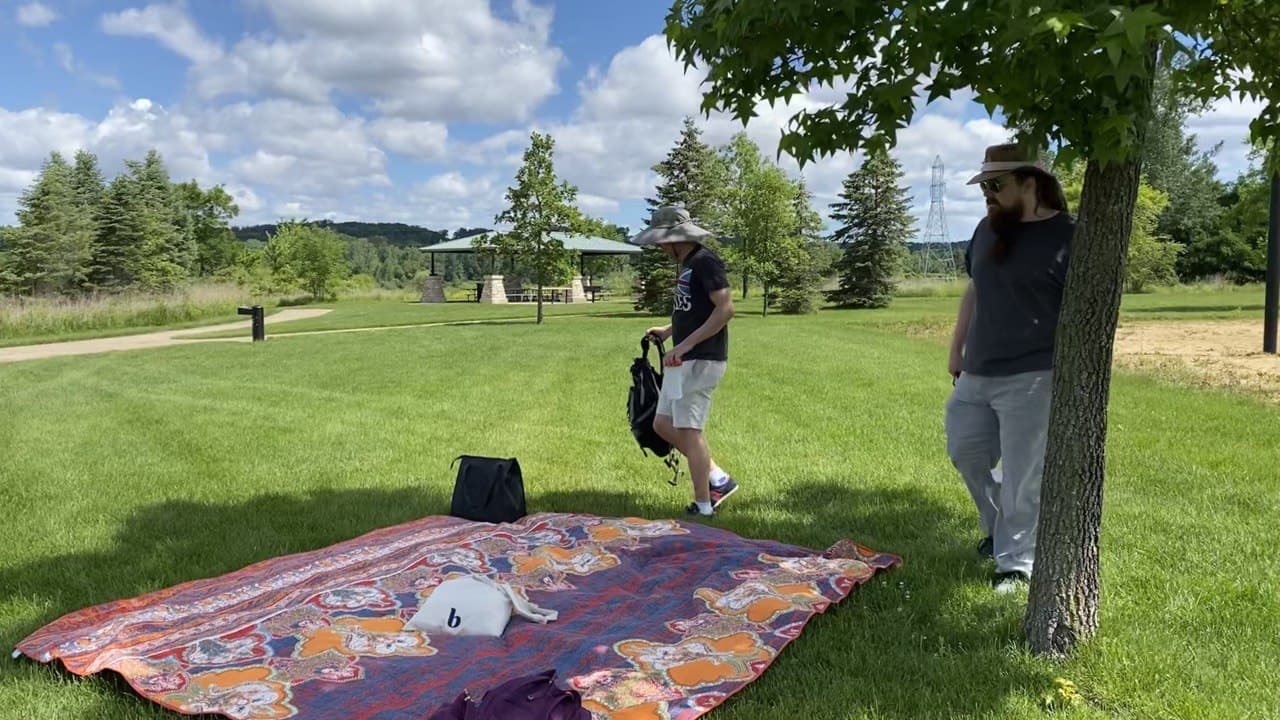 How perfect the shade matches our blanket! Although, we move our blanket when the sun moves.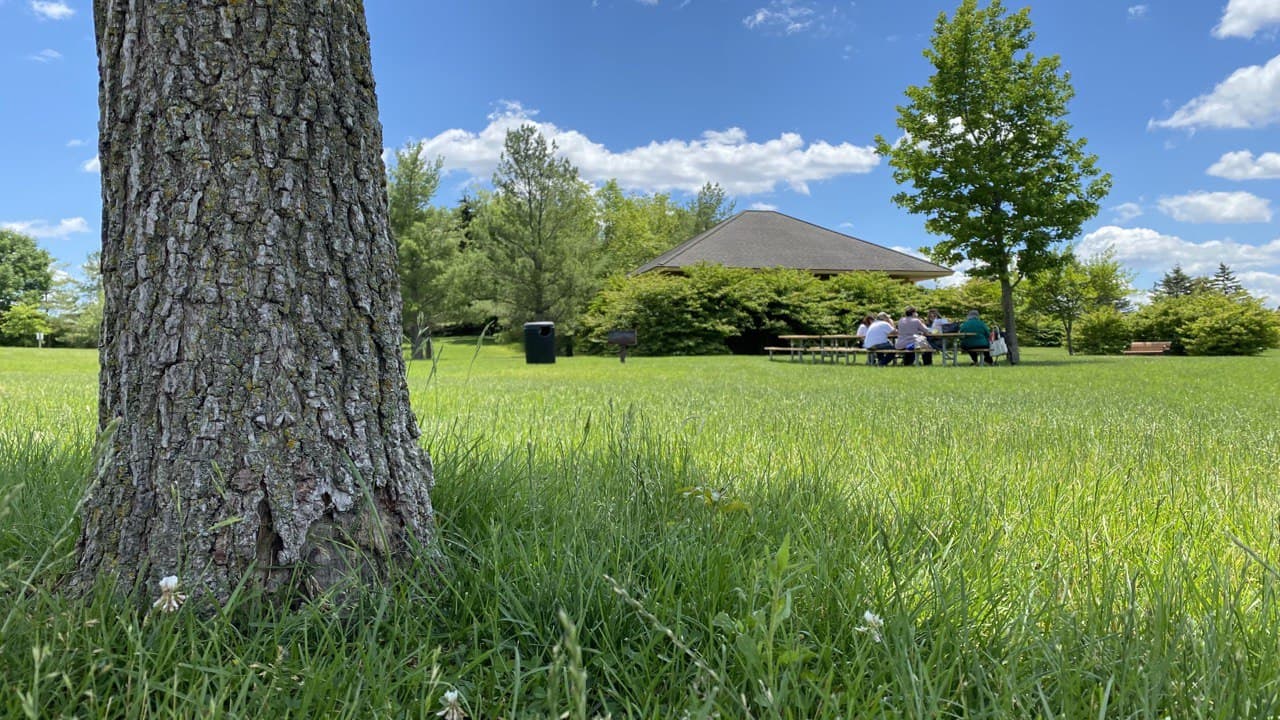 Not far away, a group of friends and families are hanging together, speaking Spanish.
Our sandwiches are still good, but not as great as we use to make. The Spanish ham and the brie cheese are qualified as usual, with fresh arugula and the secret flavor: honey. Jason additionally added balsamico along with honey.
The flavors are great. Everything is excellent except the bread. The bread we chose for this time isn't soft enough to chew on. It's still crispy after toasted, though.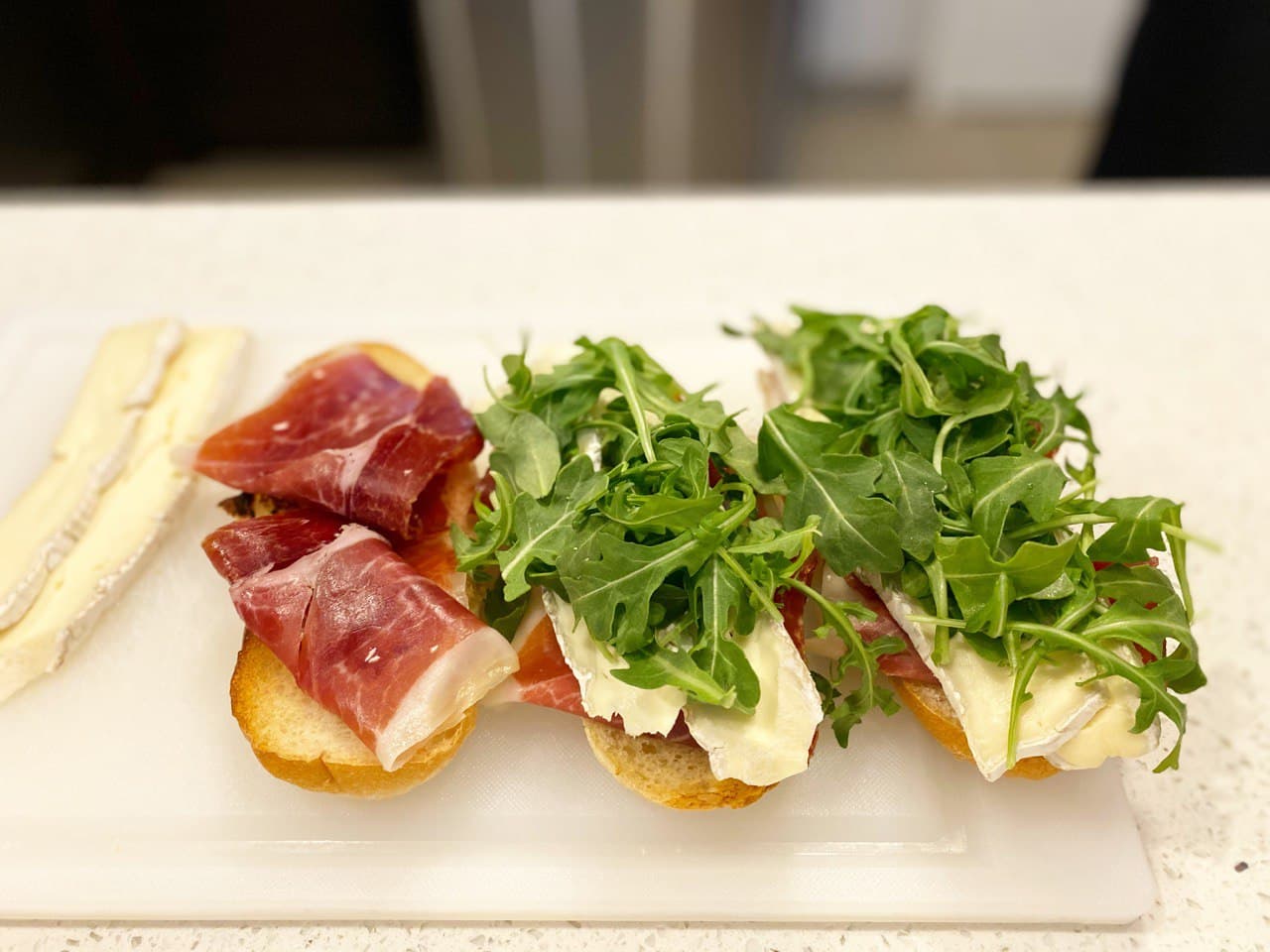 This is an old photo of our brie sandwiches.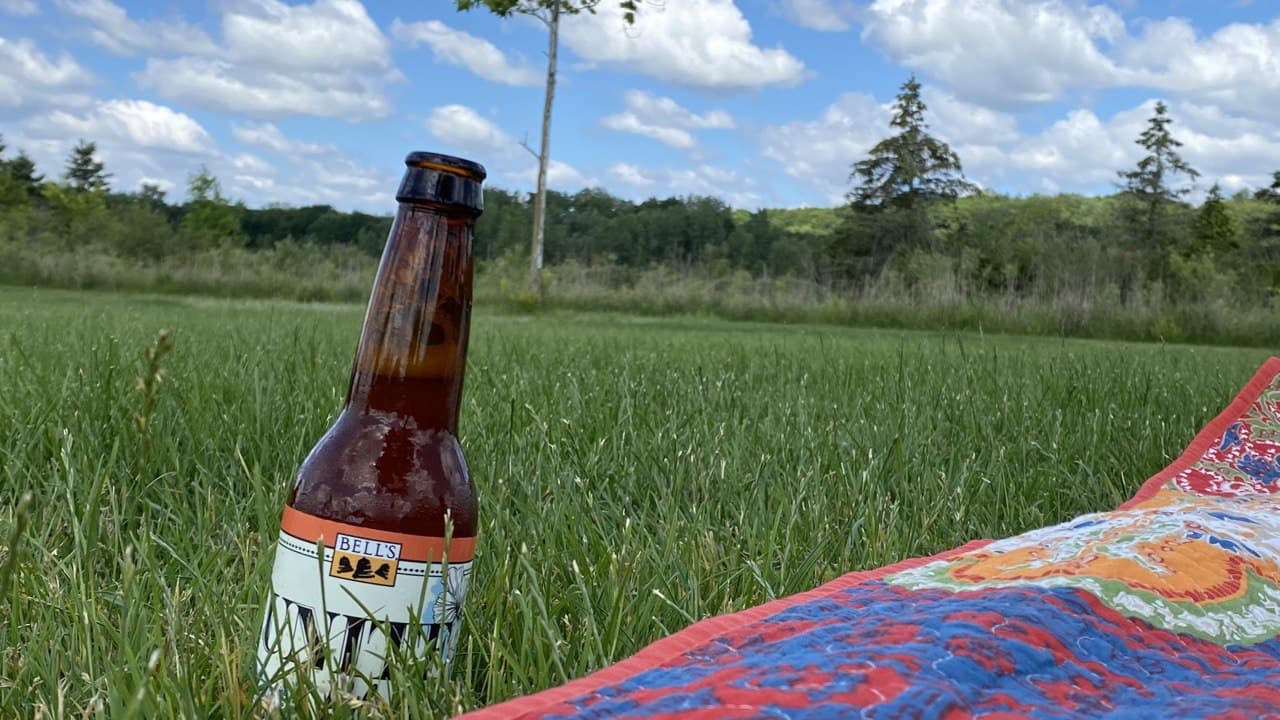 Nobody drinks except Aimee, which is wise.
Jason is reading a book called The Stone Sky, a sci-fi book. Aimee mentioned the Three Body Problem, which is popular in China, that she has finished reading the first two books of the series. Neither Jason nor Brian has read it yet. Brian says modern sci-fi books mostly are negative about the future, and that encourages his pessimistic feelings.
We chat, read, have naps, and snack a bit.
We achieved our picnic goal by finally taking a short trail along lakes and walked about 2 miles. Everybody got exercised!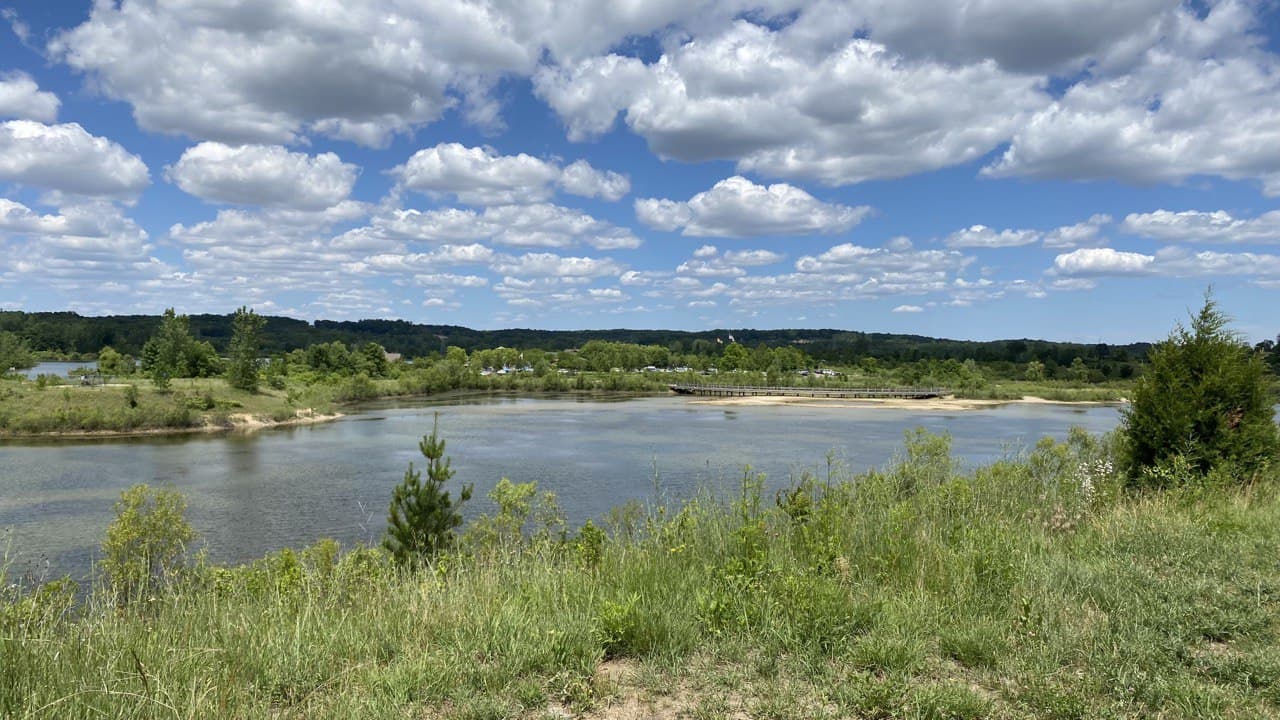 🔗2021-06-15 Maru Sushi
Jason wants sushi since we made a somehow miso soup one time. Brian suggests Maru Sushi for dinner as the reward for doing a great picnic today. Aimee is always happy to have some delicate seafood like sashimi.
We had Maru in Kalamazoo last week and we've enjoyed it a lot: Brian craved sushi so bad at that time.
The dinner took us longer than we thought, mostly because the restaurant is super busy such that the staff is overwhelmed.
We have been standing at the door for at least 10 minutes until more and more people join in the waiting line. Imagine that 10 people standing at a 2 square meter front desk. We are not comfortable with the situation and thinking of leaving. However, we wait a little more.
A woman finally leads us to a table. A guy brings us three glasses of water then disappeared for a few minutes. We chat and wait until he came back to take our drinks order.
Because this Maru is located right beside the brewery Vivant, there is a Vivant rotating beer on the menu. Aimee thinks we can hang there after Maru to enjoy more. Maru has very limited beer options compared to Vivant. Though it has a bit of everything and that is enough for a decent dinner: a few red and white wines, cocktails, some Japanese alcohol, sake and plum wine for example, and beers.
Aimee ordered herself a dogfish head 60 mins IPA, which we haven't had for a while. Brian had a Japanese negroni. As a bartender sometimes, he made us a lot of negronis during previous months. Jason got himself two drinks, a pot of sake, and a pot of green tea.
While Aimee thinks it's strange to have two opposite types of drinks at the same time (that is tea and alcohol), and hot as opposed to chill drinks, Jason says he likes the interactivity of pulling himself drinks frequently. He pulls sake in the 1oz tiny cup.
Jason has the idea of writing a song during this trip. The song will be about sunblock. Brian will participate with his keyboard, or sing. Aimee says she can participate with her ocarina too.
Instead of composing the sunblock script, Jason spews out "saison", ".. son", ".. son" with patterns, imitating Brian's tone of speaking these words (that is, Jason and Brian came up with a bunch of rhymes: "saison", "croissant", "vivant"). We should record his voice at this point.
Brian's Japanese negroni tastes more like cucumber juice with little alcohol in it. He is disappointed, and he ordered the second drink, Japanese negroni. No, he isn't drunk.
Interestingly, the second, and supposedly the same, Japanese negroni tastes different this time. It is almost a full glass and tastes like a real cocktail. There is more Campari, the main ingredient in a negroni, in it.
The sushi chef must be part-time working as the bartender, poor guy, Brian says. He must have to take care of their jukebox too, Jason adds.
All in all, the food is fine as a sushi place, even though it took more than 30 minutes to place our order and another 30 minutes to put food on our table. The experience isn't great, compared to our experience with Maru in Kalamazoo.
Running a restaurant is tough, even for a successful one, like Maru. This restaurant is reservation only, that they are fully controlling their serving capacities and qualities. Anyhow, the restaurant experience tonight won't make any of us want to return.
🔗2021-06-16 Founders Brewing Co.
Founders opens every day! We are in a big city now, every thing opens EVERY DAY!
Jason woke up at 7 am and went swimming at the YMCA. Brian was still asleep. Aimee woke up at 9 am and drank coffee.
We walked 40+ minutes from our midtown Airbnb to downtown Founders. Walking in midtown Grand Rapids continues to be super pleasant.
It was 3 pm on a Wednesday and there was a short waitlist to get a seat, but in the meantime we were allowed in the "beer garden" section outside. It was fine there. We had some shade.
The building Founders is in is a fun space, with several outdoor sections, and several indoor sections, that all flow into each other pleasantly.
The beers we were served were interesting and good: we experienced another blueberry ale, a hazy session IPA, and a handsome barleywine with notes of amaretto, graham crackers, pumpkin pie spice.
We liked this a lot, the Beers excellent, though not as fun as at Brewery Vivant, but better than at Bell's; the space not quite as cool as Bell's, but bigger than Vivant, if not quite as enchanting.
Waiters here are much cooler than other breweries we've been to. The guy served us seems to know everything on the menu and he explains each beer clearly and in an interesting way. He told us (as Brian asked a lot of questions) that he was a trained cicerone. That sounds professional.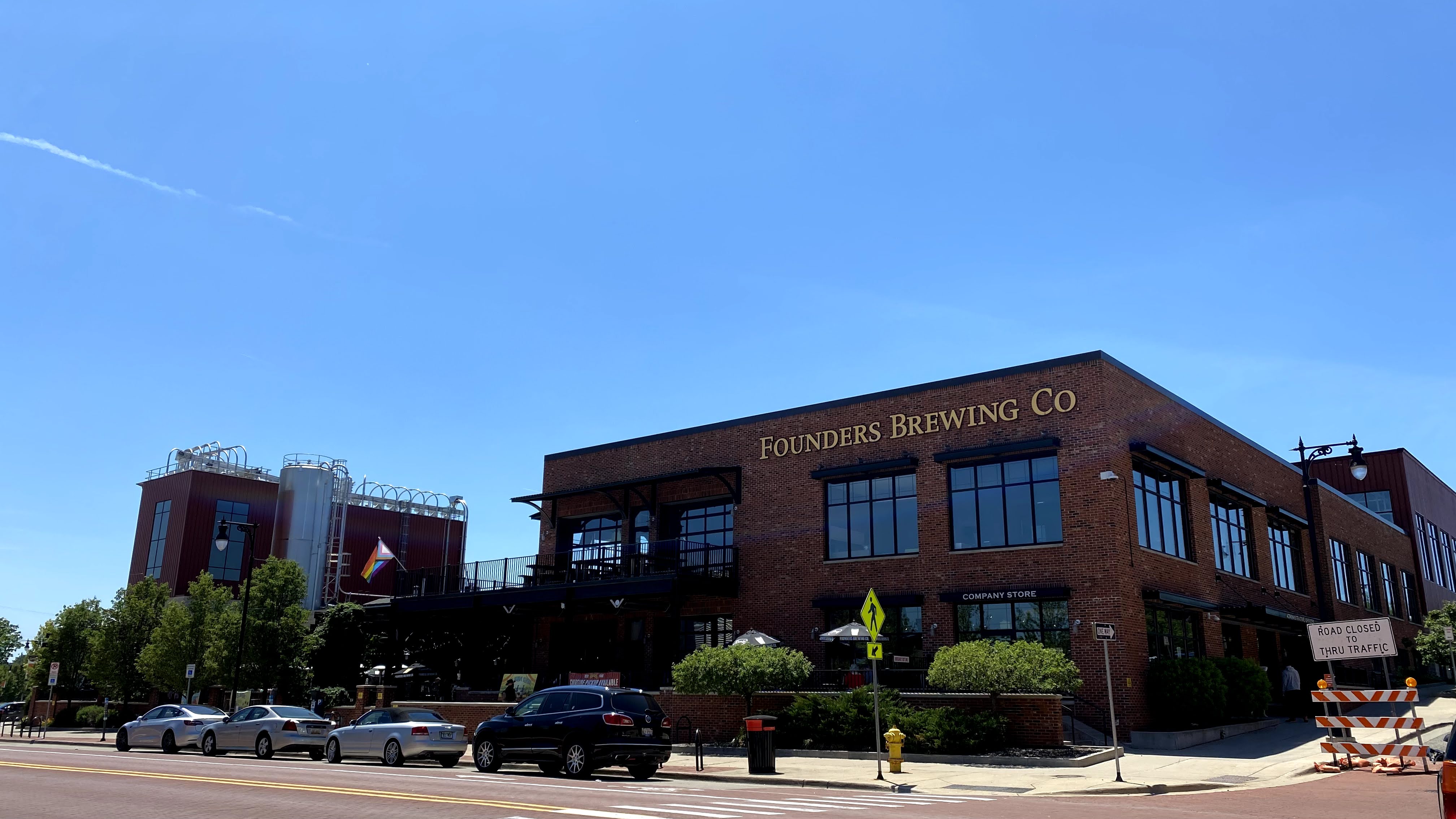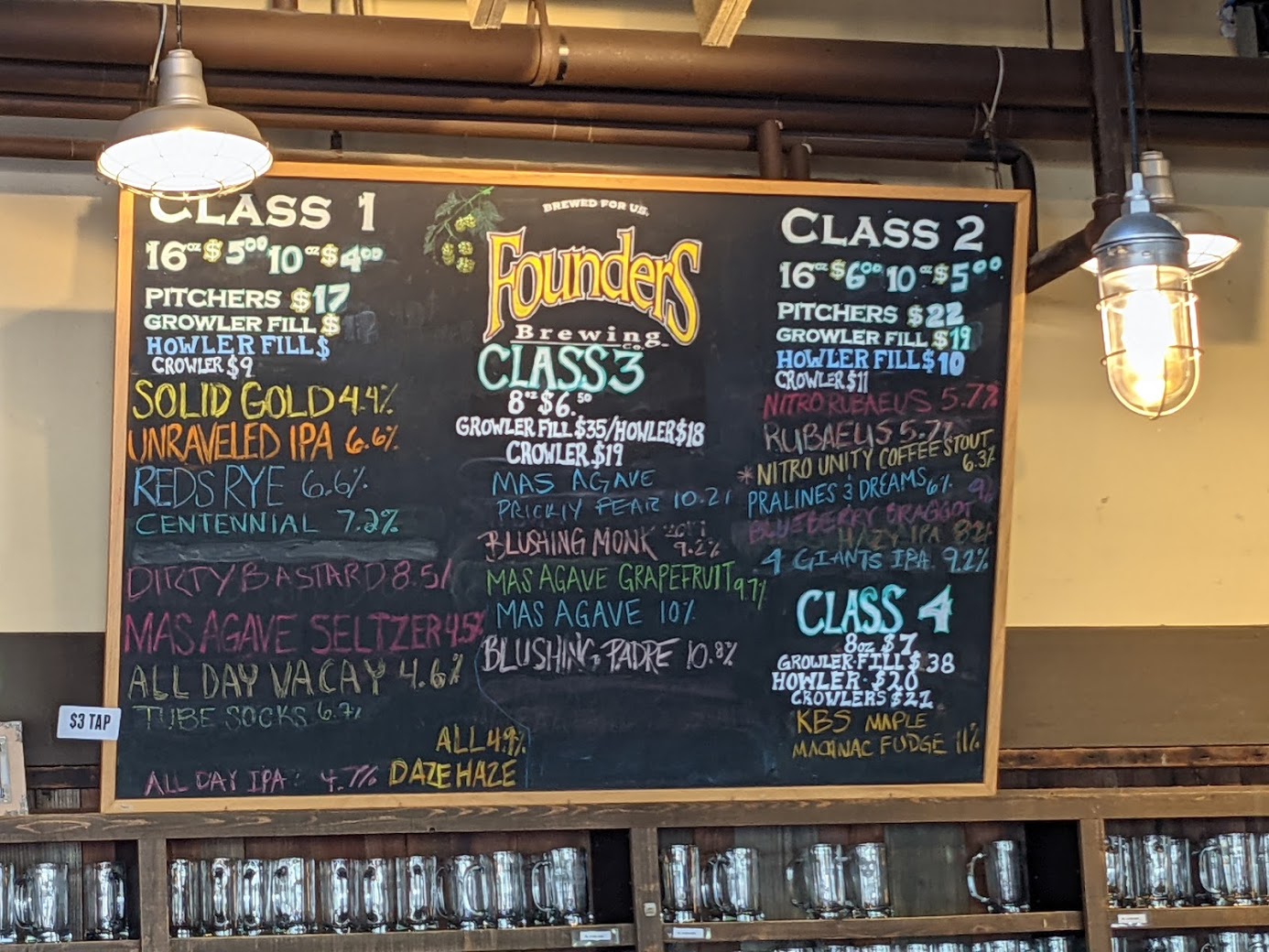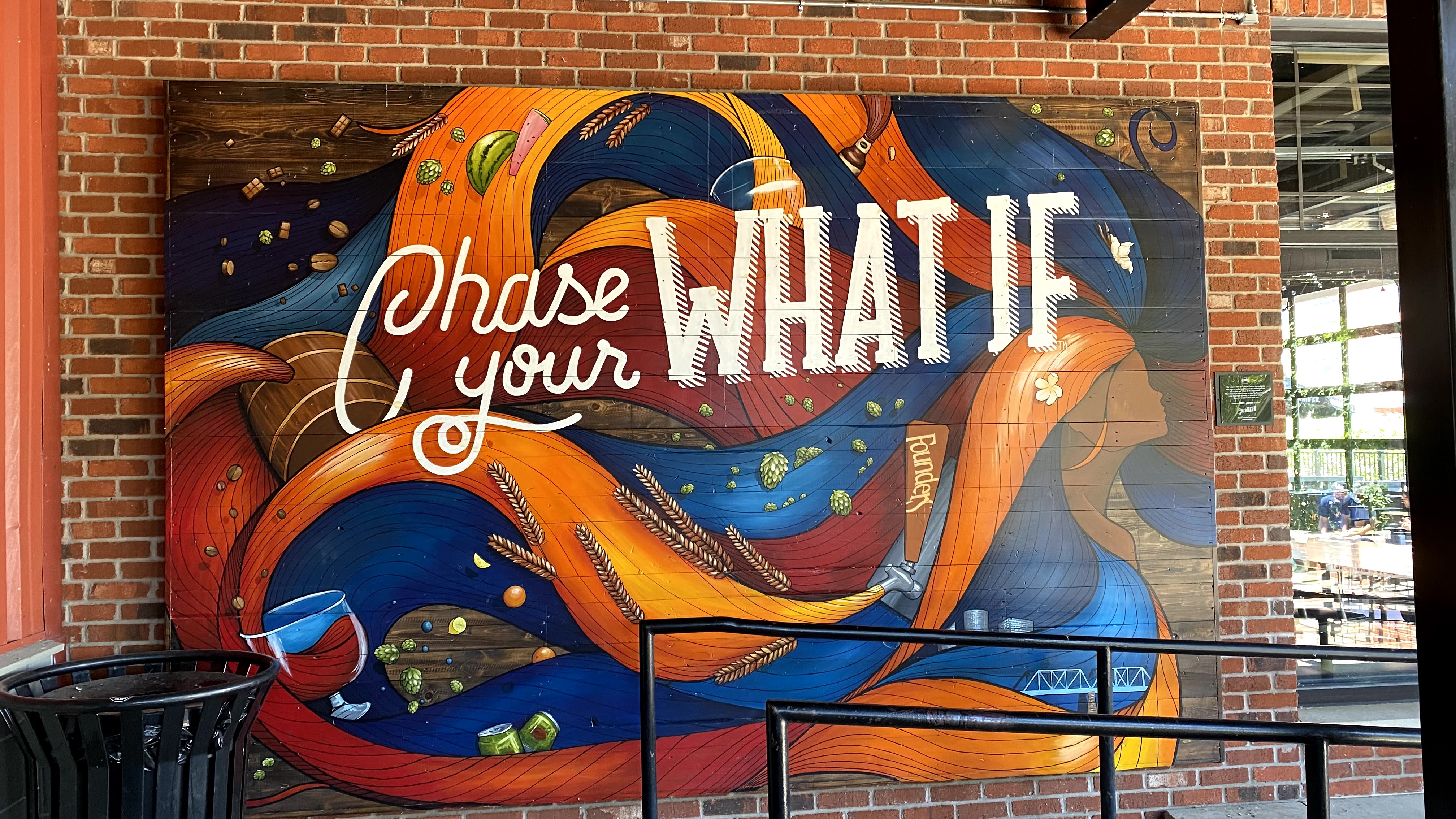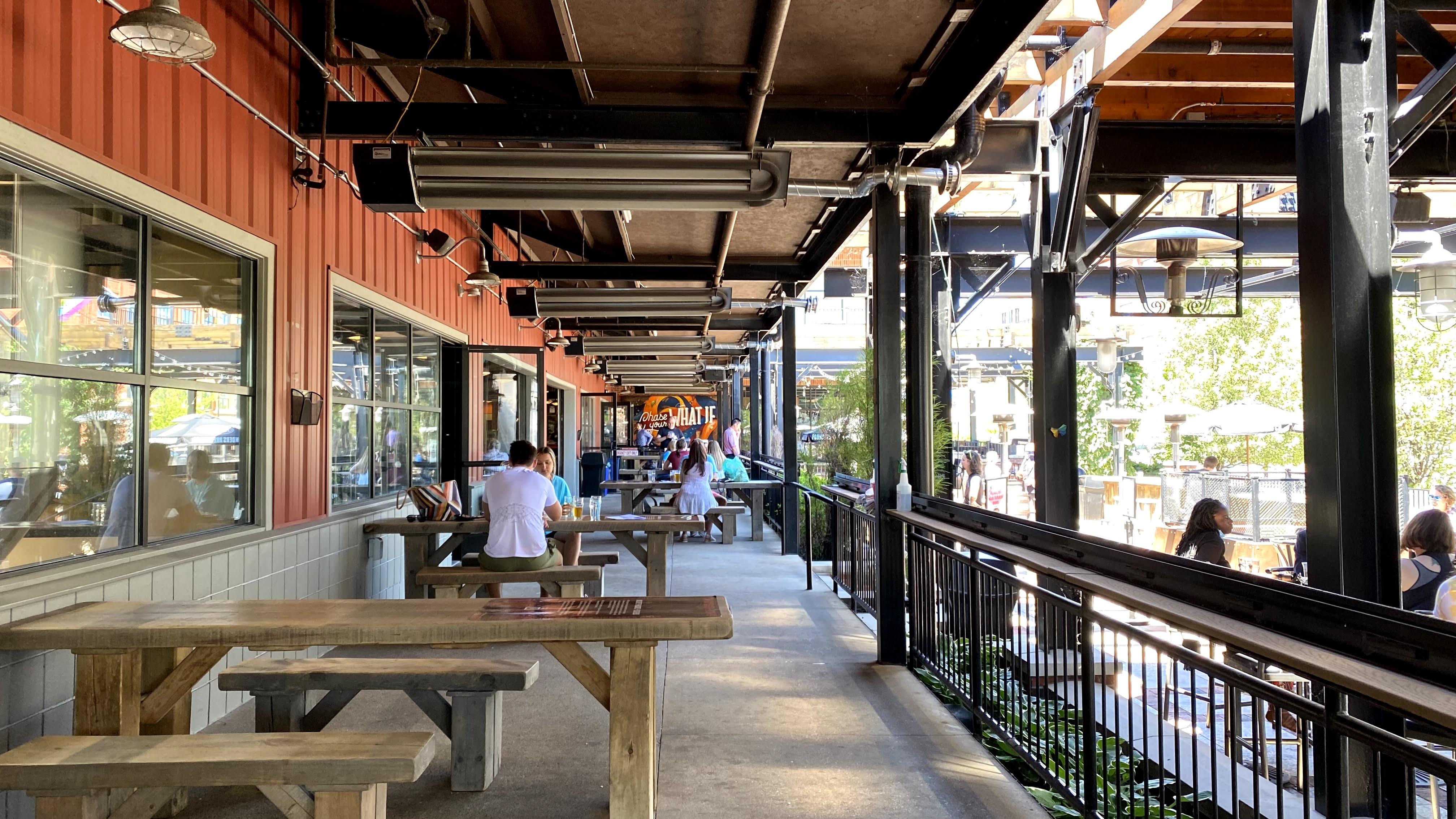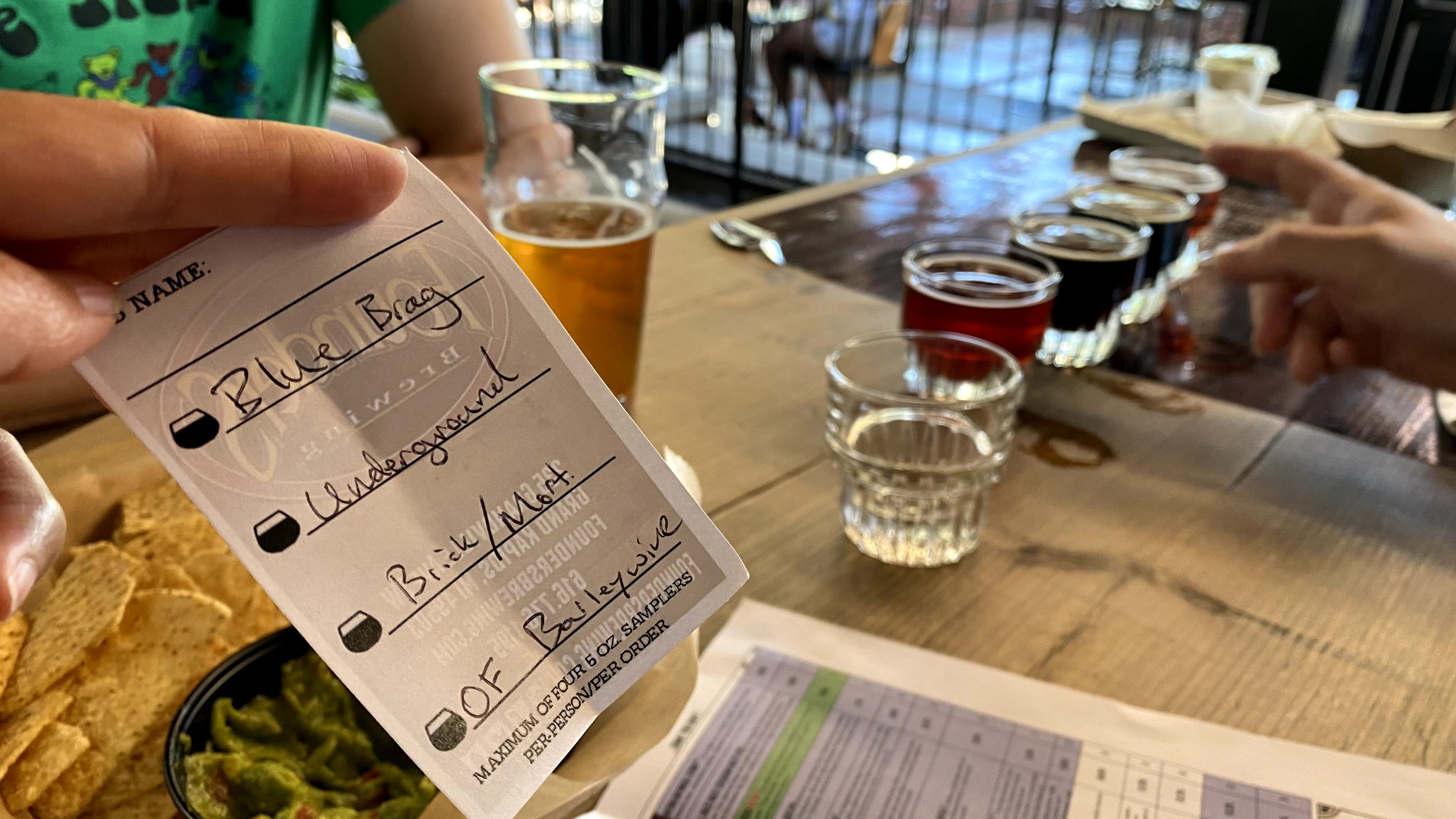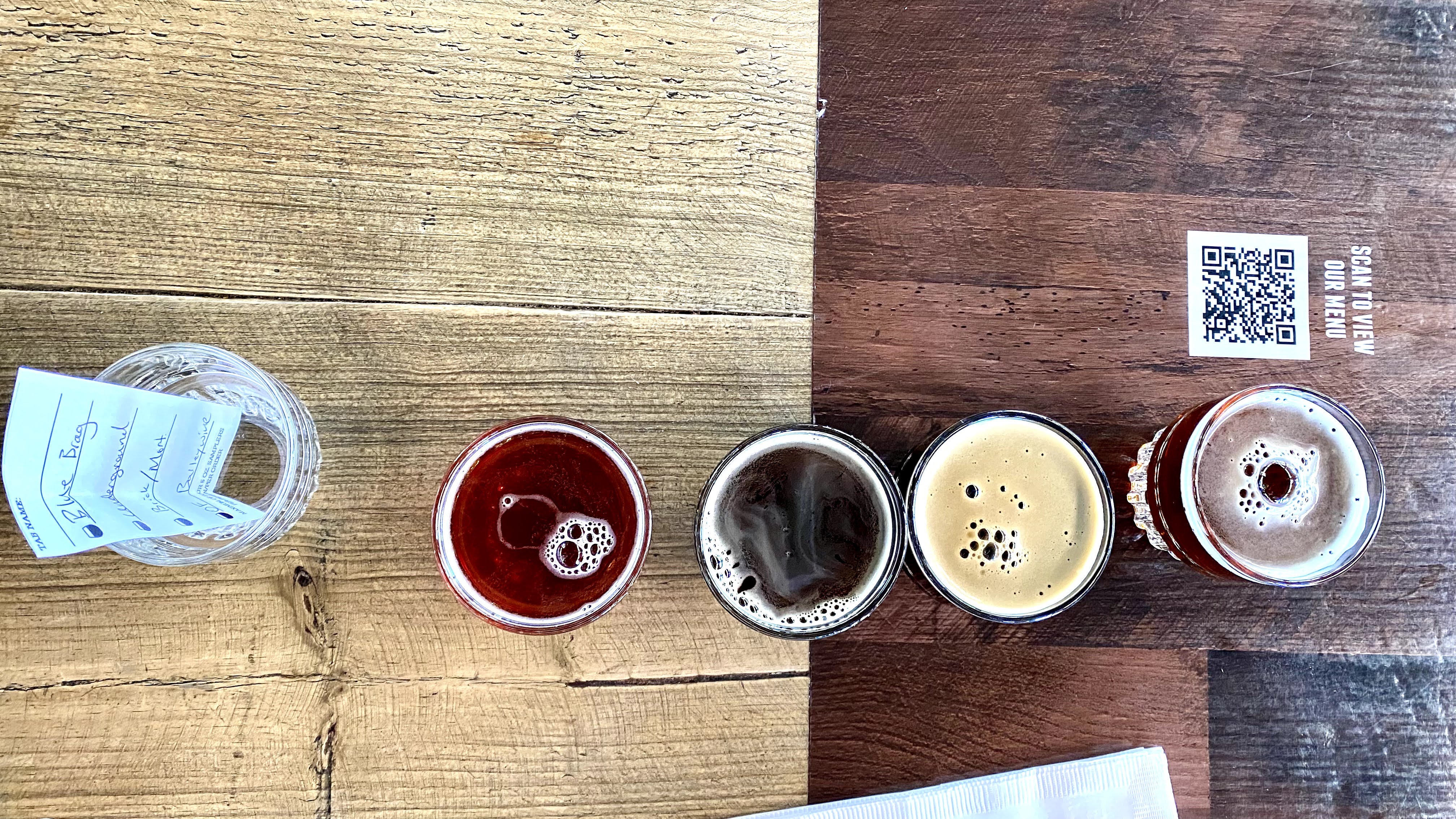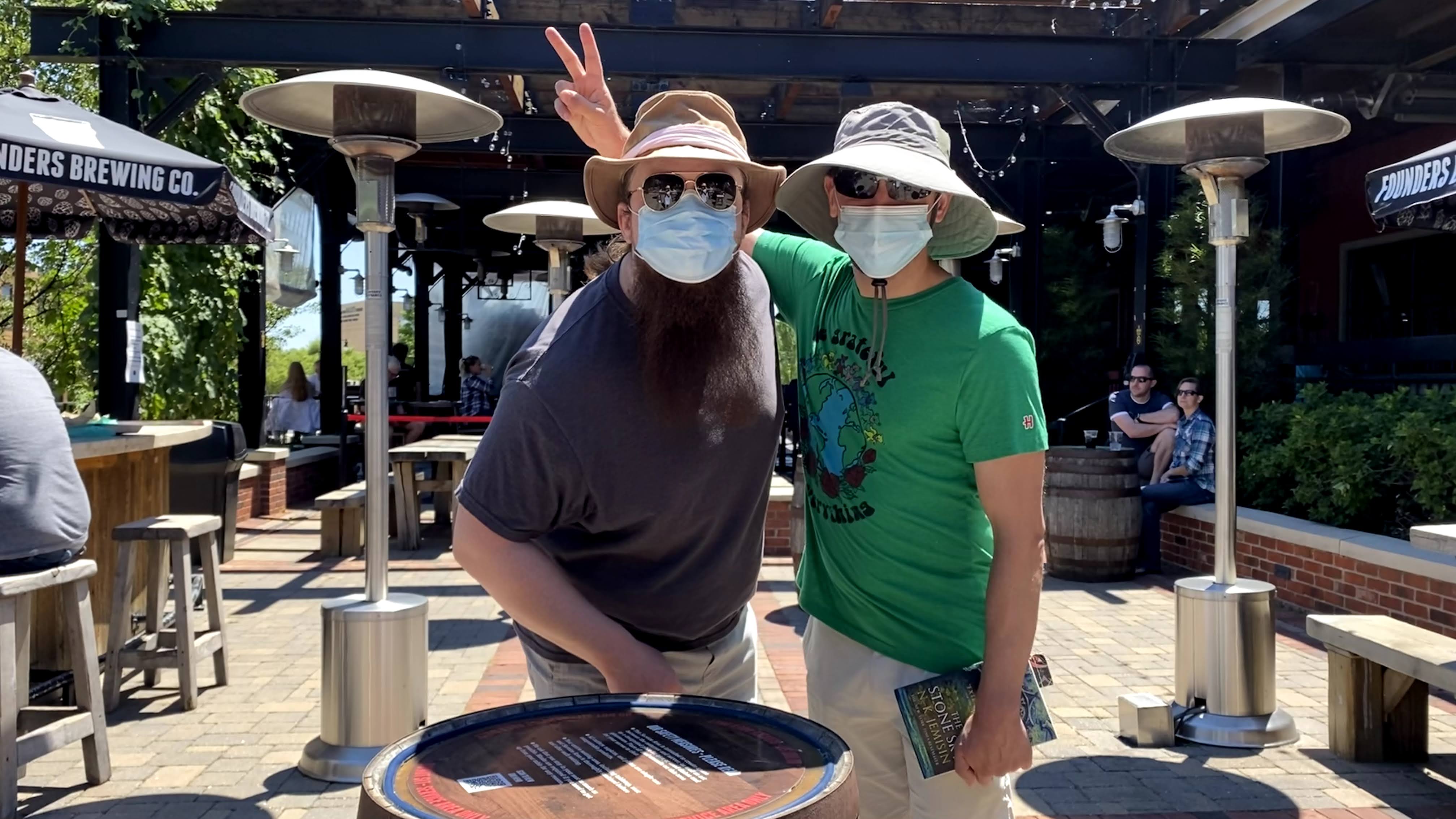 Jason and Brian are posing when waiting in the "beer garden".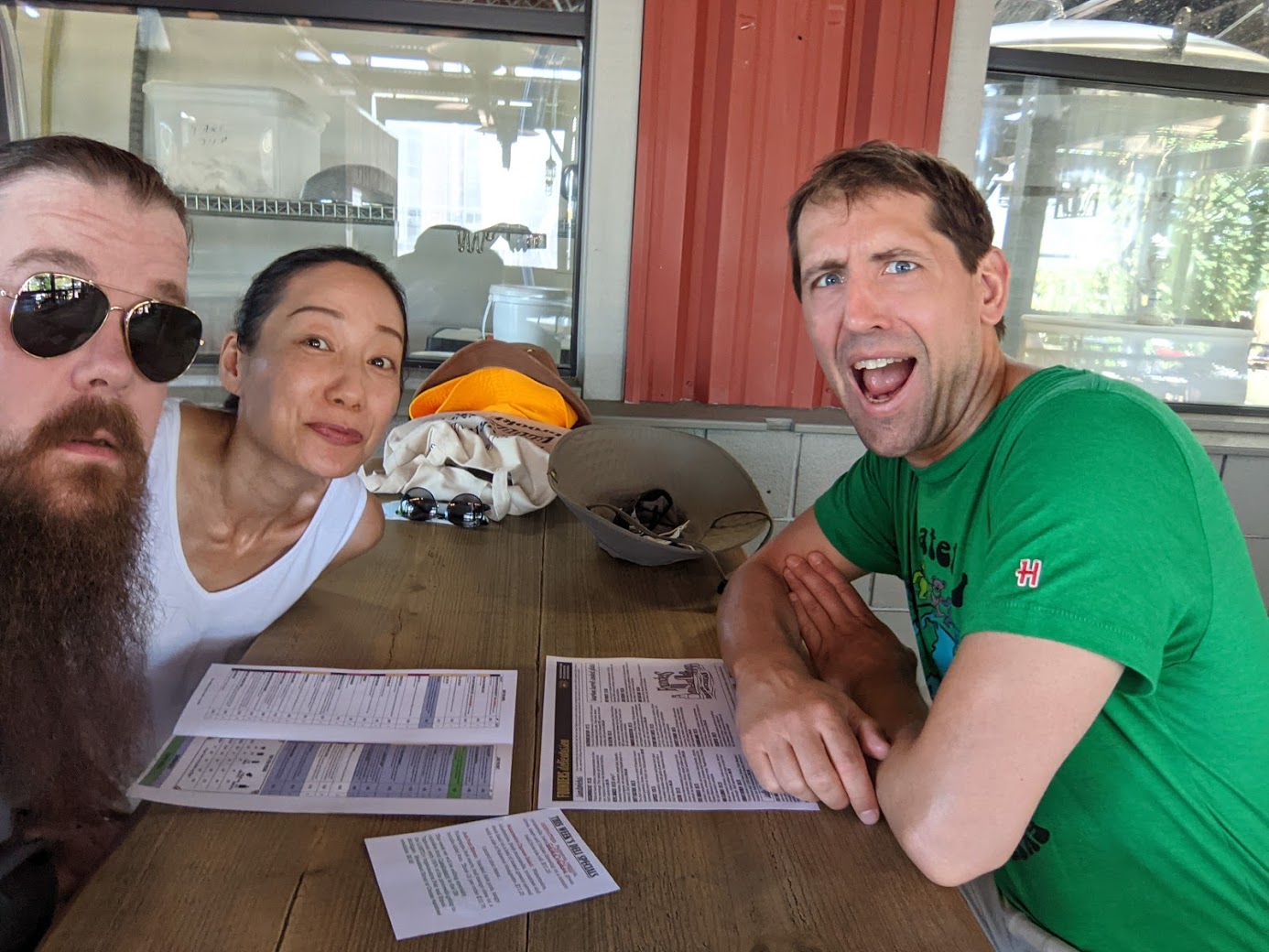 In this photo: we are astounded by the good beer at Founders.
🔗2021-06-16 Dinner: burgers and caesar salad
We tried to make burgers. It was intense, with a lot of smoke in the living room, Jason attempting to wave it away from the smoke detectors, and by the end the kitchen was in considerable disarray.
But the bugers were yummy, everybody agreed.
In the process we...
cut shallots and onions;
slowly, unbearably slowly, caramelized those shallots and onions;
cut our left over picnic hoagie roll into crutons;
tossed those crutons in oil, salt, and pepper;
baked those crutons until they were a bit crispy and a bit chewy;
prepared some burger patties (fresh from the local butcher) onto sheets of parchment paper;
minced a bulb of garlic;
mushed anchovies into anchovie paste;
grated fresh parmigiano reggiano;
mixed the garlic, anchovie paste, and grated fresh parmigiano regiano with some pepper, a bunch of mayo, some fresh lime juice, and worcestershire sauce into caesar dressing;
baked 4 brioche burger buns until they had toasty bottoms;
slapped those burger patties into the high-hot pan, one at a time, applying salt, pepper, and butter at appropriate moments, flipping and applying the salt, pepper, and cheese slice, one at a time, while the living room fills with smoke, and Aimee is opening every door and window to the outside, closing every inside door to keep the smoke out of bedrooms, and Jason is using a pillow to wave smoke away from the living room smoke detector;
tossed the romain with the dressing;
plated all that stuff while running around in a smoky kitchen.
We enjoyed our burgers and caesar salad very much, sitting outside on the patio, and sipping our Italian wine, which was from a region we were not familiar with, but have now forgot, while the smoke disippated from inside our Airbnb.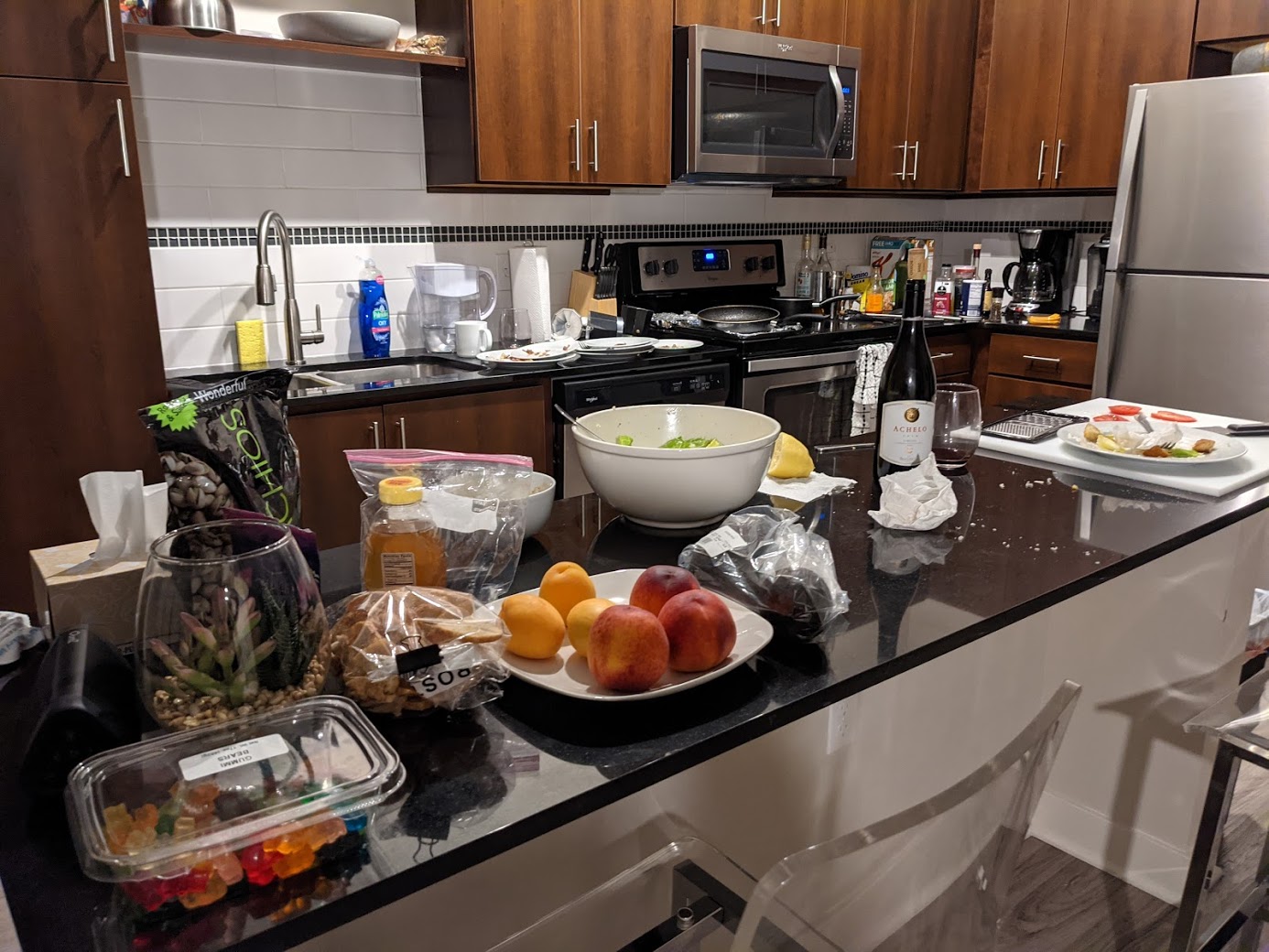 In the aftermath.
🔗2021-06-17 Nachos Day
Today, we make nachos.
We were so bad at shopping lately. We went to Martha's grocery store for ingredients for making burgers and nachos yesterday and we shopped confidently without a shopping list. On our way back home, Brian suddenly realized that we missed a super important thing: cilantro. Jason said, no worries, he'll come back with it the next day: he goes to the next door bakery for breakfast every morning.
When Aimee wanted to prepare soaking beans, we finally found out that there are no bean in our kitchen box. Moreover, we don't have diced tomato and jalapeno. The result is that Jason has a shopping list.
Now, we have a huge can of diced tomato!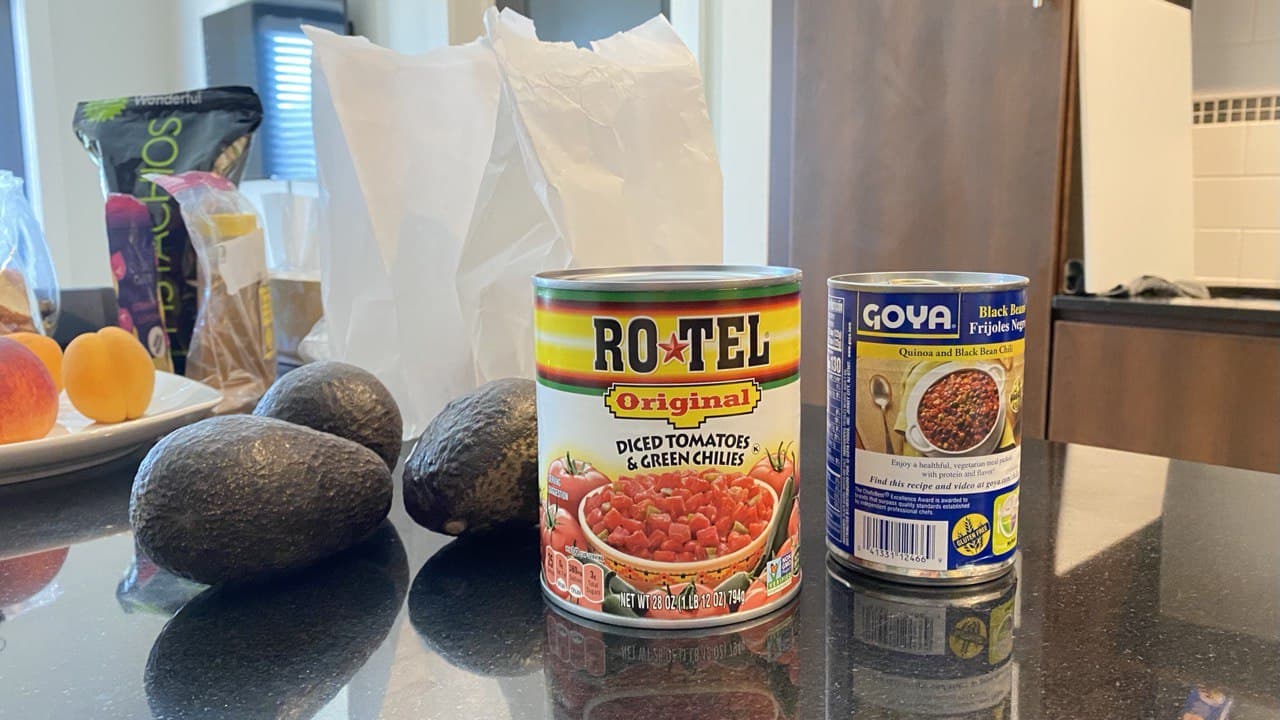 We only have two Jalapeño peppers that we choose not to put any in guacamole and leave all for nachos.
Jason is responsible for cutting things including tortilla chips, onions, cilantro, and peppers; Aimee takes care of baking chips; Brian makes guacamole:
mush avocados
salt onions
process diced tomatoes
lime juice
On the stove, we heat can bean and boil chicken breasts then shred them with forks.
We snack on chips and guac for a while. After Brian grilled the shredded chickens, we start to assemble our nachos:
a layer of chips on the bottom
a layer of beans, diced tomatoes, chickens, peppers, and cheese
another layer of chips
another layer of beans, diced tomatoes, chickens, peppers, and cheese
put the nachos tower in the oven and let things glue
take it out of the oven
put on guac, sour cream, and hot sauce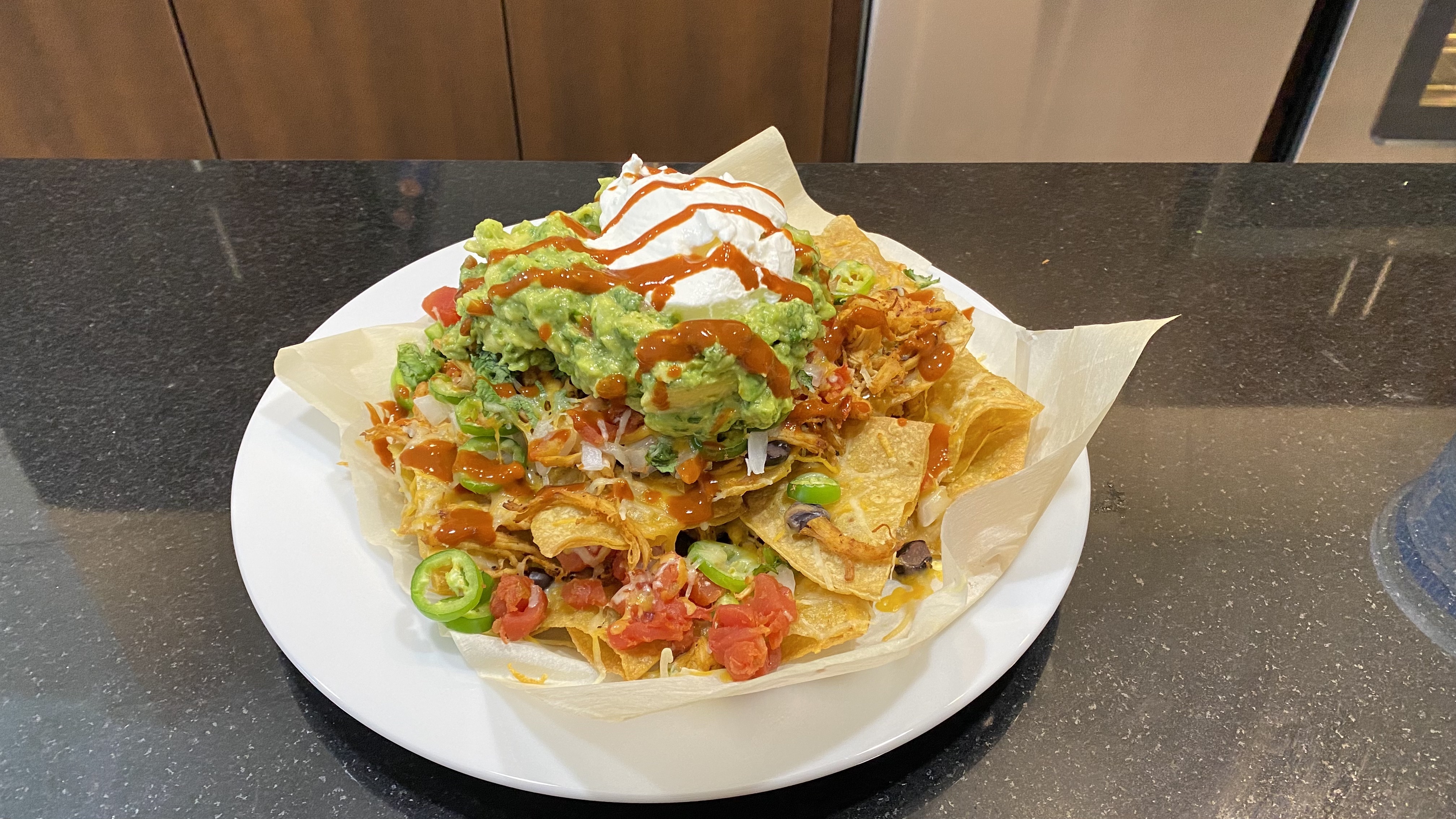 Beautiful, isn't it?
But, something goes wrong. When everybody starts to stick out their tongues, we realized that we are actually eating Serrano peppers rather than Jalapeño peppers. Serrano is about ten times hotter than Jalapeño!
We still finished the nachos. They were good nachos.
🔗2021-06-17 Grand Rapids Art Museum
Today, as Aimee requested, we go to an art museum: Grand Rapids Art Museum.
Nobody understands art here or even has preferences about it. Aimee says she likes to be around "art" things which makes her feel sophisticated. She says she can pretend she knows something.
Jason agreed and comments, that is the thing I'd like to do too.
So we definitely do art today.
Jason soon made reservations for three tickets, and they are free today. We love free art.
Jason says he has composed the sunblock song already and promises he would sing it tonight.
In the museum, Brian asks a staff where to start viewing these arts. The woman is shy, or maybe she doesn't know much about either the place or their collections, she seems to have no suggestions for us. She says the 2nd floor has a new exhibition and the 3rd floor shows their permanent collections. That's all that we got.
Let's just start with the 2nd floor.
Quilts! A lot of quilts! There are different graphics built from several types of materials and skills/crafts. Each quilt has a story behind it. These stories are either about the design ideas, the attitude of using trash clothes, or other materials that bring deeper meanings. There are stories about generation cultures that have a political party leader's face in the middle of a quilt.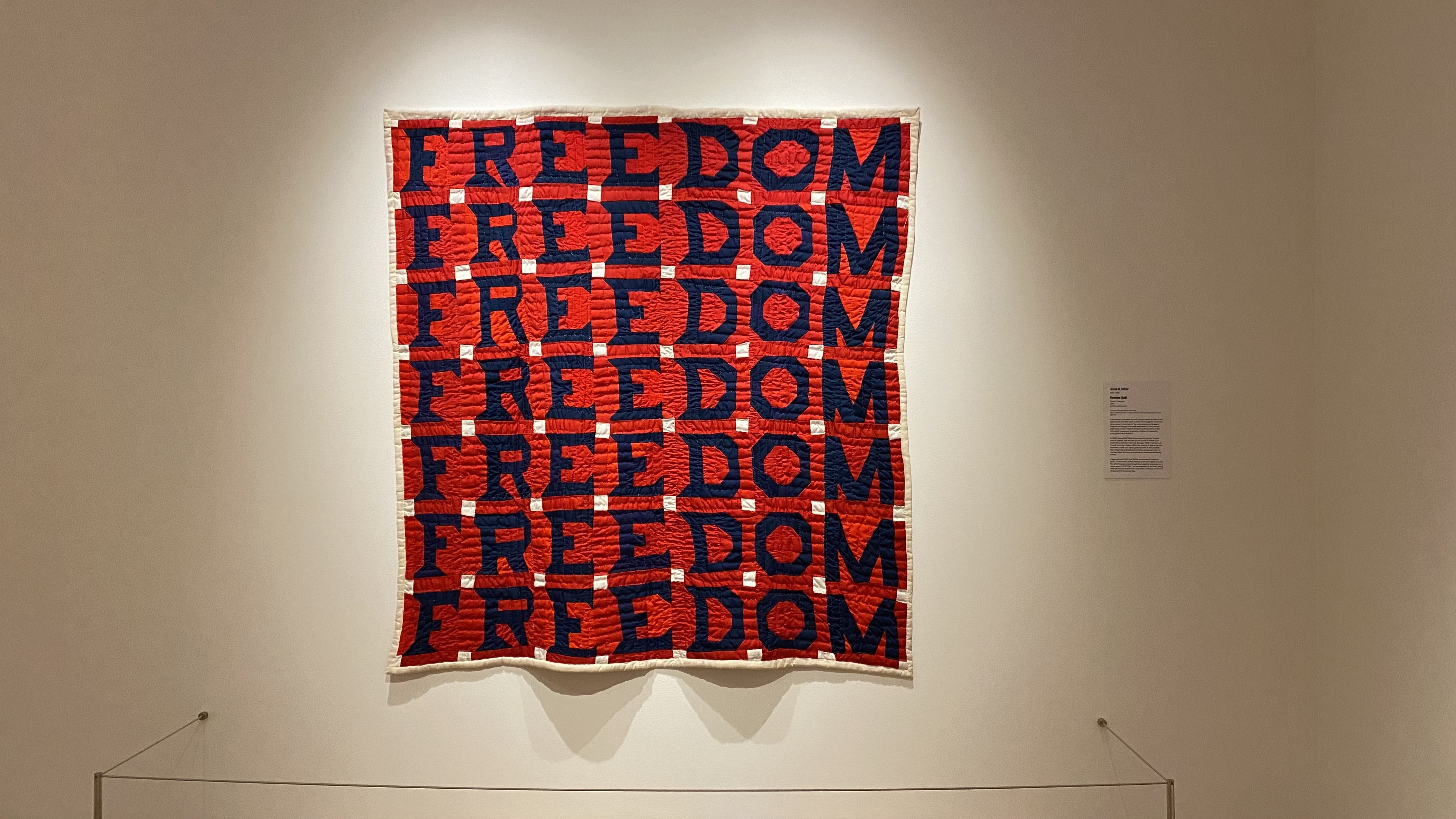 There is a section that suggests that you can make your own quilt! Since our picnic blanket is a quilt, Brian is thinking of making our own picnic blanket someday. It will be a fun project.
Jason was trapped for a while. He has been listening to a lady explaining stories behind an artist, that how the artist showed his interests in drawing under-sea scenes at a very young age, and how his mother discovered it and encouraged him, and so on.
Brian considers whether to rescue Jason from the narrative or not. Aimee thinks maybe Jason is enjoying it. Brian says Jason might just be polite. While Jason seems to be carefully listening and nodding his head often. Maybe he really likes it.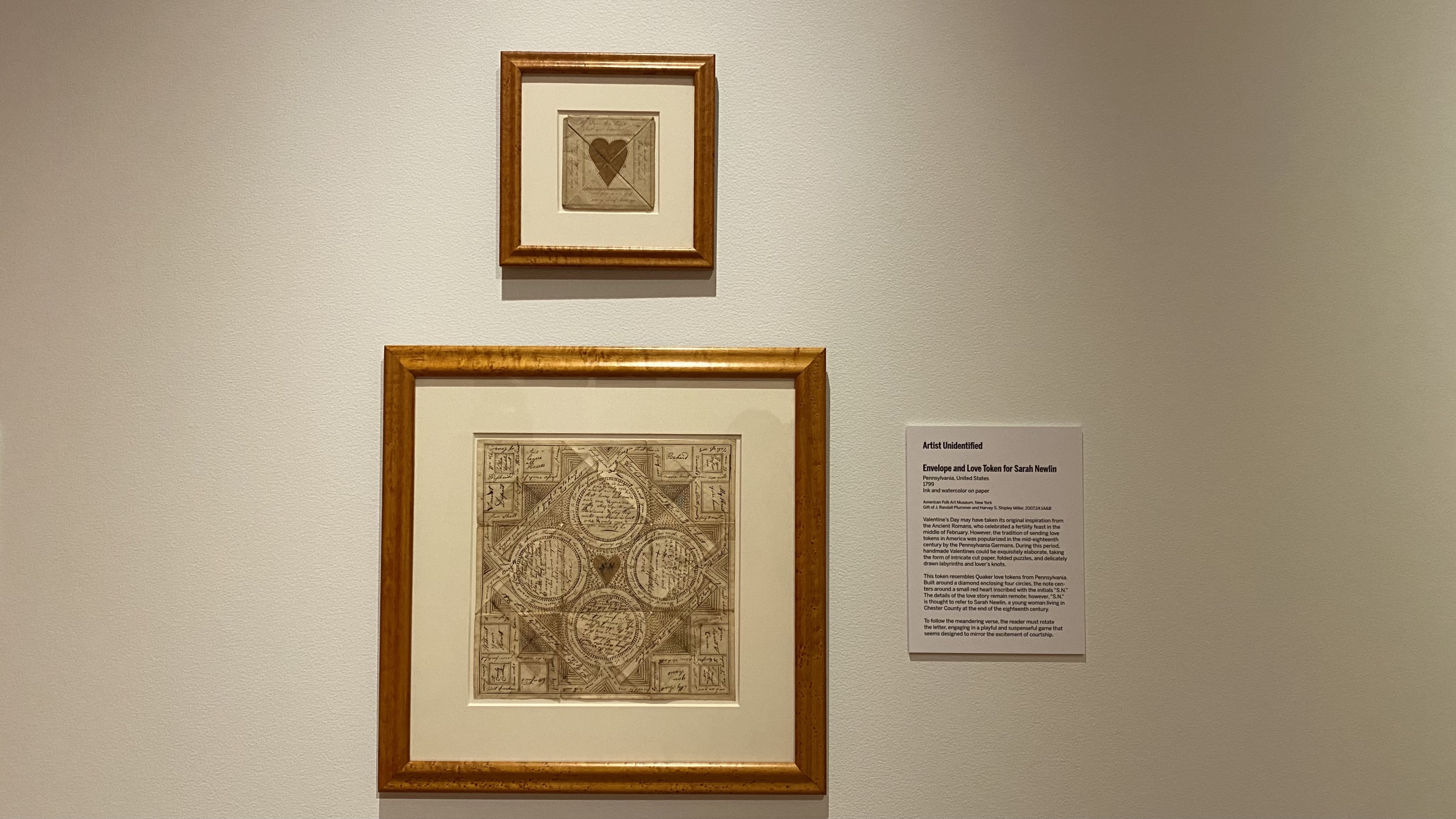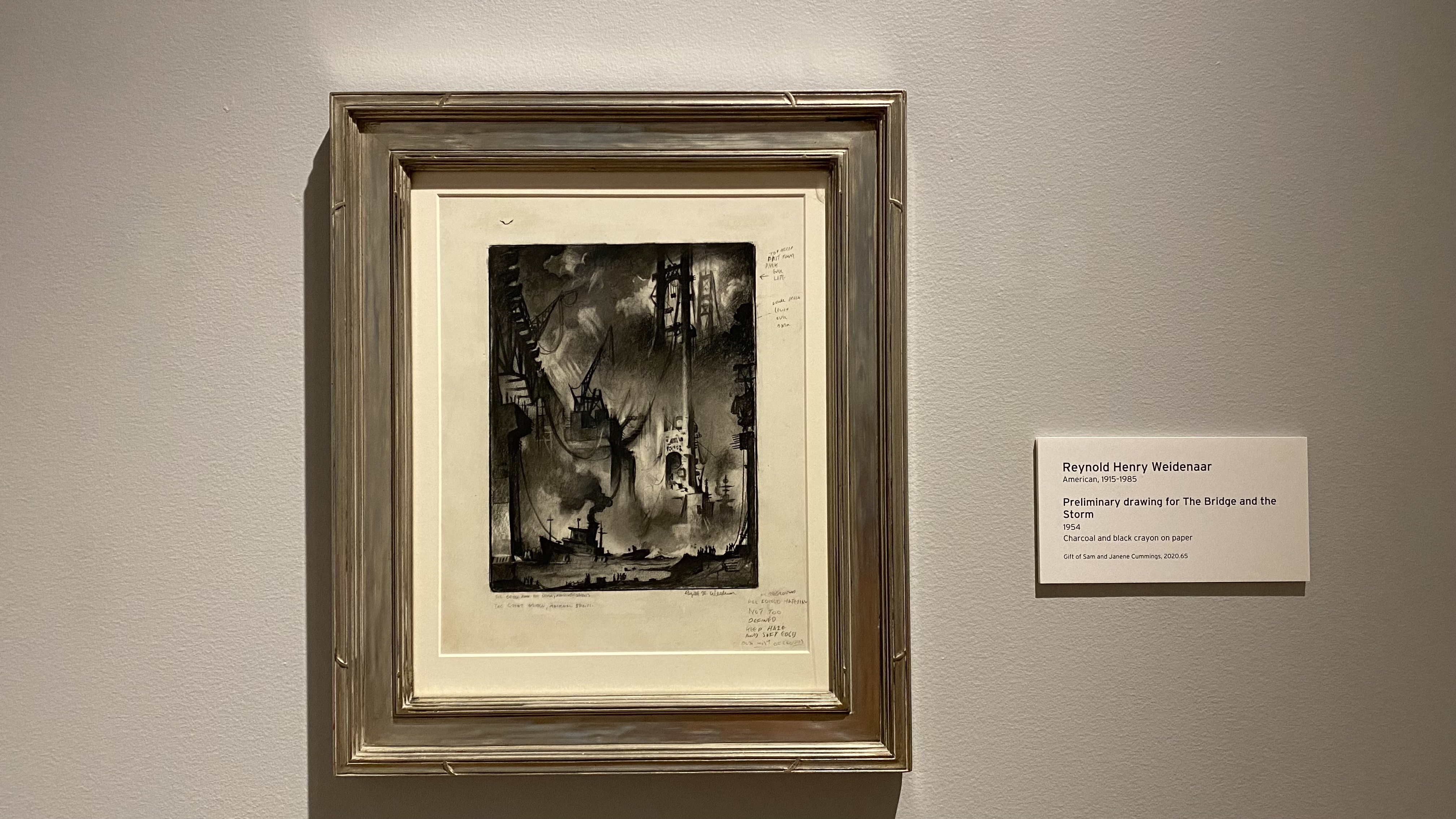 🔗2021-06-17 Grand Rapids Brewing Co.
We are tired and we don't want to do serious tasting this time. We chose this brewery because it's so close that we only need to cross a street.
We sit down, ordered simple bar food and a few light beers. Food is very average which suprised us since we have been always having good food everywhere in Grand Rapids.
Beers are not special either. Maybe because we are just too tired that our senses are not functioning enough. We only had one round of beers and left.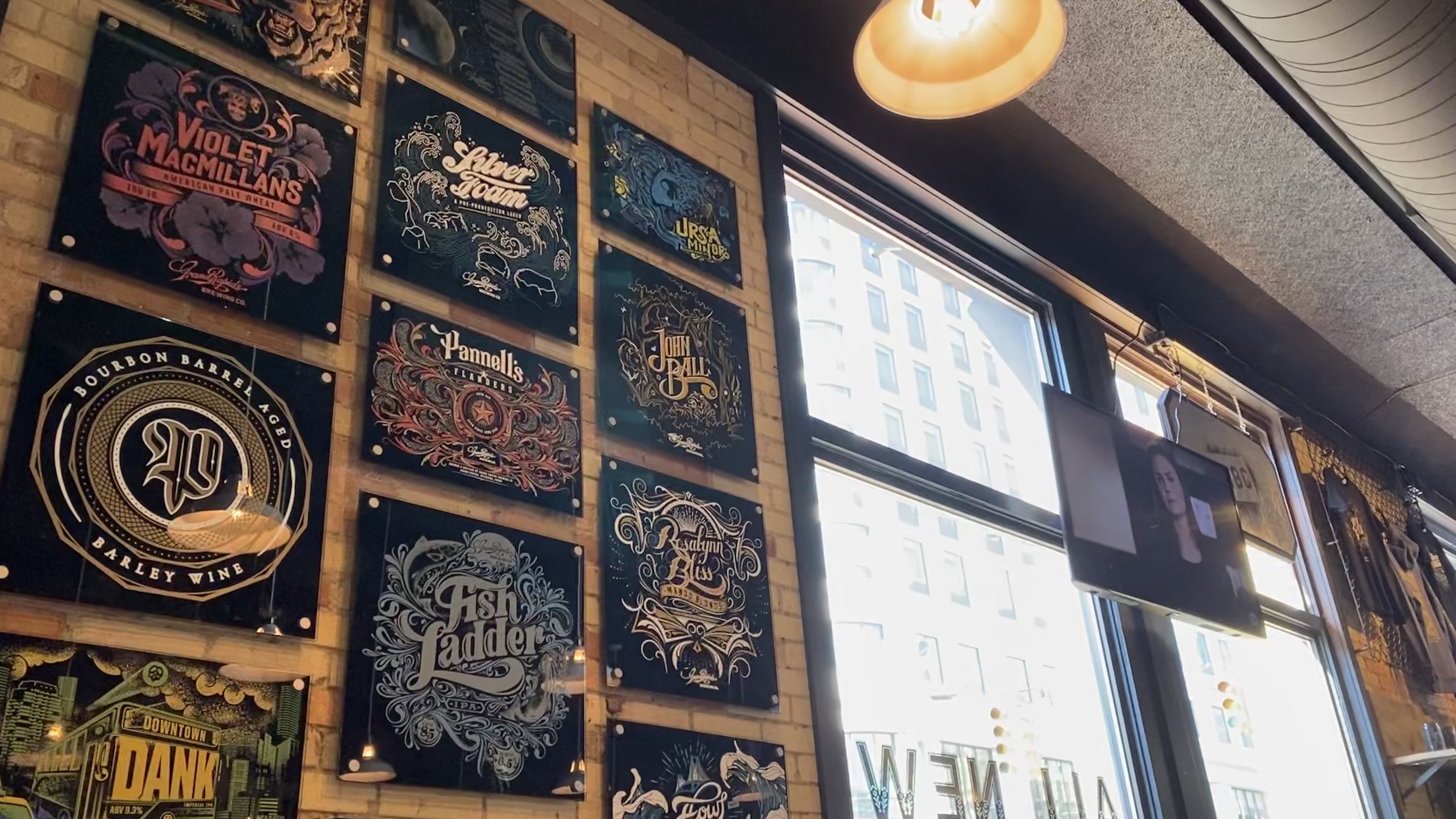 🔗2021-06-18 A sophisticated breakfast at Lyon Street Cafe
Right after the morning rain, we came over to the bakery that makes pastries everybody likes.
Everybody got a croissant or otherwise some other pastries. In addition, Aimee got a box of chocolate cake. It feels heavier than general cakes, so it must be moist and chocolaty.
Then we move over to the coffee shop next door. The coffee shop is lovely and focuses on only coffee. They have two drip coffees currently: Columbia and Kenya. There are two sets of V60 filters beside the Mahlkoenig grinder, a professional and sexy coffee grinder. Beside is the La Marzocco espresso machine and another grinder. Super!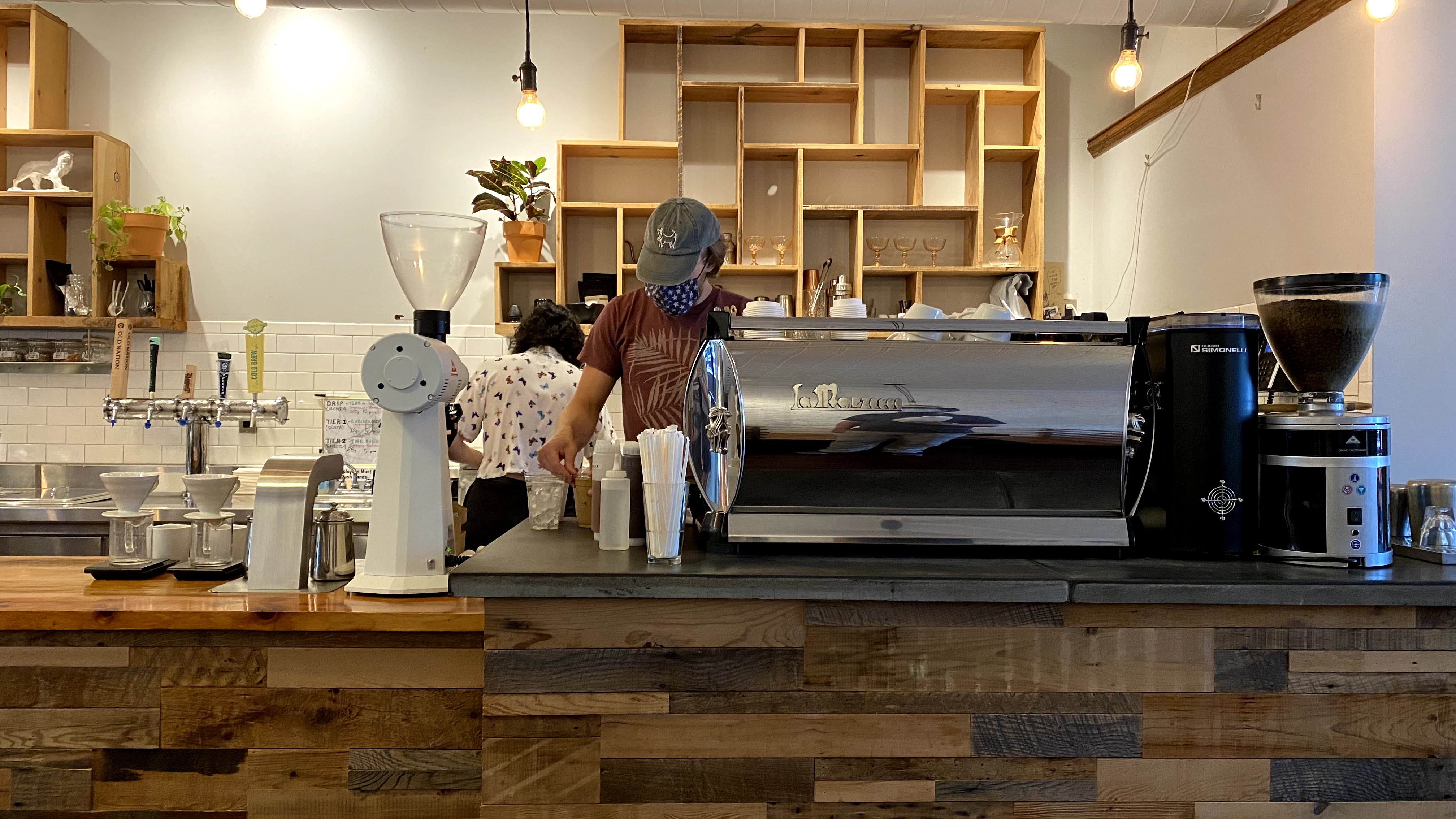 Aimee had a cup of hand drip Kenya coffee, and she is super excited; Brian got a cute cup of cappuccino, which is the right size of a classic cappuccino; Jason's coffee is "a drip coffee" as he described it.
We sit at a table outside, looking at people come and go. It seems to be a typical busy morning for the bakery and the coffee shop. Birds are picking up bread crumbs we dropped. Jason sings the song he just finished composing. It's about saison and croissant.
Aimee asks: "where is the 'sunblock'"?
"I don't know", Jason says.
Brian says, every adventure needs a song, and tweeted it out.
Since then, the song is all about saison and croissant.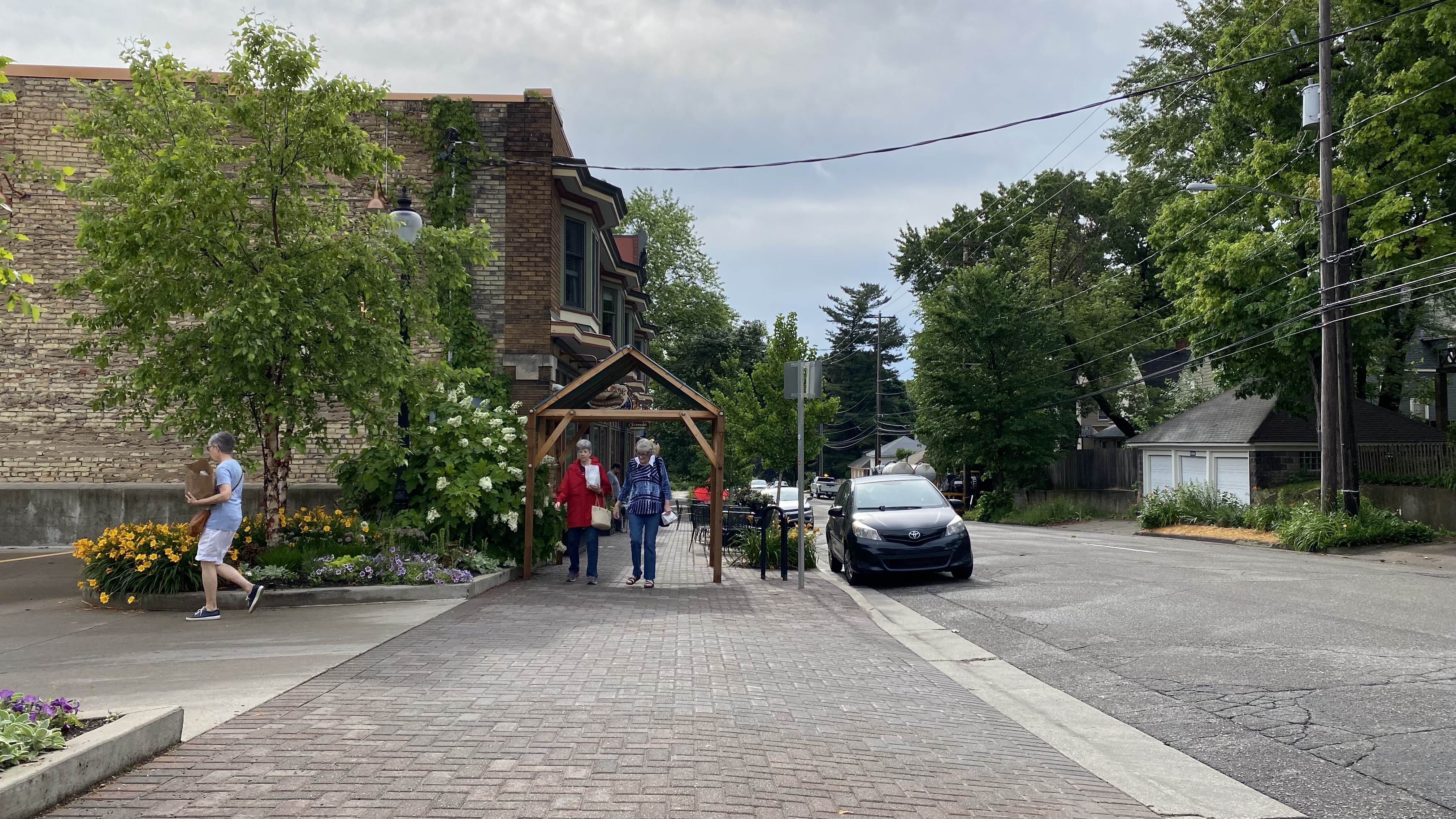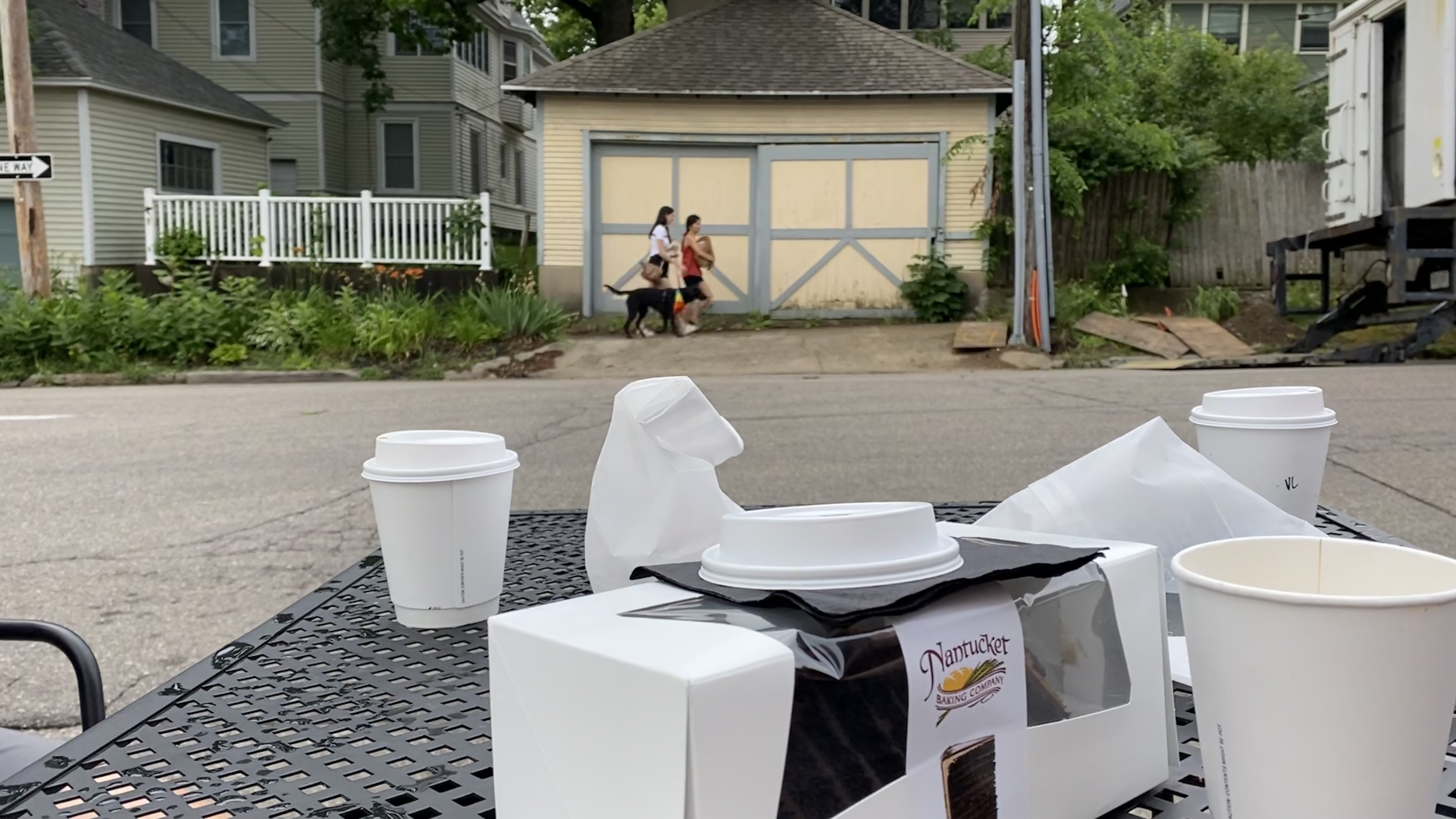 🔗2021-06-18 Sculpture tour
Jason proposes an art tour to us today: visiting city's scupltures, and then another brewery afterward.
That sounds fancy to us. We are lazy and happy that someone already had a plan that we can just follow it without effort.
"I'm down for it." Aimee imitates Jason's vernacular. "Thanks, bro." Jason replies. "No problem, dude." Brian follows.
This first art is "red", that's how Jason described it. Brian agreed, yes, it is a red art.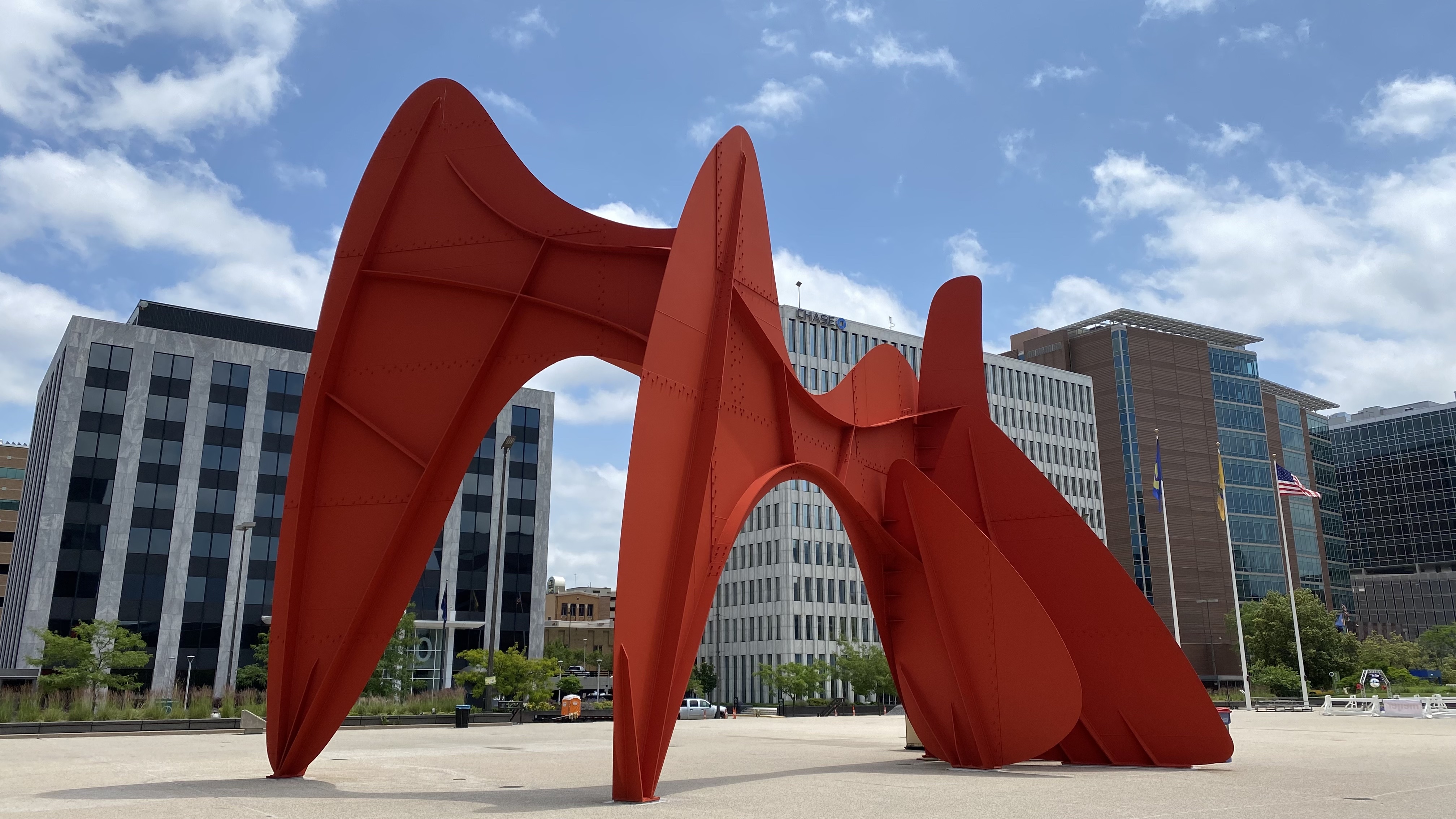 "It's so red!" Brian emphasizes. The dude is dancing.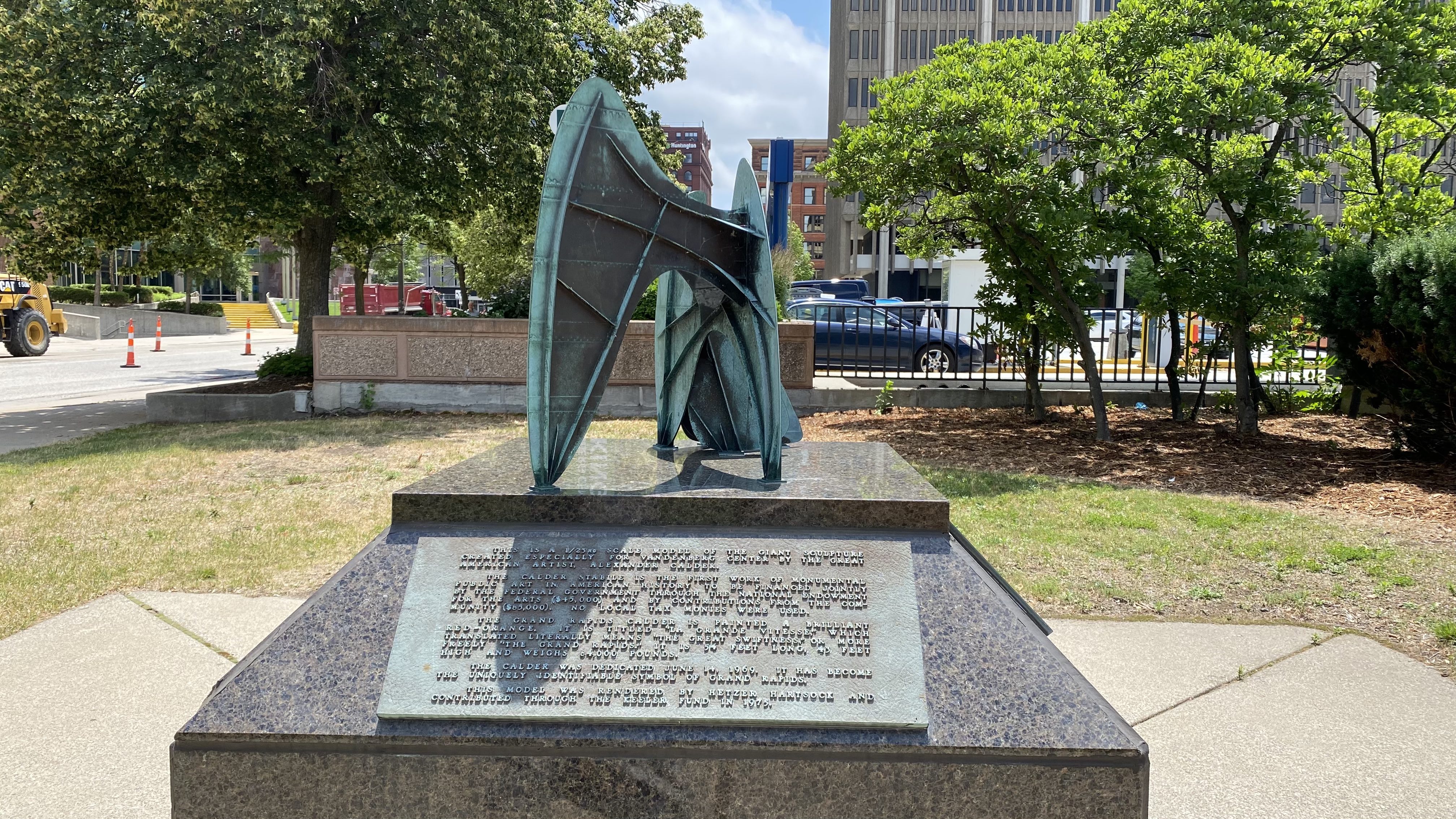 Oh, there is a mini one. It's not red.
The second sculpture is interactive, with a giant tire swing.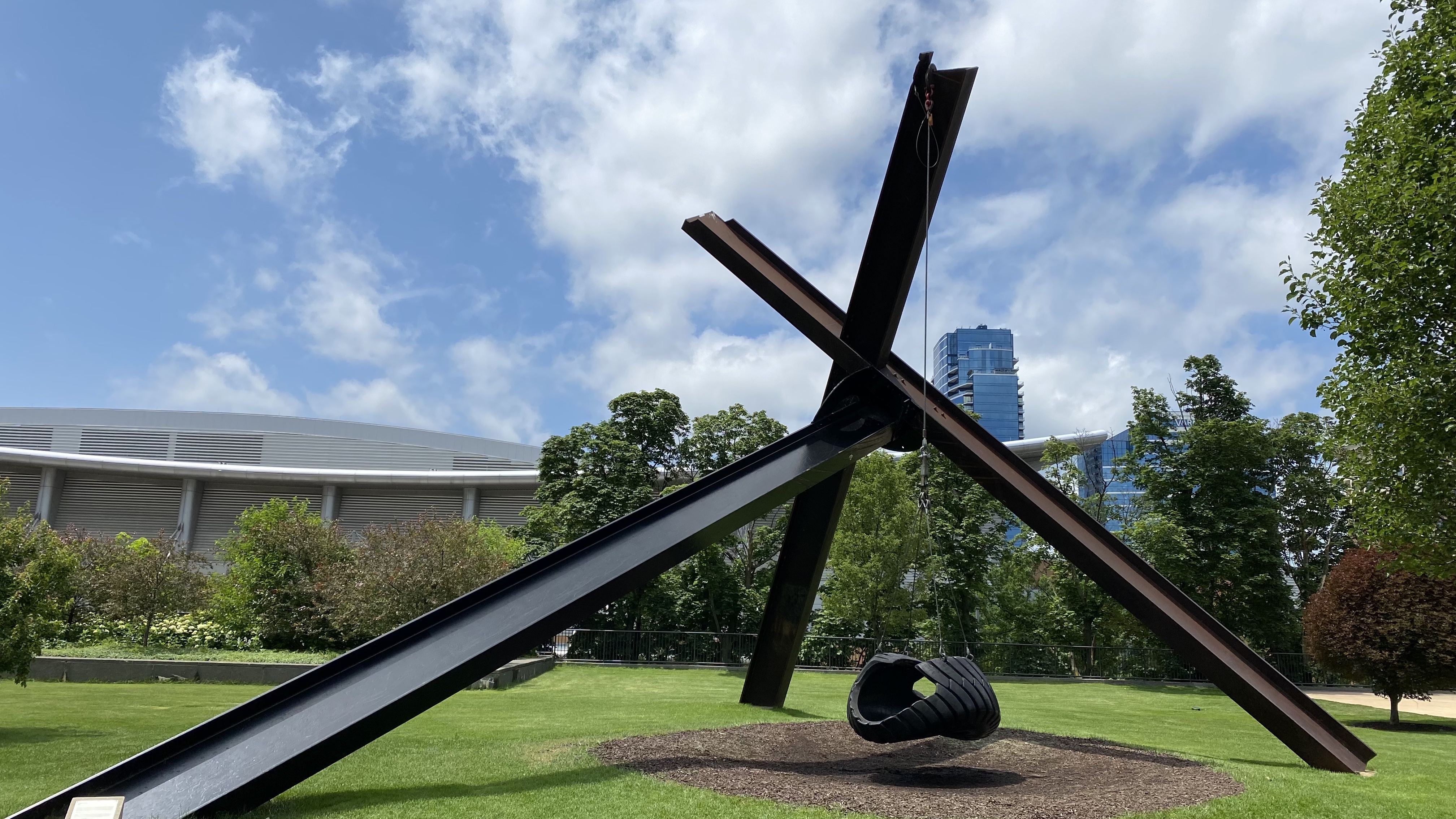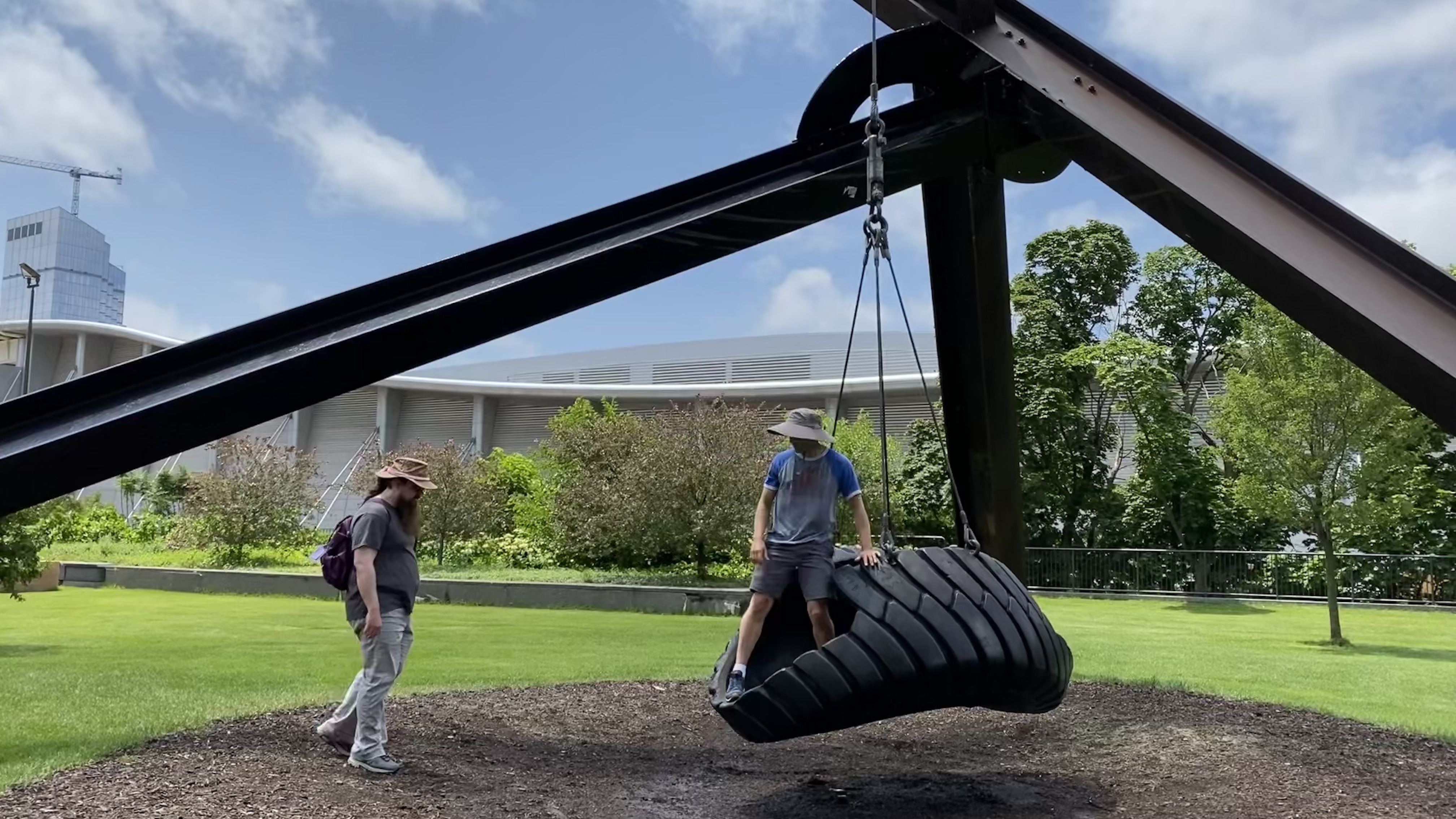 They are performing the art.
Right after Jason jumps off the swing, some other guy hangs himself there and seems to have a lot of fun.
The last artwork is a button. We thought Jason must be doing some word quiz, let us guess what it is. And it finally shows up as a real button!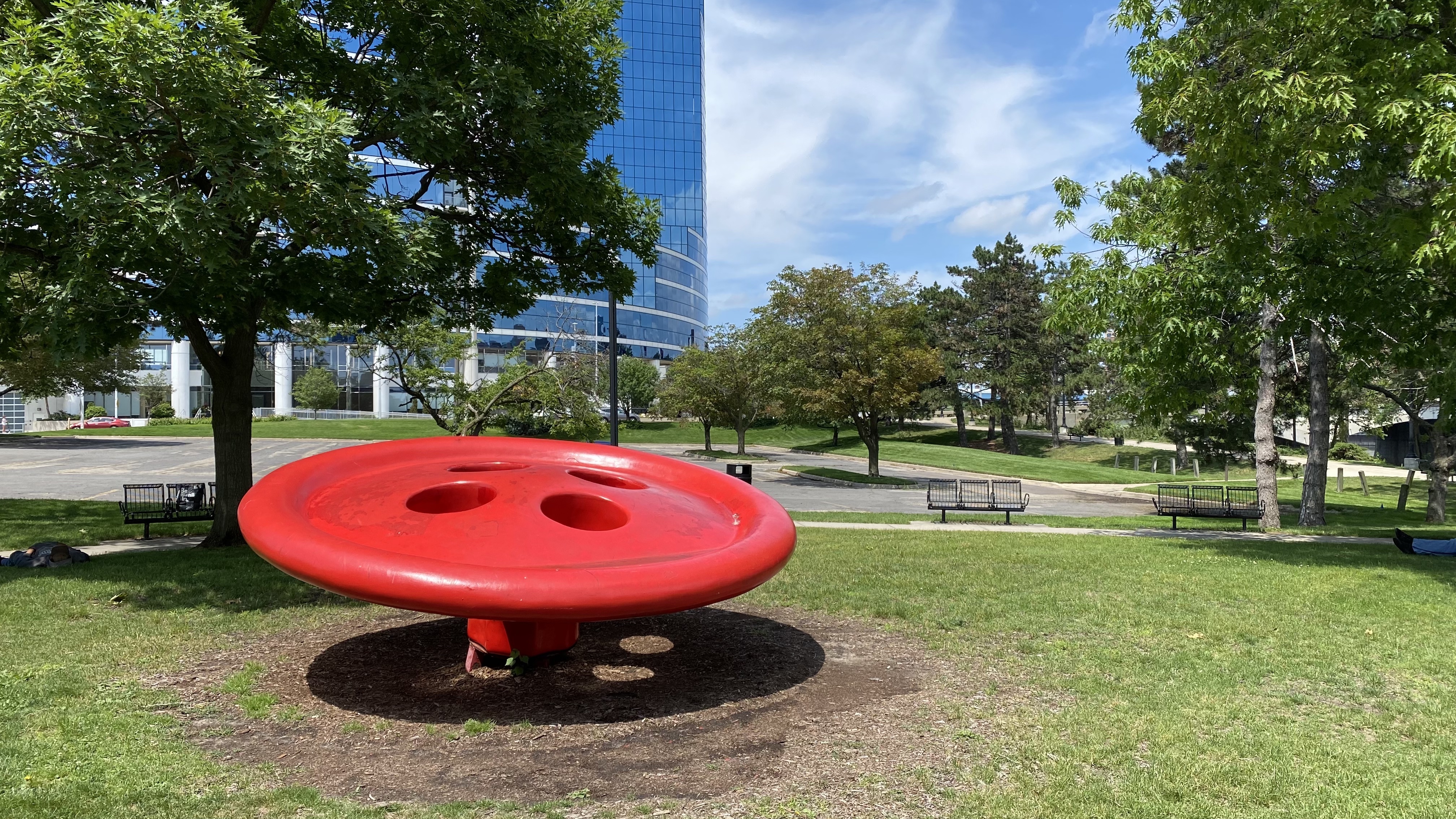 And it's red too!
🔗2021-06-18 New Holland Brewing - The Knickerbocker
We were about to skip this one since Brian has lost interest in its well-known beer, Dragon's Milk. Jason insists that we need to visit this one.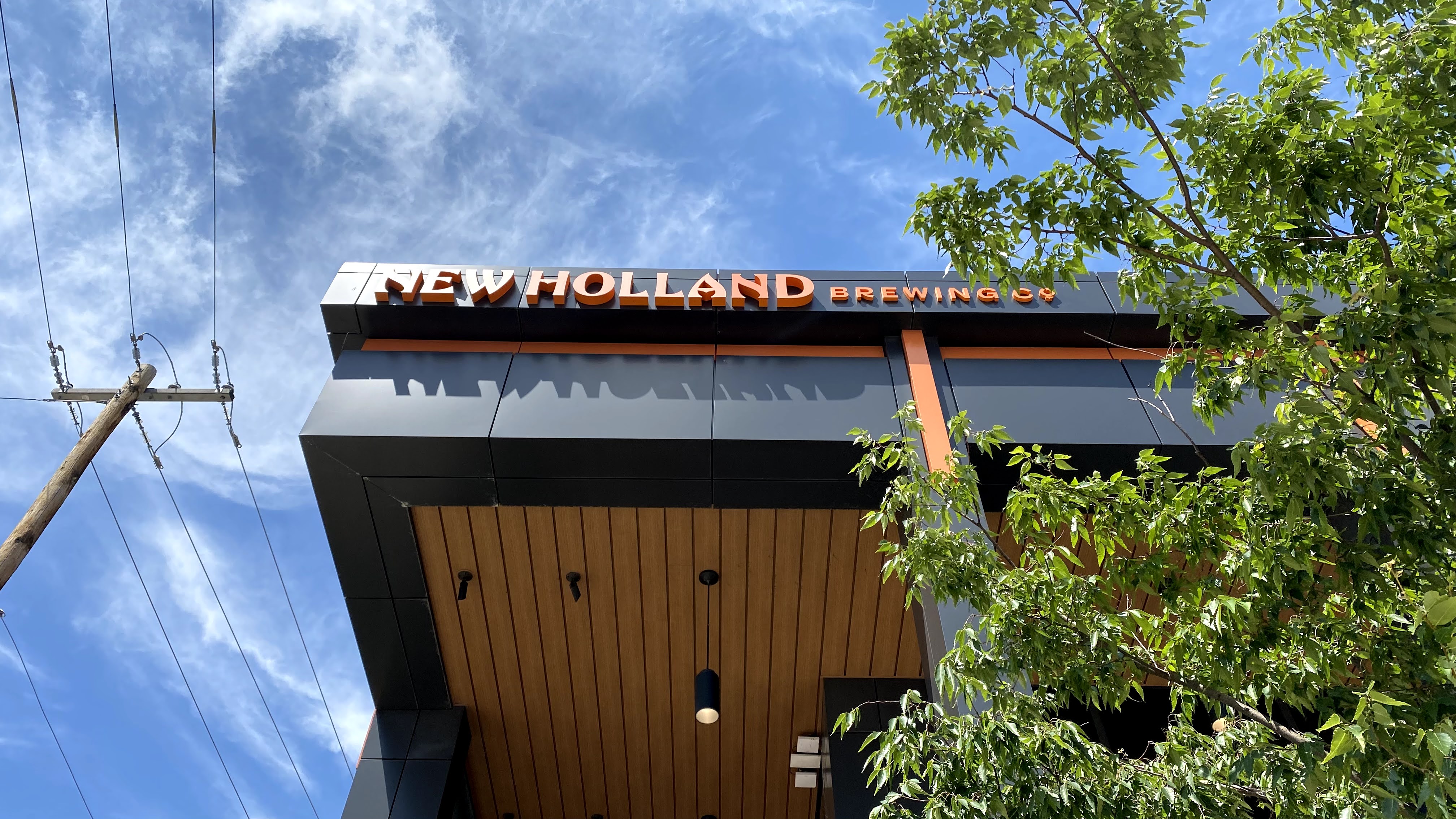 And it has a dragon!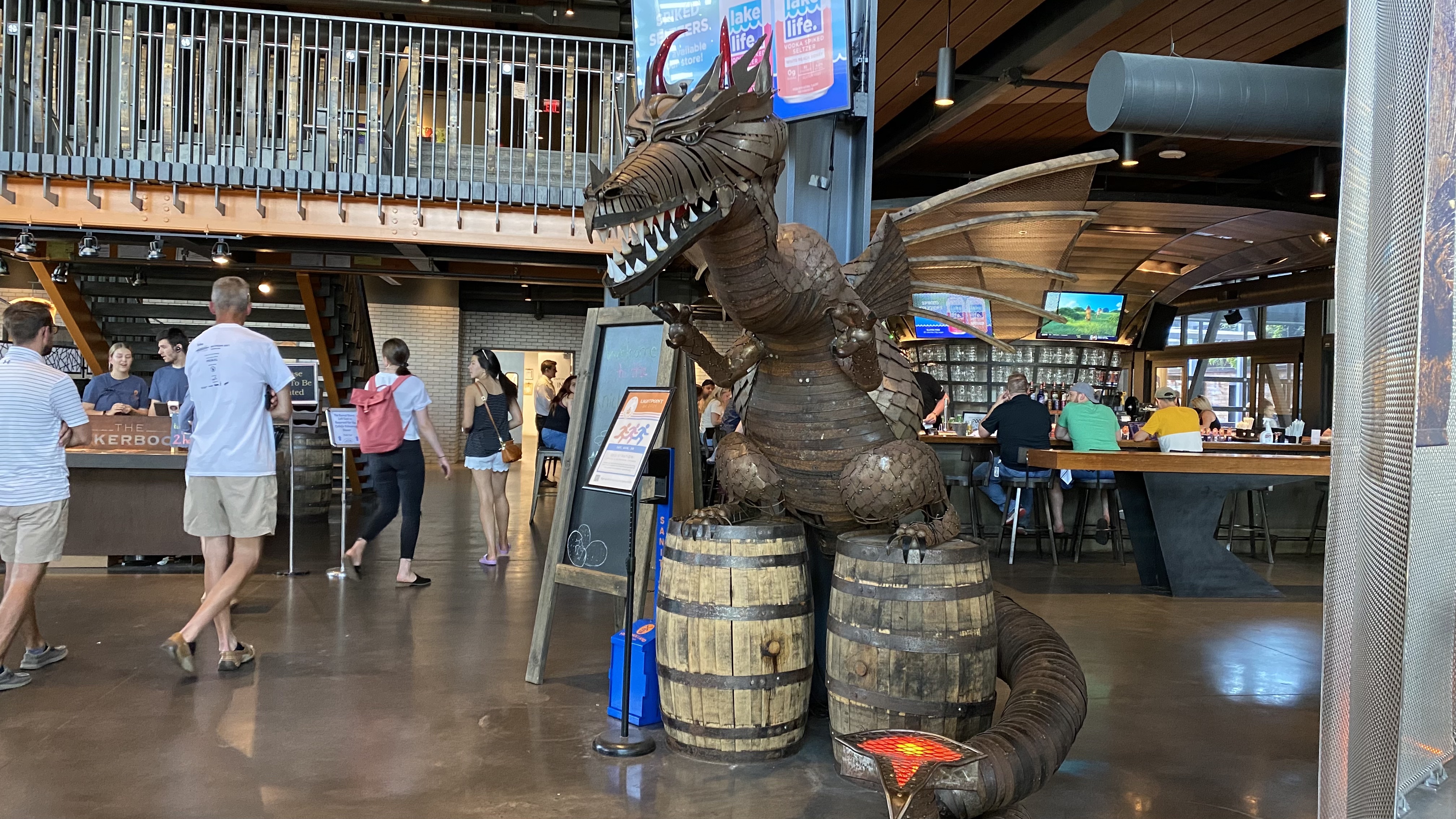 Hey, bro.
The desk guy asks Brian's phone number for contact tracing. Brian says his phone numbers. The guy says, "Brian, right?"
"Yes, how do you know my name?" Brian was surprised, or rather, shocked.
Aimee says, it's scary.
The desk guy sounds relaxing, "Oh, just anybody who uses this system will share this information."
Brian doesn't think he likes this idea or this system.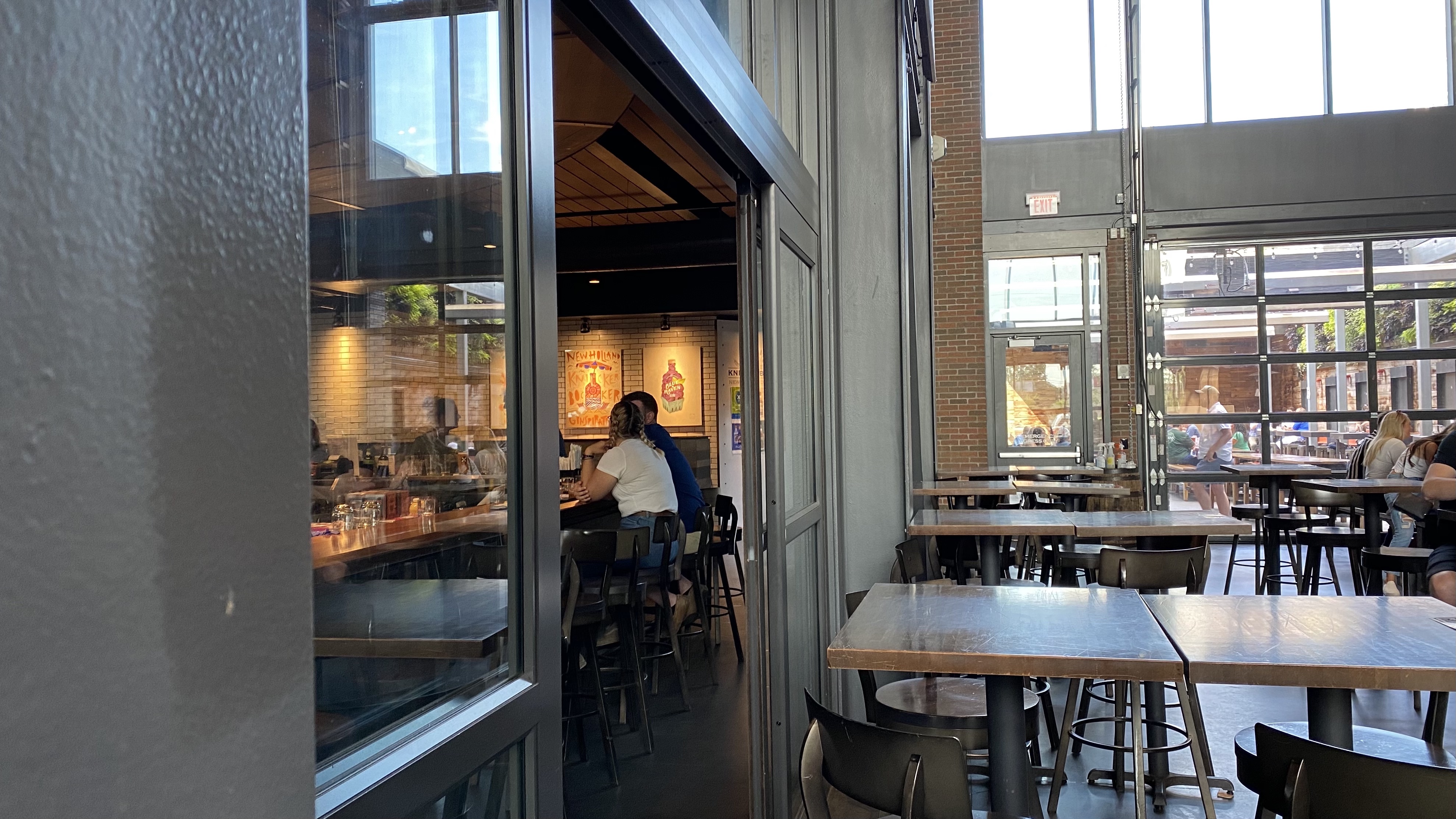 We sat down, whatever.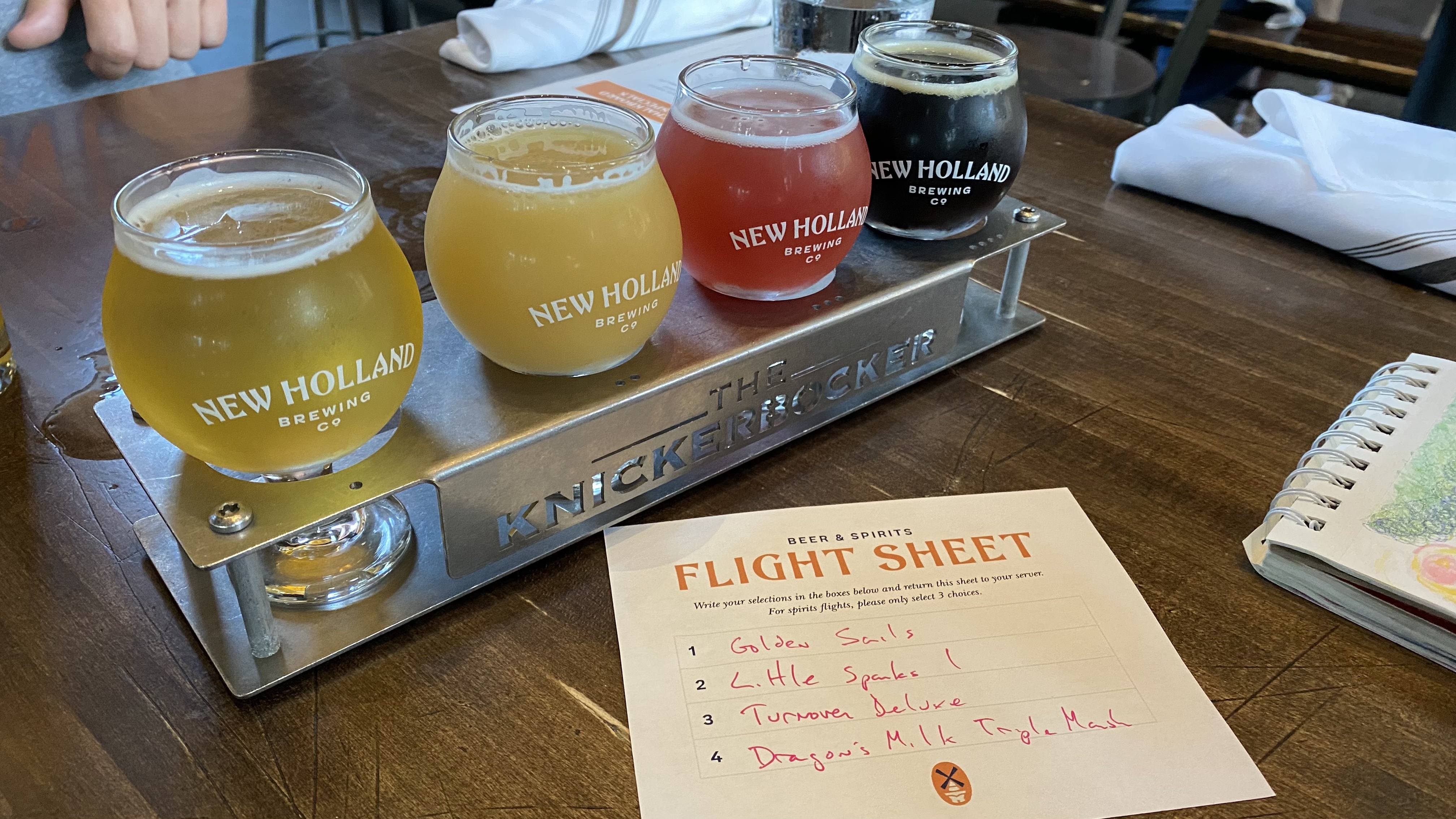 This is the second flight Brian ordered. They are good too.
We start to draw together. We use colored pencils and a small sketchbook. Everybody draws a bit on the canvas until it's finished.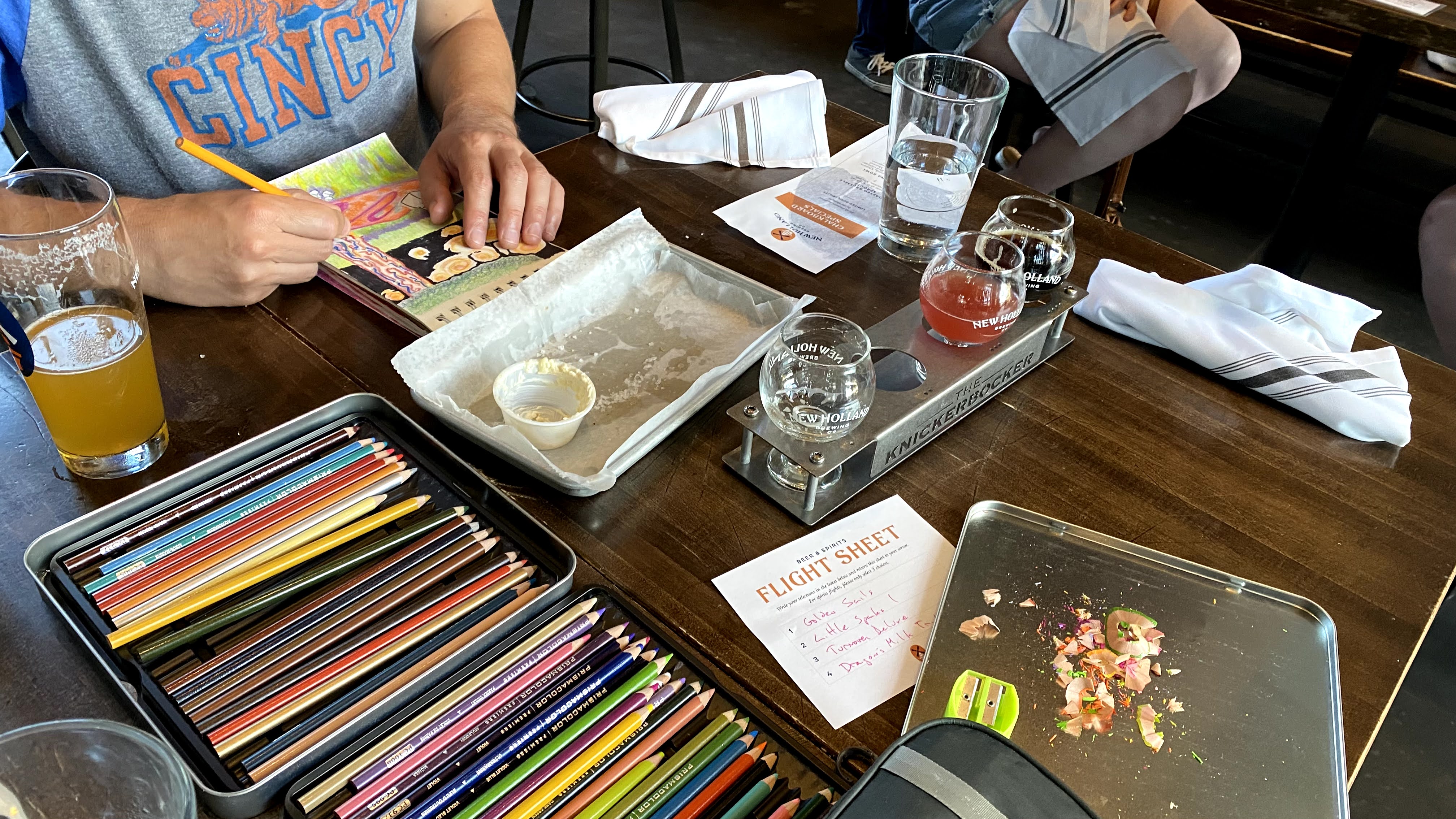 Our waitress is super active: she checks with us all the time, suggests food, more drinks, looks at our drawing, or just talks.
When it's about time to finish our drawing, our waitress comes and says, "sorry, my manager told me that the table is reserved for the next few hours." Then praises a bit of our drawing, saying she even wants to tattoo it on her arm, and says more sorries. We are kicked out, for the first time in a bar.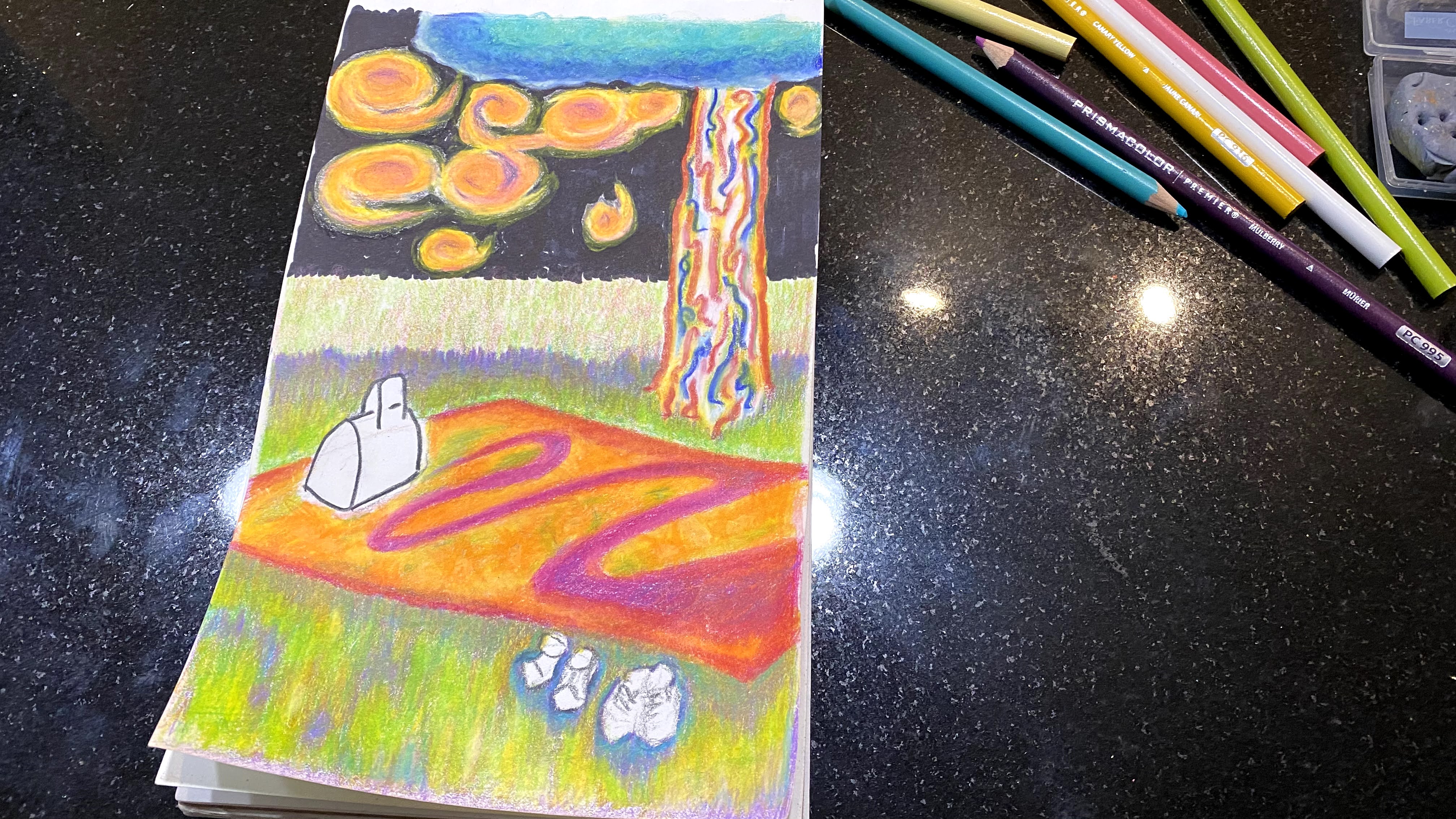 This is our final art. We finished it at our apartment.
There were a lot of conflicting ideas going into our drawing. The one who draws blue sky didn't think it will be black and with psychadelic clouds. The one who draws green tree leaves didn't expect the result is blue, not to mention the colorful tree trunk.
But that's how collaboration goes.
🔗2021-06-19 Sophisticated breakfast: the second
It was raining this morning before we went out. Things are wet on the road to our sophisticated breakfast.
Brian's goal is to get up before 8 am and having a sophisticated breakfast with everybody then going back to bed for the rest of the day. He made the first half of it already.
Brian wants the moist chocolate cake we had yesterday but couldn't find it at the bakery. Instead, we get a chocolate bread as today's dessert. Brian got an almond croissant and Aimee got herself a lemon cake while couldn't find a cheesecake.
Brian ordered two (warm) coffee lattes and he got two iced lattes instead. Aimee's drip Columbia coffee isn't that great as the previous coffee she had. The staff in the coffee shop seems screwed up on this busy Saturday morning. Anyway, they are still not bad coffee.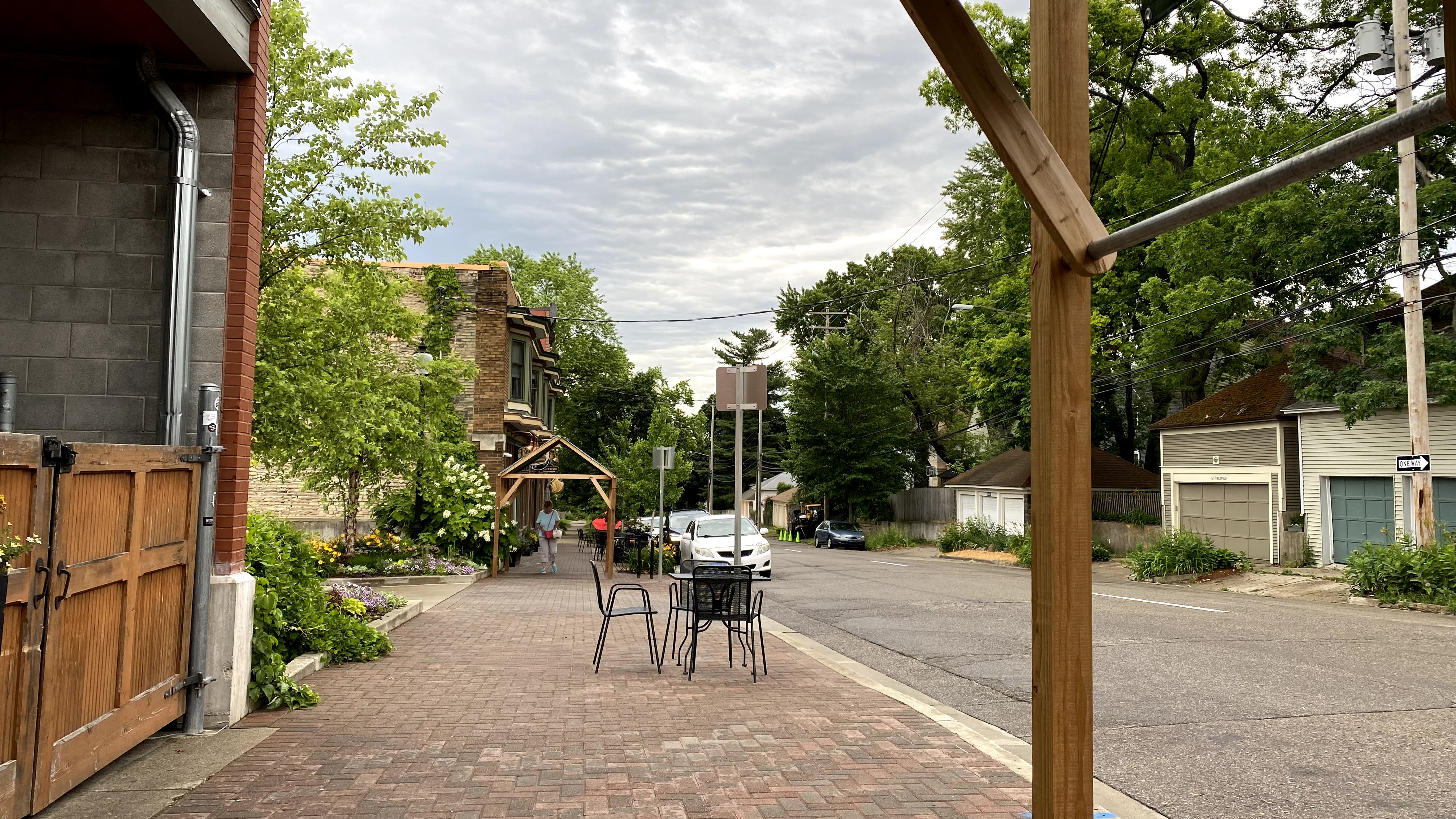 🔗2021-06-19 Brewery Vivant, the second time
We got an excuse to visit Vivant again: Jason needs some gifts for his family. Though we have reached a point that we are sort of tired of drinking. Brian says, do I have to drink, rather than, can I drink?
So, no flight this time. Each of us ordered a light beer, either a saison or a lager. Every drink is still so good. Boys start to sing "Saison Croissant" randomly. We love our Saisons.
Aimee is appreciative of the good quality beers and the outdoor space for drinking and hanging. For a variety of reasons, it's difficult to have such a nice and relaxing place in most cities in China: dusty environments, polluted air, extreme temperatures, or cities' regulations. For Aimee, the outdoor restaurants, cafes, and bars are the main charm of a city.
When we left Jason got gifts: a t-shirt, two books, and a set of combined saisons. Beautiful.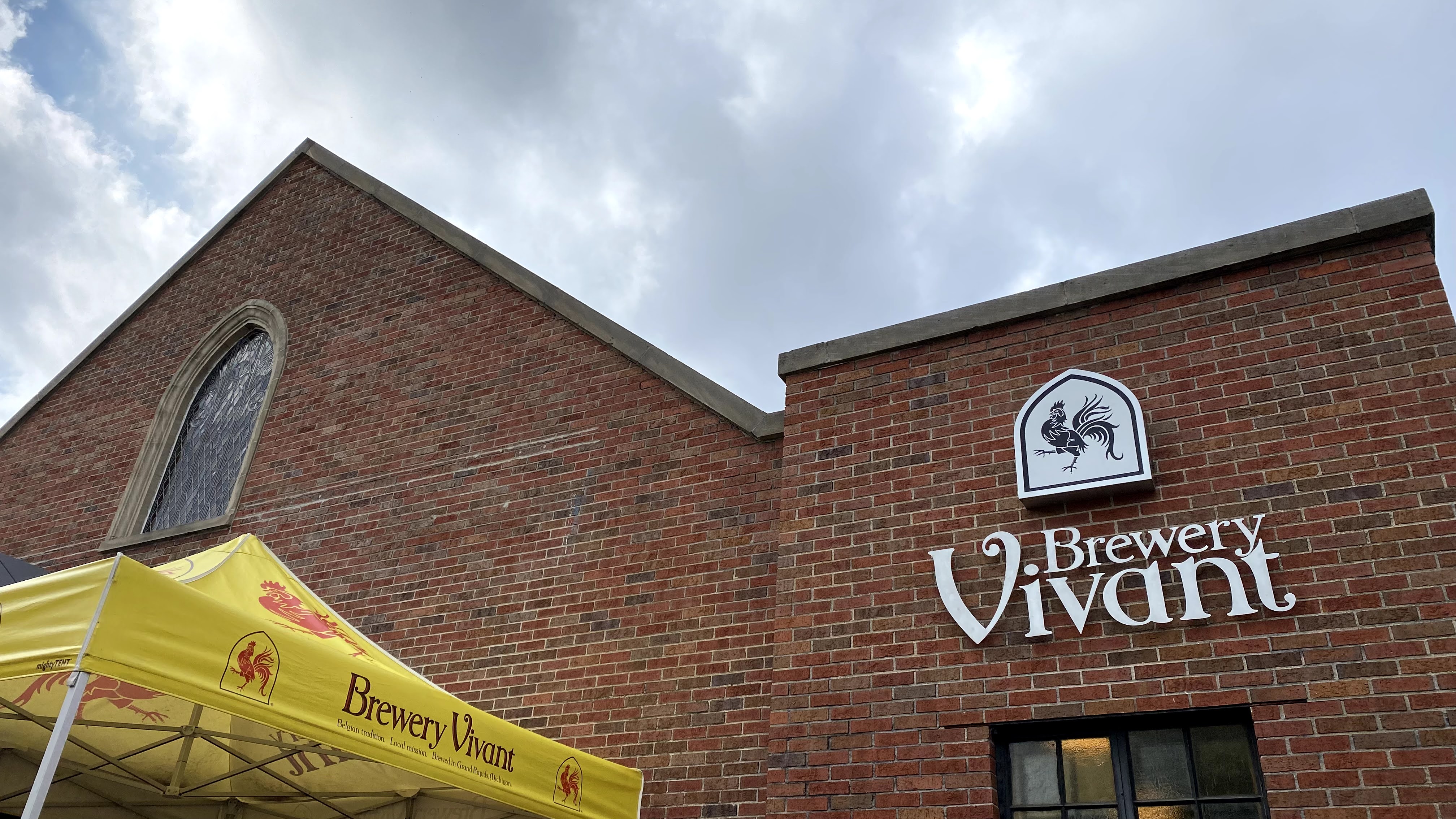 🔗2021-06-19 The Green Well
We were thinking of moving to someplace for an early dinner. And nobody wants to work too hard to choose the next place. We decide to easily across the street and to The Green Well. We are confident about this choice since it is sitting on Jason's list already.
They have a full bar, Brian is surprised. He wants a New York sour.
Our waitress asks, can you tell me what's in it? Brian says it's basically a whiskey sour and with a shot of wine floating on it. The waitress asks, do you want egg whites, and do you have preferences of whiskey?
Brian suddenly awakes and, believing that a bar that puts egg whites in their sour must know what they are doing, says he now wants an original whiskey sour, with egg white and Maker's Mark bourbon.
We like our waitress.
It is a good looking whiskey sour.
After two rounds of drinks in Vivant, we had another two rounds of drinks here too. We were drunk and don't remember much about our food. Desserts are good.
Jason managed his alcohol intake very well, as he only had a cider and then a coffee tonight. Aimee had two Rieslings. Brian's second drink is a sidecar cocktail.
There is a story about sidecars: Brian went to Hangzhou, China in 2019 and we had lunch together along with Aimee's colleagues. Brian ordered a sidecar then but he doesn't remember it at all now.
Aimee keeps reminding Brian of that event, so Brian has to order himself a sidecar to get to know this cocktail again.
🔗2021-06-20 Song recording: Saison Croissant
We are too hung over to do another brewery today. Instead, we record the song, "Saison Croissant", while drinking Founders' all-day IPA.
Boys are singing and figuring out the right lyrics. We record the piano sound and the pattern with the keyboard, and then play it and record the vocals.
Aimee is taking video records of the whole acting, hoping to use some clips as a part of the brewery trip documentary.
These processes takes us about two hours, including breaks. It's a nice collaborative activity before cooking dinner.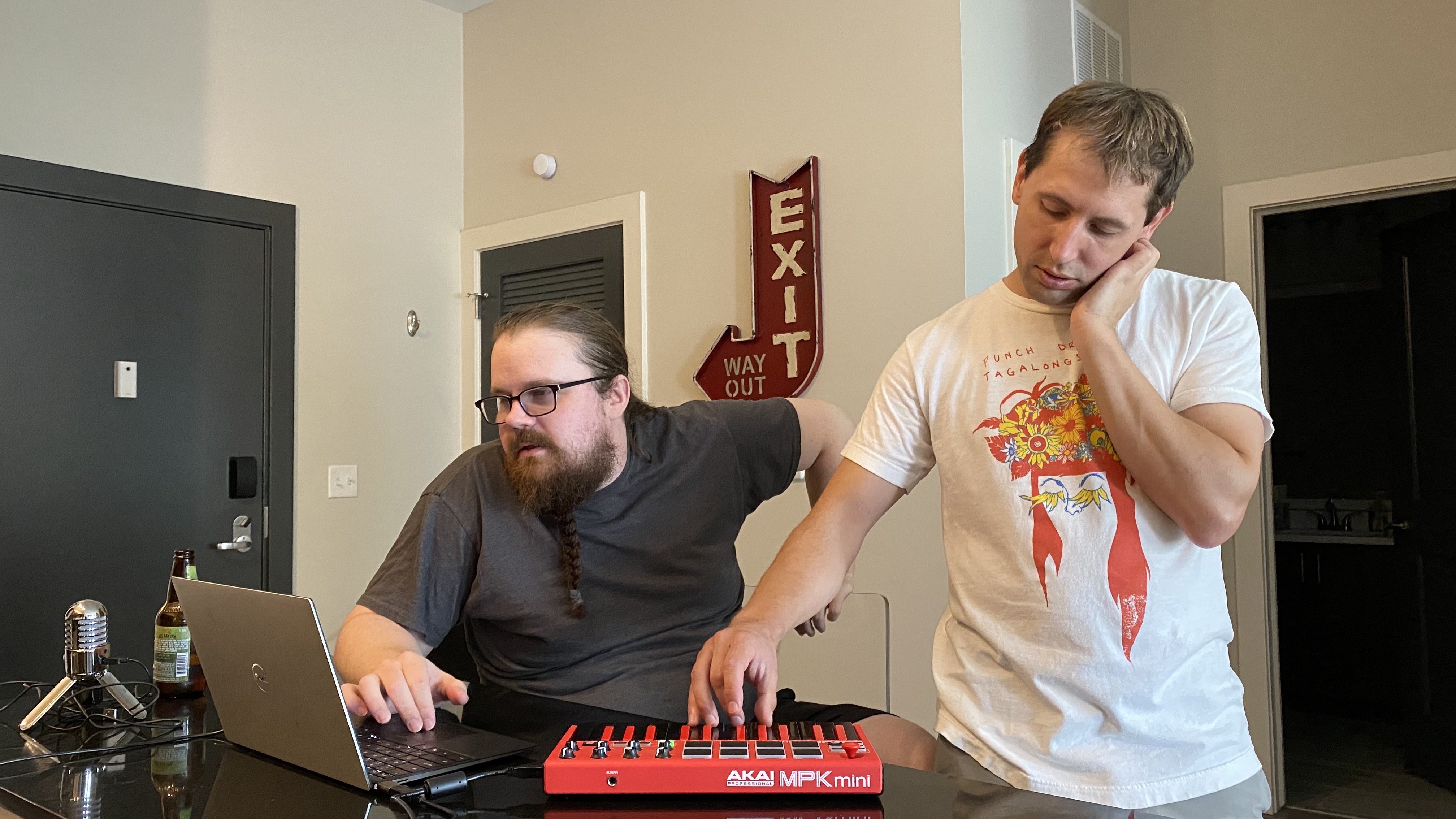 🔗2021-06-20 Dinner: spaghetti with creamy mushroom sauce
Our last dinner on this trip: classic spaghetti with creamy mushroom sauce and baked asparagus.
soak dried porcini mushrooms in advance
chop and put together all these things together in a pan: onions, garlic, and mushrooms, cook for about 30 minutes, then add cream, Rarmigiano-Reggiano, and cook a little more
preheat the oven to 400F
boil water, add salt, and put spaghetti in. Our spaghetti takes 12 minutes
lay asparagus with olive oil and salt on a baking sheet, and put it in the oven, 400F for around 15 minutes
blend the mushroom sauce
add some pasta water to the sauce
add cooked spaghetti in the sauce and blend evenly
plate spaghetti, most importantly, shred on Rarmigiano-Reggiano
we put some chopped tomatoes this time just to clean up the refrigerator
plate asparagus and serve
We all are grateful for all the good food we've cooked together.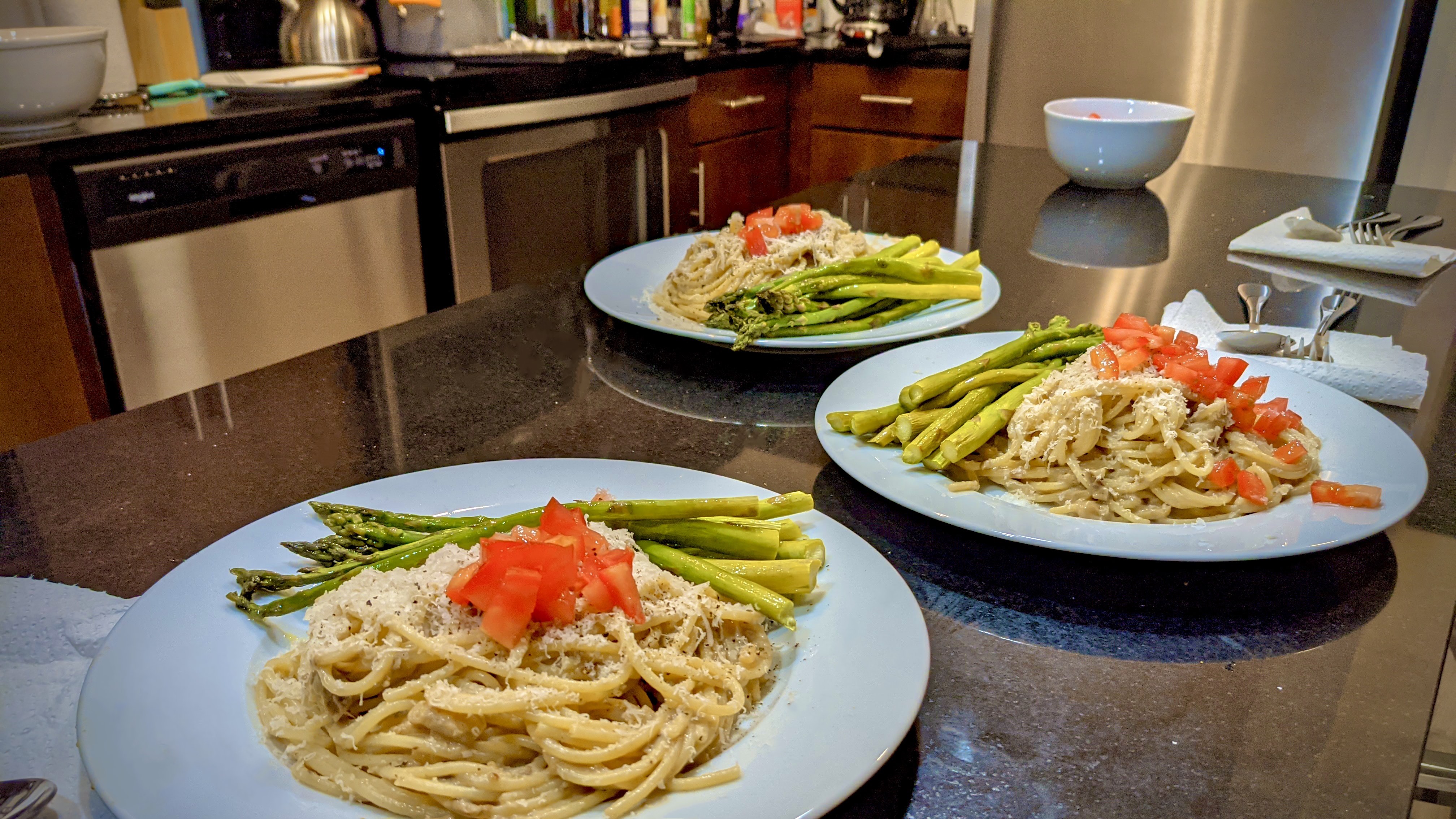 Cooking is a relaxing way to collaborate. It doesn't need to be complex. For instance, pasta or salad is a good start.
🔗Review summary
Portage Creek Bicentennial Park: the Celery Flats historical area is a good place for a picnic, 4/5.
HopCat taproom, Kalamazoo: good beer, old decor, decent bar food, 3/5.
Blackrock Grand Rabbits Dry Hopped Cream Ale: tasty but not notable for us, 3/5.
Transient Something Strange Rye IPA: our first rye beer, and a pleasant surprise, 4/5.
600 Kitchen and Bar, Kalamazoo: pretentious reimaginings of better dishes, kitchen smoke throughout the air, bad location, but we discovered a particularly interesting blueberry cream ale, 2/5.
Water Street Coffee Joint, Kalamazoo: super quaint and unpresuming, situated alone on a tiny corner between two streets, OK coffee, 4/5.
Ludington Bay S.S. Badger Blue Blueberry Cream Ale: deliciously unusual when cloudy and brown, kinda interesting when translucent and orange, 5/5 or 3/5.
Bell's Eccentric Cafe
Bell's Yuzu Session Wheat: not much yuzu, 2/5.
Bell's Grisette: unfamiliar taste, banana and cloves, 2/5.
Bell's First Friday IPA for June 2021: not great, 2/5.
Bell's Peach Cream Sour: looks like mango juice, super sour, 3/5.
Bell's Roundhouse Red Ale: bitter and vegetal, 3/5.
Bell's Rye Stout: rye is mostly buried in the heavy stout flavors, 2/5.
Kalamazoo, MI: eerily empty downtown that should be charming in normal times, too many people sleeping in public spaces, good brewpubs 3/5.
7 Monks, Grand Rapids: great place to get a good beer, 4/5.
Brewery Vivant, Grand Rapids: great converted church vibe, great saisons, best brewery we visited in Michigan, 5/5.
Vivant Park Saison: best saison, an everyday drink, light and fruity and fresh, not too sour, 5/5.
Vivant Barb the Destroyer: like drinking a sour patch kid, accomplished but terrible, 3/5.
Founders taproom, Grand Rapids: decent vibe, knowledgeable staff, better beer than Bell's, 4/5.
New Holland taproom, Grand Rapids: decent vibe, surprisingly good non-stouts, better beer than Bell's, 4/5.
We had a whole lot more beers than this, but just got tired of taking notes about them.
Brian's ranking of breweries we visited, based on both beers and vibe: Vivant, Bell's, Founders, New Holland, Grand Rapids Brewing, One Well.
Bell's beer was worse than expected, but has a big garden that makes it a great place to spend the afternoon.
🔗Lyrics: Saison Croissant
It's morning,
I don't wanna open my eyes
It's pouring,
All I see are cloudy skies
I need a soft croissant and a cold saison
Served up on a silver tray.
I want what I want
When I want what I want
Man, I want a saison croissant
So boring,
Staring at the ceiling inside
True story,
Sometimes I wonder why when I try
But then a soft croissant and a cold saison
Can brighten nearly every day
I want what I want
When I want what I want
Man, I want a saison croissant
Saison croissant,
Sounds so nice to say
To be a bon vivant,
You got to have fancy taste
(so come on) Saison croissant,
Help our worries float away
I want what I want
When I want what I want
Man, I want a saison croissant
🔗Good job, y'all.