City Rankings
We travel a lot, mostly living out of Airbnbs. Kind of on the lookout for great places to live more permanently someday. Here we write down some of our thoughts on those places.
Currently ordered more-or-less chronologically; eventually we'll rank them.
WIP
Phuket, Thailand, January 2020
Super nice beach and clean ocean water. Too many tourists.
Local car tuk-tuk.
Chiang Mai, Thailand, January 2020
Not walkable. We had to take a car/taxi/tuk-tuk? in and out of the hotel. Buildings out of our hotel looked poor and broken.
The weather was great in winter. The food was delicious. We had almost the same type of food every day but never tired of it.
The restaurant we found (in the old part of the town) had a good vibe.
Ho Chi Minh City, Vietnam, left on Feb 17, 2020
On the way back from Phan Thiet we stayed again here at a BnB on a tiny island.
We almost missed our flight out of the country, and right as borders were shut down for the start of the pandemic.
Mũi Né, Vietnam, February 2020
A little tourist town like many others in the region, beaches filled with dozens of cheap hotels and resorts.
The first place we stayed, Takalau Resort, was run down and depressing and we only stayed a night before leaving early.
We spent the next three weeks at Bamboo Village Resort, which was lovely, while we tried to figure out how to get out of the country and where to go, the pandemic becoming a serious thing, and travel routes between countries closing.
We ended up flying to San Francisco through Japan, which was pretty much the only route anywhere that both of us could take together, given our differing visas, passports, and travel restrictions.
Provo, UT, Feb 20 - Jul? 2020
Where Cocoverse was created. We start picnic at a park within walk distance. We drew the cocoverse city planning.
Coconut song and adventure time. Spent some time at the campus. Beautiful campus.
Church reconstructed apartments.
Dragon's Milk.
Torrey, UT, Mar 10-14
We saw deers. Beautiful stars are especially obvious during dark nights without light pollution.
The only grocery store was closed. We made avocado toasts.
We hiked at Sunset Point and around. Love it!
Park City, UT, Jul 13-16, 2020
Logan, UT, Aug 1, 2020
Beautiful church on top of the hill. Gorgeous park with designed water flow for children to play in.
Jackson Hole, WY, Aug 2, 2020
Beautiful natural views but too crowded.
The national park.
We started carrying bear spray.
Livingston, MT, Aug 7, 2020
Cool cabin.
We saw deers and blinking stars.
We presented our hackathon product The Big Announcement.
We had a morning hike at some valley. Lovely pinky-purple wildflowers.
Cody, WY, Aug 10, 2020
Devil's Kitchen, WY, Aug 14, 2020
Sheridan, WY, Aug 15, 2020
A lot of cutiepies! Every house seems to have a bunny. Aimee got videos of deers.
Rapid City, WY, Aug 17, 2020
We went hike to the mountain behind our backyard and we were lost.
We cooked mushroom steak and meatballs.
We probably started cooking with wine from that time. lol.
Lake Andes, SD, Aug 21, 2020
Some farmland between Missouri River and Lake Andes. There are apple trees. A lot of annoying flyings.
We went picnic/walk at the North Point State Recreation Area.
We found a lost road covered with water. The "Speed Limit" sign was still there.
Marcus, IA, Aug 24, 2020
We lived in a church reconstructed house. A neighbor came by reminding us our car tie need to be fixed and he provided the contact.
We made bread and cookies.
Rochester, MN, Sep 9, 2020 - Jan 21, 2021
The coffee roaster we liked a lot.
Surgery.
Wabasha
A German style town nearby the Mississippi river
Madison, WI, Jan 20 - Feb 10, 2021
A city sitted in two big lakes.
Downtown was lovely but empty because of the pandemic.
Dense houses. We had difficulty to find a parking space in our neighborhood.
Said hi and goodbye to Mr. Yummy.
St, Charles IL, Feb 10-17, 2021
Urbana-Champaign, IL, Feb 17-14, 2021
Indianapolis, IN, Feb 24 - March 3, 2021
We lived in a modern house right beside the highway. It was super noisy and the location was only convenient for driving. We tried to walk around the neighborhood one day. And we soon went back to drive our car instead. The kitchen was fashionable, and the master room was comfy.
We found delicious donuts.
Cincinnati, OH, Mar 3 - Jul 11, 2021
Not walkable. Driving is crazy and tense. Street parking is normal.
To get some exercise, we drove to the closest park (name?) and walked there. A lot of blossoms in spring.
Mason, OH
First time eating at a restaurant since the pandemic.
Most of the time, we hid in our room or stay at the hotel's empty patio.
We did lots of picnics in different parks. Picnics with friends were relaxing during the pandemic.
Sonder (name is right?) brewery is cool. We like that big open space.
Portland, IN
Everything was closed. The main street with everything closed was more like a passthrough tunnel for cars.
We only met one guy and he was moving a standing blackboard back to his cafe. That cafe was our only hope for food after walking around for about ten minutes. When we found nothing and decided to eat at that cafe. It was closed. Maybe it wasn't even open.
It doesn't seem to have live things there. The city was dying.
Kalamazoo, MI, Jun 2021
We started with a picnic not far away from downtown Kalamazoo. We were so happy with the picnic and we felt we already love Kalamazoo.
Our Airbnb instructions suggested we go in and out of the apartment from the parking space rather than the front door on the street because there were cameras in the parking lot.
Everything was closed except (the cat brewery). Most things were closed on Monday, and Tuesday, and Wednesday, and Thursday, and look like to be closed forever.
We finally made it to Bell's. Disappointed at their experimental beers. Two hearted is the best. (link to the brewery trip page)
At least our Airbnb apartment was nice.
Grand Rapids, MI, Jun 2021
We couldn't find many Airbnb options in this city. The only two locations were managed by one organization. We chose the uptown location.
It was the perfect location for us. There was a fine grocery store with nice ham, cheese, wine and enough fresh vegetables for cooking. Turn the corner, there was a charming bakery and a cool coffee shop sitting next to each other. We had breakfast at the outdoor table.
It was walkable even out of this neighborhood. We walked to the closest brewery, then farther, to the xx, yy, zz breweries.
We did a picnic there too. With our proud brie sandwiches.
Denver, CO, Jul 13 - Nov 2021
Baker has the most uncontrolled plants.
Cheery Creek is great.
Boulder, CO, Sep 2021
Long Beach, CA, Dec 2021
The beach road is very well planned. Biking and walking are separated.
The food was great.
Downtown is sad. Buildings are ugly.
The weather in Long Beach isn't always pleasant... Possible pollution is from floating boats at the harbor.
Southern California's Container-Ship Backlog Moves Farther Out to Sea
Santa Barbara, CA, Dec 24-26, 2021
The buildings were beautiful. So close to mountains and the ocean. We walked along the beach, smoothly passed into mountains and neighborhoods there, and then resulted into downtown.
Pretty walkable. The weather is great.
Except for orange and lemon trees everywhere, there are some banana trees and avocado trees.
The restaurant we went to was super. The local wine we chose was delicious, probably the best pinot noir we ever had. There are more great restaurants to try.
The state street is gorgeous. It reminds me of Boulder's Perl street.
Wine tasting rooms everywhere. Expensive.
The Funk Zone was not funky.
Solvang, CA, Dec 26, 2021
Tourist trap.
The architecture here is Dutch-inspired. We planned to stop and see it, but when we drove through, the crowds were massive, and we passed.
Santa Ynez, CA, Dec 26-28, 2021
A tiny town with few resources. Some good restaurants but they were packed full of covid and we did not want to use them.
Santa Ynez Inn. A decent upscale place with an early 20th century vibe. We had a big room with huge ceilings.
San Louis Obispo, CA, Dec 28-30, 2021
Hotel San Louis Obispo. Modern, good service, good food.
There was a China town and we can still see some Chinese characters on some signs.
Everybody wore a mask on the street.
Pacific Grove / Monterey, CA, Dec 30, 2021 - Jan 27, 2022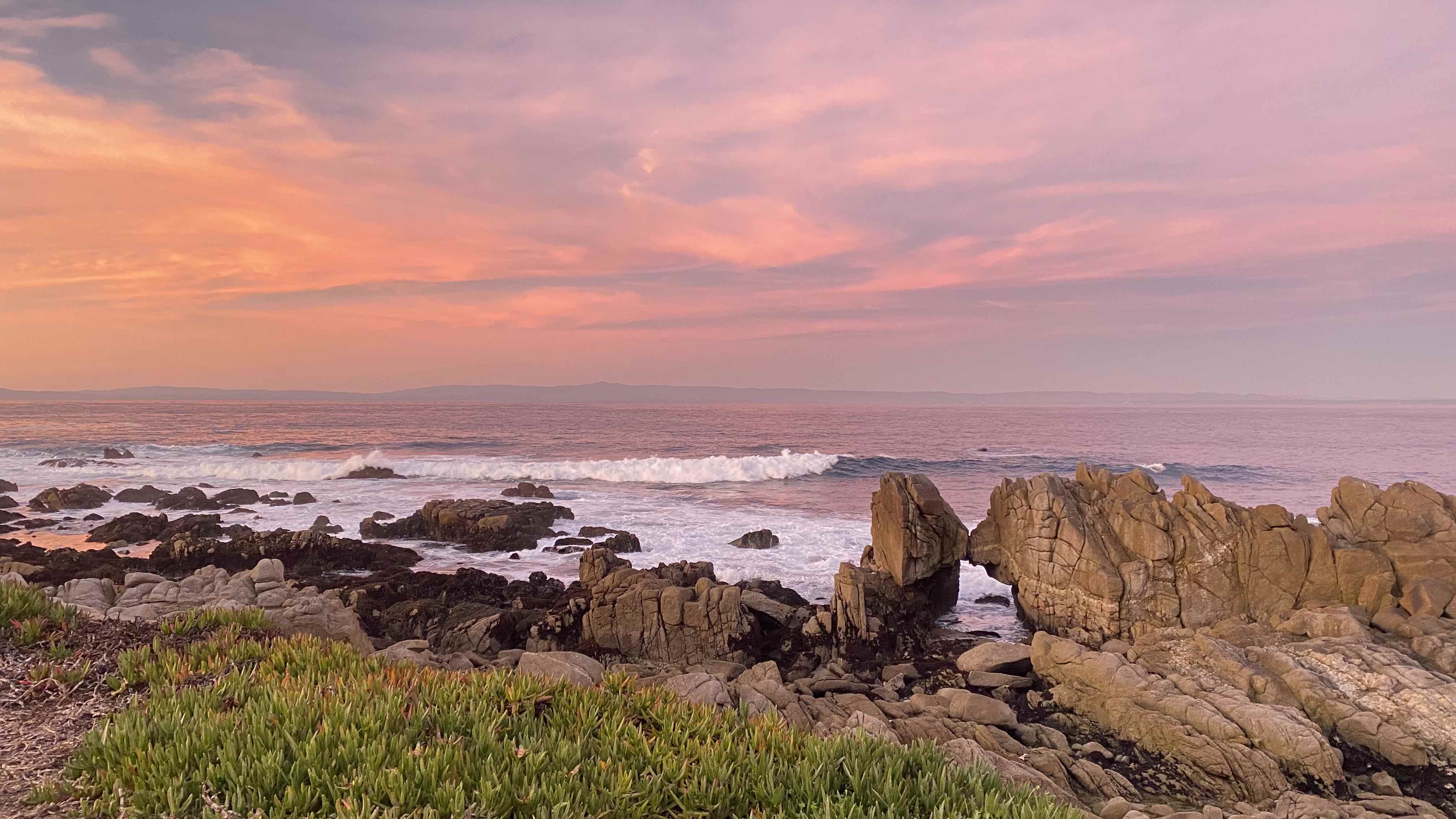 We lived in an Airbnb house one block away from the ocean. There were one coffee shop and one grocery store within walking distance, and some restaurants on the walk.
There were way too many golf courses for such a small neighborhood. You just walk into a golf course easily without a clue, and then another. Oftentimes, we saw deers chilling on golf courses, and sometimes on trails.
The weather was amazingly good. The daily AQI was around 15-35. Humidity was high, 70-90%, though. But it doesn't matter that much in winter. Summer could be uncomfortable.
There were no insects here. We left our backdoor open all day sometimes, there weren't any flyings, bugs or other insects. There were some ants crawling. But, that's all.
We loved sitting at home and listening to the ocean every day.
In the afternoons, when we visited the beach, we saw beach squirrels, which look similar to regular squirrels, they ran like rats instead of jumping like "real" squirrels. They seemed to live under rocks. We don't know, though. When waves came up over and over, bringing foods from the ocean, petite birds jumped and ran, chased the waves and their food. Anemones on the shore looked like worms, gross. They stuck on the rocks, and they reacted when you touched them. They look much better under the water, with their mouths or face open like sunflowers.
There was a wildfire in Big Sur during our stay: Fire Along California's Big Sur Shuts Part of Scenic Highway 1.
Luckily the fire was in control and we were not affected.
On the day of leaving, we Ubered to pick up our car. Our Uber driver was chatty. She asked about our experience in Pacific Grove and introduced even more about it. She reversed our question of "when is the tourist season" to "when isn't the tourist season", and said we were here right at the off-season, for which we felt pretty lucky.
She said the city is always fully packed in summers, and the weather wouldn't be as pleasant as now. She knew a lot about this area and the local lives. We now know that the cutie birds chasing ocean waves are sandpipers.
Lost Hills, CA, Jan 28, 2022
Bakersfield, CA
Wofford Heights, CA